Farage: 'People are concerned if Romanians move in'
UKIP Leader Nigel Farage has issued further apologies today for his controversial comments about Romanian immigrants. Farage said people "shouldn't be concerned, but they probably are concerned, particularly if they live in London."
UKIP Leader Nigel Farage was forced to issue further apologies today for his controversial comments about Romanian immigrants.
Speaking to ITV News' Political Correspondent Carl Dinnen whilst out on the campaign trail in Kent, Farage emphasised that people "shouldn't be concerned, but they probably are concerned, particularly if they live in London."
"I don't want us to live in a country where people have to be concerned." He added.
"The reason people are concerned is they know, because they have read in the newspapers - the very same newspapers that are now criticising me who run big double-paged spreads saying there is a crime wave in London coming from Romania." He also said.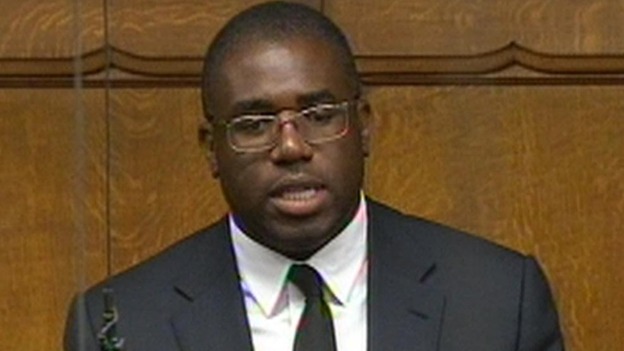 Nigel Farage is a racist, Labour MP for Tottenham David Lammy has said today, breaking away from comments made by his party leader Ed Miliband.
Ukip took out a full page advert in the Daily Telegraph, forming an open letter to the British public insisting it was not a racist party.
Speaking on the BBC 2 Daily Politics programme, black MP Mr Lammy rejected the assertion.
He said: "I am from a background where my parents arrived here as immigrants. I remember a context in which some people said you don't want these people living next to you. That was racist.
"What Nigel Farage said over the weekend was racist, so I'm clear, he's a racist."
Advertisement
Ed Miliband has welcomed the apology from Ukip leader Nigel Farage for what the Labour leader said was a "racial slur" against Romanians.
Mr Farage has apologised for comments he made in a radio interview last Friday but denied they were racist.
Watch: Farage admits 'getting things wrong' over Romanian comments
Labour's Shadow Home Secretary Yvette Cooper has said that it "is racist to stir up fears about Romanians" as she responded to Ukip leader Nigel Farage's comments in a radio interview.
She told ITV News: "It's not racist to be worried about immigration or to want stronger controls, but it is racist to some how stir up fears about Romanians living next door. So Ukip should say they were wrong on that.
"But we have also got to deal with the practical issues around jobs and wages, and the practical proposals we are putting forward."
Ukip leader Nigel Farage has taken out a full page advertisement in the Telegraph newspaper to write an open letter in which he says his comments about Romanian people in a radio interview were not racist.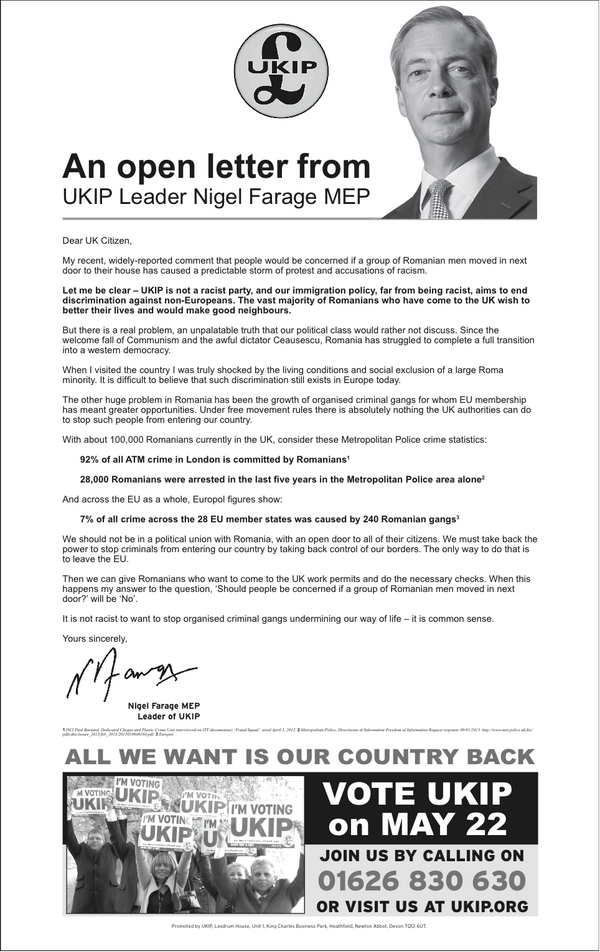 "We should not be in a political union with Romania," he writes, adding: "It is not racist to want to stop organised criminal gangs undermining our way of life."
Ukip leader Nigel Farage has denied comments made against Romanian immigrants during a radio interview were racist.
Speaking to ITV News, Mr Farage said: "It is in no way racist to say we should control the quantity and quality of people who come into this country [...] it's just plain commonsense".
Advertisement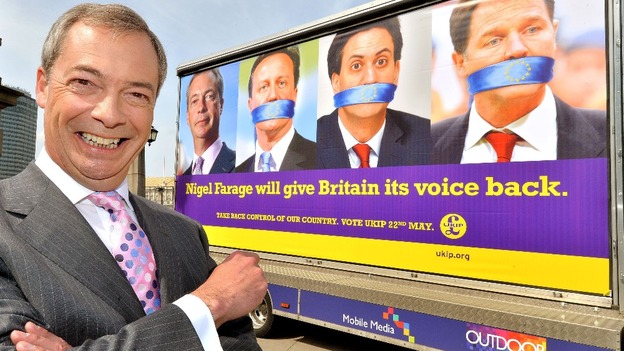 A leading bookmakers has made Ukip favourites to win more votes than any other party at this week's European elections.
William Hill has cut the party's odds from 8/15 down to 2/5 - appearing to indicate that a series of recent controversies has done little to tarnish the party's appeal with voters.
Graham Sharpe, a spokesman for the company, said 40% of all bets struck and 70% of stake money have been for UKIP in the run-up to Thursday's vote.
Nigel Farage's controversial "nasty" comments about Romanians show his "mask is starting to slip", Nick Clegg has said.
The Liberal Democrat leader said Mr Farage's statement that he would be worried about Romanian men living next door to him reflects "a really nasty view of the world" that "should have no place in modern Britain".
Footage courtesy of The Andrew Marr Show/BBC One
Ed Miliband has said he does not believe Nigel Farage is racist - but described remarks he made as "deeply offensive".
The Labour leader's comments come as Farage defended controversial remarks that he would be concerned if a group of Romanians were to move in next door to him.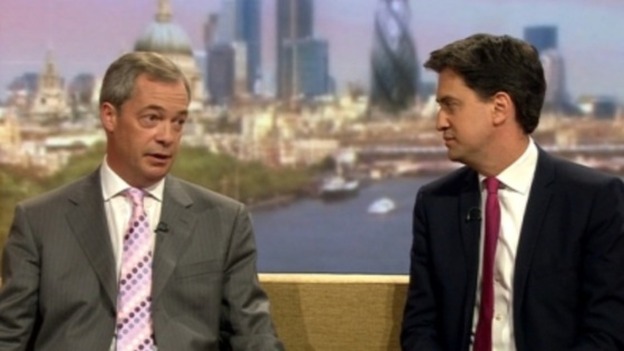 When asked whether UKIP leader Farage was racist, Mr Miliband told Sky's Dermot Murnaghan: "Personally, I don't think so.
"I think his remarks he made were deeply offensive ... I think they were a racial slur but I don't think of Nigel Farage as a racist himself."
UKIP won't let false accusations of racism prevent issues that are of concern to the British public being discussed http://t.co/VqBGTZj56l
Ukip leader Nigel Farage has defended his controversial comments about Romanians, tweeting that his party will not let "false accusations of racism" prevent discussion on matters of concern to Britons.
Read: Farage says Romania 'highly susceptible to organised crime'
Load more updates
Back to top