At 11.30 this morning London fell silent to remember those who were killed in the 7/7 terror attacks ten years ago.
Groups of commuters and those who remember that day stopped and stood at the sites where 52 people were killed and more than 700 injured.
Tony Blair, who was Prime Minister ten years ago on the 7/7 London attacks has joined survivors, family members and other politicians, including David Cameron at St Paul's Cathedral for a memorial service.
Advertisement
At Edgware Road Station, families of the victims, TfL staff and police gathered in the ticket hall for a minute's silence at 8.50, the time the bomb exploded ten year's ago today.
The station was calm, as commuters and passers by came to a halt by the ticket barriers for a moment of reflection.
One man stood, with his head in his hands, and cried silently as he remembered the victims. A woman walked from the crowd wiping away tears.
Flowers have been left across 7/7 bomb sites in London in remembrance of the 52 victims who died 10 years ago today:
A minute's silence was held at Aldgate Tube station at 8:50am - the time the bomb went off - with relatives of those who died in attendance.
Seven people lost their lives and dozens more were injured when a bomb exploded on the eastbound Circle line train between Liverpool Street and Aldgate.
Thinking of each & every one of you. You are not forgotten.
– Flowers left by 'a fellow Londoner'
Ten years after 52 people died in the London 7/7 bombings, tributes have been held across the capital.
Read the full story ›
Speaking after a wreath-laying memorial event for 7/7 victims in Hyde Park, the Prime Minister said that today is about remembrance, "above all it's a day when we think of the grace and the dignity of the victims' families for all they have been through."
Advertisement
People travelling into the capital have been getting off a stop early to walk together in remembrance of the victims of the 7/7 bombings.
Read the full story ›
Downing Street have released an image showing the message the Prime minister wrote on the wreath he laid at the 7/7 memorial this morning.
PM: To the victims of terrorism in London ten years ago today. We grieve your loss & will honour your memory forever. http://t.co/hgLiHljkvR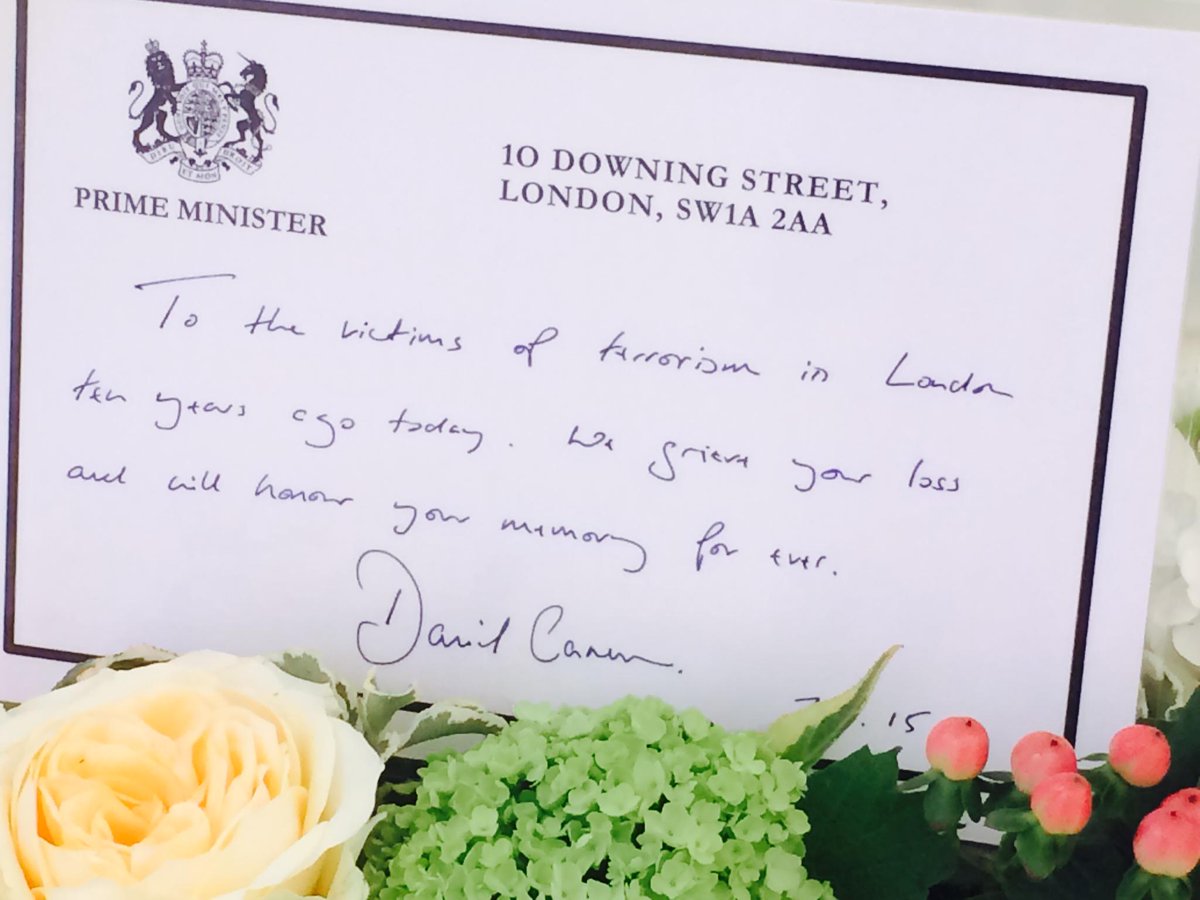 To the victims of terrorism in London ten years ago today. We grieve your loss and will honour your memory forever.
– David Cameron
A 7/7 survivor, who had both her legs amputated after the attack has returned to the Tube station where she was injured.
Gill Hicks arrived at Russell Square station to lay flowers and mark the day ten years after she was injured and 53 people were killed in the terror attacks which shocked London.
The sister of one of the 7/7 victims has returned to the scene where her brother was killed on the 10th anniversary of the terror attacks.
David Foulkes, 22, a newspaper sales manager from Oldham had just moved to the city to start a new job. He was killed at Edgware Road station by one of four devices to be detonated. 52 people we killed in the attacks.
His sister Jill Wood said: "I feel like if he's anywhere, that's where he is."
Load more updates