Live updates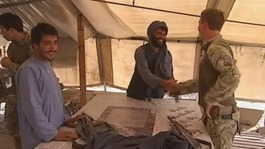 Commanders believe closer relationships between the British and Afghan security forces will help stop the recent string of insider attacks.
Read the full story
US Afghan death toll 'hits 2,000'
According to the Brookings Institute, yesterday's killing of a solider in the Wardak province of Afghanistan brings the number of US soldiers killed in the country to 2,000. The numbers do not include those killed in non-hostile incidents or 'friendly fire.'
USA: 2,000
UK: 425
Canada: 158
France: 86
Germany: 53
Italy: 47
Denmark: 42
Advertisement
US Afghan death toll 'hits 2,000'
There are currently 129,469 troops committed to NATO's International Security Assistance Forces (ISAF) in Afghanistan, according to The Brookings Institute. The majority of the troops come from the USA, followed by the UK.
USA: 90,000
UK: 9,500
Germany: 4,701
Italy: 3,986
France: 3,279
Poland: 2,420
Spain: 1,596
Australia: 1,550
Turkey: 1,272
A total of fifty-one countries have officially committed troops to the ISAF, but the number of soldiers actually deployed varies considerably:
Austria: 3
Bahrain: 95
Denmark: 676
Slovenia: 79
Ireland: 7
Netherlands: 500
Iceland: 6
US Afghan death toll 'hits 2,000'
A US soldier and a foreign contractor were killed alongside two Afghan soldiers died in the latest suspected insider 'green on blue' attack in Afghanistan. The nationality of the contractor has not been confirmed.
The deaths occurred in the Wardak province, according to the International Security Assistance Force. Provincial government spokesman Shahidullah Shahid said:
Initial reports indicate that a misunderstanding happened between Afghan army soldiers and American soldiers.
US Afghan death toll 'hits 2,000'
A US official has confirmed the death of an American troop in Afghanistan, according to the Associated Press news agency.
The death takes the total number of American troops killed in Afghanistan to 2,000.
US Afghan death toll 'hits 2,000'
A member of NATO's Afghan force and a civilian contractor have been killed in the latest "insider" attack by a member of the Afghan security forces.
The attack in eastern Afghanistan yesterday came after the United States said joint operations with Afghan forces were returning to normal.
Joint operations were halted two weeks ago after a surge of attacks by Afghan allies. At least 52 members of the NATO force have been killed this year in so-called green-on-blue attacks.
Advertisement
Back to top