A policeman has been killed and two others injured in a suicide bomb blast on the outskirts of Afghanistan captial Kabul.
Interior ministry spokesman Sediq Sediqqi said a patrol car was sent to a village near the airport after reports a bomber was trying to enter the city in a car laden with explosives.
But they were able to detonate the bombs before the officers could stop them.
Several Afghan soldiers have been killed after a suicide bomber destroyed a bus in the capital Kabul.
At least six soldiers were killed in the attack, which left a column of black smoke above the city.
It comes shortly after a number of other Taliban attacks as violence intensifies in the country ahead of the withdrawal of most international troops in the next fortnight.
Earlier, a senior Supreme Court official was shot dead as he left his home.
Last night, two foreign soldiers were killed in an attack on a Nato convoy nearby.
Advertisement
Two soldiers in a Nato convoy have been killed by a Taliban bomb in Afghanistan.
The attack near the Bagram airfield base north of Kabul is the latest in a spate of deadly attacks in and around the capital as international forces leave the country.
Both soldiers were from the United States, the Associated Press news agency reports.
A suicide bomb attack at a school in Afghanistan has left at least one person dead and 16 others injured.
General Ayoub Salangi, the country's deputy interior minister, said the 17-year-old bomber wore an explosive vest inside the venue and detonated it during an event at a French-run high school in the capital city Kabul.
Defence Secretary Chuck Hagel has announced the US will delay the withdrawal of up to 1,000 troops from Afghanistan.
Speaking at a press conference in the Afghan capital Kabul, Hagel said:
"10,800 troops, rather than 9,800, could remain in Afghanistan through the end of this year, and for the first few months in 2015."
"#POTUS' authorization will not change our troops' missions, or the long-term timeline for our drawdown."
"The international community must not waver in its support for a stable, secure, and prosperous Afghanistan." http://t.co/8tfwZhjVHW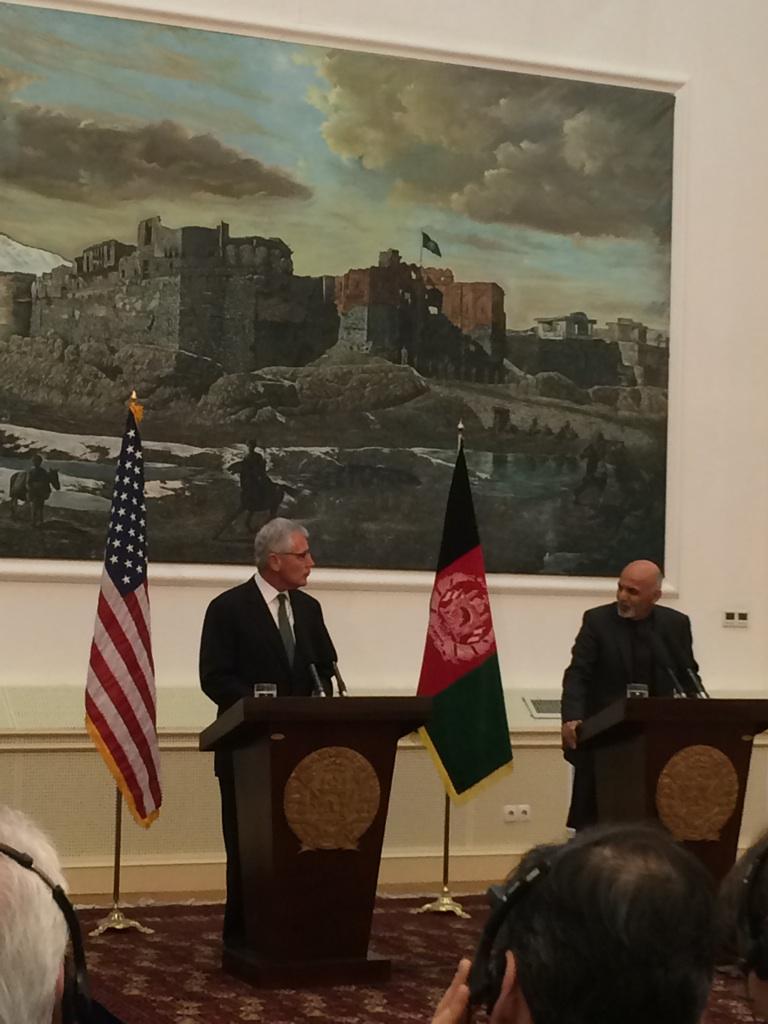 A major international conference on the future of Afghanistan will take place in London today ahead of the withdrawal of international combat troops at the end of the year.
The high-level meeting, hosted by David Cameron and Afghan president Ashraf Ghani, will be a chance to assess progress in the country and recognise the serious challenges it still faces.
It will give Mr Ghani, who took office in September, an opportunity to set out his vision for reform in Afghanistan at a meeting attended by US secretary of state John Kerry and regional players including Pakistan's prime minister Nawaz Sharif.
Advertisement
ITV News has filmed inside Camp Bastion after a deadly ambush by Islamist militants killed at least 5 soldiers over the weekend.
Read the full story ›
The International Security Assistance Force (ISAF) has described today's fatal suicide bomb in Kabul as "horrendous" in a statement strongly condemning the Taliban attack.
A Briton and five Afghans were killed in the attack on a convoy transporting British embassy staff in Kabul this morning.
A second Briton and several other Afghan civilians were wounded.
I extend my deepest sympathies to the victims of this horrendous attack and to their families and loved ones.

I strongly condemn this despicable attack by the Taliban against those who were serving to help improve conditions in Afghanistan.

Those who commit such murderous acts have no place in the future of this country.
– Gen. John F. Campbell, ISAF commander
An explosion has shaken houses in the diplomatic quarter of the Afghan capital, Kabul and gunfire has been heard according to Reuters news agency.
Security firm G4S has confirmed two British embassy staff killed in a targeted attack in Kabul were members of its security team.
In a statement the firm said: "At 10.20am local time this morning in Kabul a suicide vehicle-borne improvised explosive device (IED) was detonated targeting a British Embassy vehicle moving through the city.
"A local member of the embassy staff and an expatriate G4S security team member were both killed in the explosion. A second British member of the G4S security team was injured.
"An investigation into the incident is under way and therefore we are unable to comment further at this time."
Load more updates