The death toll in the hospital bombing in Kunduz, Afghanistan has risen 1o 19.
This includes 12 staff members from aid organisation MSF and seven patients, including three children.
37 people are injured, including 19 staff members, the aid agency said.
Meinie Nicolai, MSF President, said: "This attack is abhorrent and a grave violation of International Humanitarian Law. We demand total transparency from Coalition forces. We cannot accept that this horrific loss of life will simply be dismissed as 'collateral damage'."
An investigation has been launched to try and determine how an airstrike hit a hospital run by aid workers.
US Defence Secretary Ash Carter said the US still was examining how an airstrike hit a hospital run by Medecins Sans Frontieres in the Afghan city of Kunduz on Saturday.
"A full investigation into the tragic incident is under way in coordination with the Afghan government," Carter said in a statement.
He said the area around the hospital had been the scene of intense fighting in recent days with US forces supporting Afghan Security Forces against Taliban fighters.
Advertisement
The UN human rights chief has called for an investigation into the bombing of the hospital in Kunduz, Afghanistan.
Zeid Ra'ad Al Hussein, the High Commissioner for Human Rights, said it was "utterly tragic, inexcusable, and possibly even criminal".
He added: "The seriousness of the incident is underlined by the fact that, if established as deliberate in a court of law, an airstrike on a hospital may amount to a war crime."
The US Defence Secretary Ashton Carter said the US is still trying to determine what happened in the air strike that hit the Afghan hospital.
The death toll has risen to 16 in the bombing of the hospital in Kunduz, Afghanistan, the aid group MSF has said.
Nine of those are MSF staff and seven are patients (including three children).
The bombing also injured 37 people - 19 were staff (of which five are critically injured) - and 18 patients and caretakers.
LATEST: 16 ppl killed - 9 MSF staff, 7 patients (3 children). 37 injured - 19 staff (5 critical) & 18 patients & caretakers. #Afghanistan
The head of US-led forces in Afghanistan has apologised for a deadly bomb attack on a Medicens Sans Frontieres (MSF) hospital in Kunduz, the Afghan President's office has said.
Army General John Campbell provided details to President Ashraf Ghani and apologised, according to a statement.
A spokeswoman for the international coalition could not immediately confirm that Campbell phoned Ghani but said she was checking.
The medical charity Medecins Sans Frontieres (MSF) "frantically phoned" NATO and Washington as bombs were dropped on one of its medical facility in Afghanistan, an official at the organisation has said.
The charity has said that bombs were falling on the hospital in Kunduz for almost an hour.
Bombing continued for 30+ minutes after #MSF informed US, Afghan military officials that Kunduz hospital was hit.
Advertisement
All sides in the Afghanistan conflict were clearly informed of the precise location of the Medecins Sans Frontieres (MSF) facilities near Kunduz, the aid group has said.
In a statement, MSF said that parties in Washington and Kabul were given GPS coordinates of the hospital, guesthouse, office and an outreach stabilisation unit belong to the group.
The organisation has said it condemns the bombing in "the strongest possible terms".
At least nine MSF staff have now been reported as dead following the bombing of Kunduz hospital.
The group also said that 37 people had been wounded, 19 of which were staff.
It is w/ deep sadness that we confirm so far the death of 9 @msf staff from bombing last night of MSF's hospital in Kunduz. 37 Wounded.
Some of the most critically injured are being transferred for stabilisation to a hospital in Puli Khumri, two hours' drive away.
– MSF
Many people remain unaccounted for.
The medical aid group Doctors Without Borders - or Medecins Sans Frontieres (MSF) - have released photos showing the aftermath of the air strikes that hit its trauma centre in Kunduz.
MSF has called for fighting parties in Afghanistan not to target health facilties.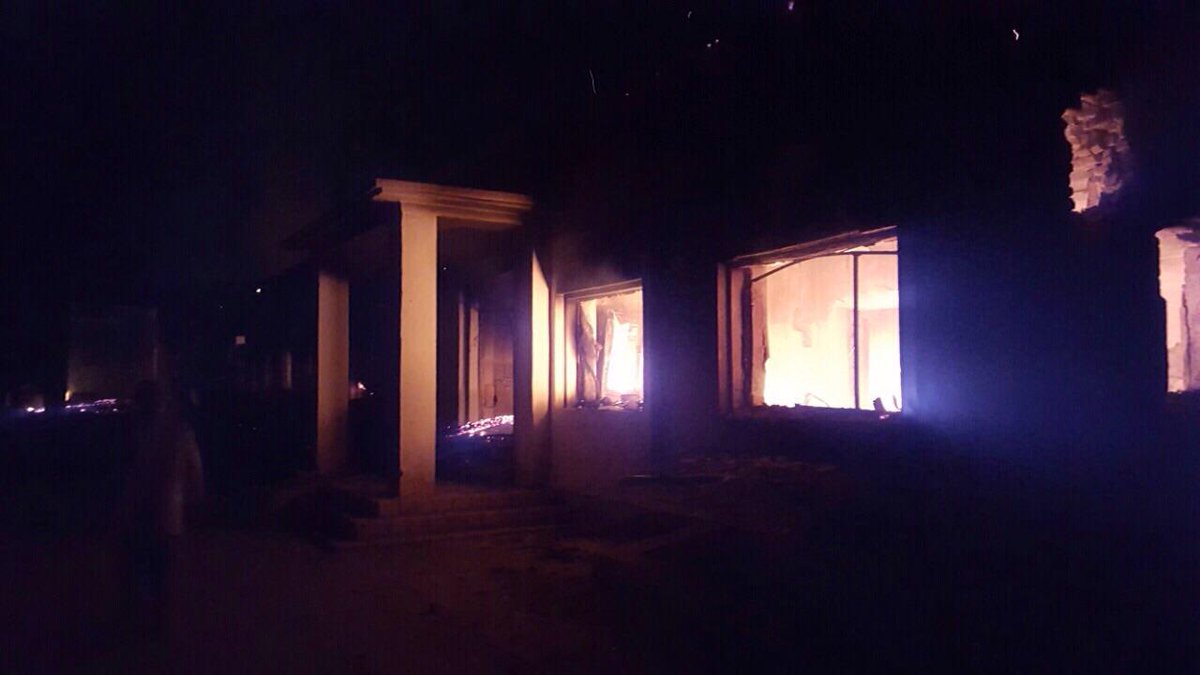 Pictures tweeted by Doctors Without Borders show fire engulfing a hospital that was bombed in the Afghan city of Kunduz.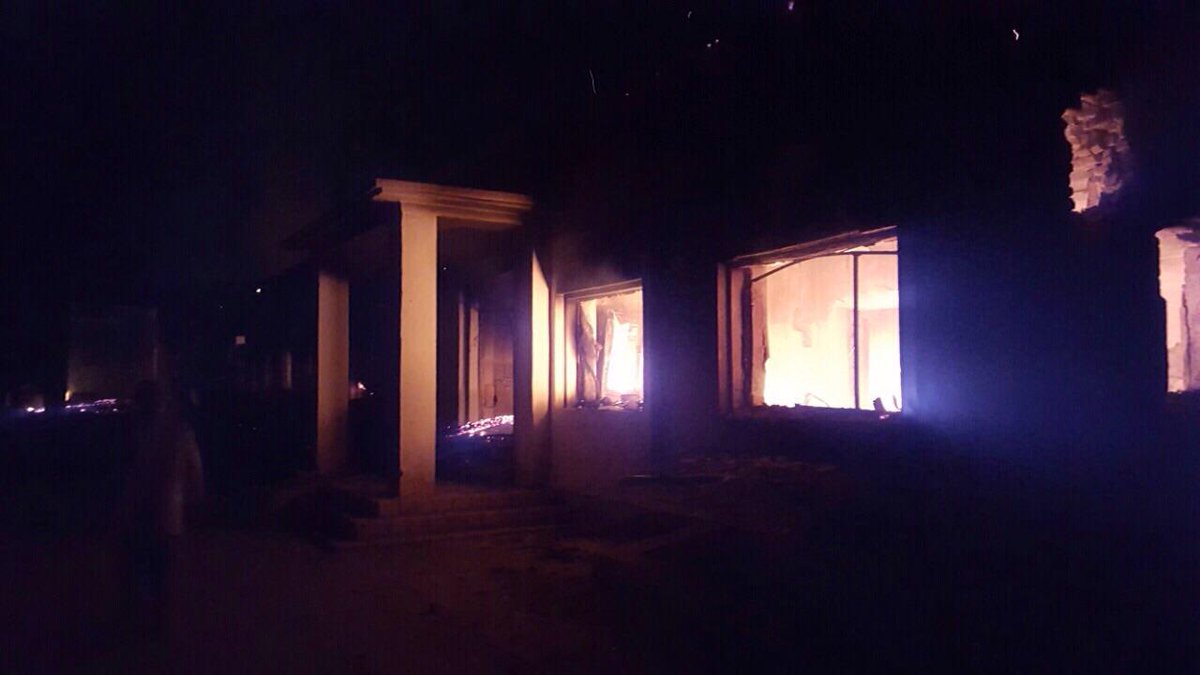 Load more updates