Air strikes in the northern Syrian city of Aleppo have killed 194 civilians in the past seven days.
In rebel-held areas of Aleppo 123 civilians, including 18 children, were killed during the days of intensified violence, the Syrian Observatory for Human Rights said on Friday.
Rebel shelling into government-held areas of the city during the same period killed 71 civilians, including 13 children, the British-based monitoring group said.
Eight more civilians, including three children, were killed by government shelling into areas not under its control in the city, the Observatory said.
The fierce fighting in Aleppo has killed at least 500 people since the offensive began in early February, the Syrian Observatory for Human Rights said.
The war monitor said this figure included at least 100 civilians.
Thousands have been fleeing the brutal war in Aleppo in recent days and are camped along the border with Turkey.
Advertisement
The fierce fighting in Aleppo could see a wave of 600,000 Syrian refugees fleeing to the border of Turkey, the country's deputy prime minister has warned.
Numan Kurtulmus said: "The worst-case scenario that could happen in this region in the short term would be a new influx of 600,000 refugees at the Turkish frontier."
Tens of thousands of Syrians are currently camped along the border.
German chancellor Angela Merkel has joined Turkey in condemning Russian bombing attacks for forcing thousands of Syrians to rush to the Turkish border.
Around 30,000 people are being held in camps on the Syrian side of the border after fleeing the city of Aleppo to escape bombardment from Russian-backed government forces.
Ms Merkel, who is partly in Ankara to put pressure on Turkey to admit the refugees, said: "We are now, over the last few days, not only appalled but also shocked by the human suffering of tens of thousands of people through bombing attacks, and also bombing attacks originating from the Russian side."
Speaking at the joint news conference, Turkish prime minister Ahmet Davutoglu said Turkey will admit the refugees "when necessary" on a day when his administration sent trucks carrying more tents over the border to reinforce the temporary camps.
A Turkish convoy carrying tents has crossed the border to reinforce camps on the Syrian side where thousands of refugees remain held.
ITV New Middle East Editor Lutfi Abu Aun tweeted images of trucks reaching the border gates at Bab al-Salameh.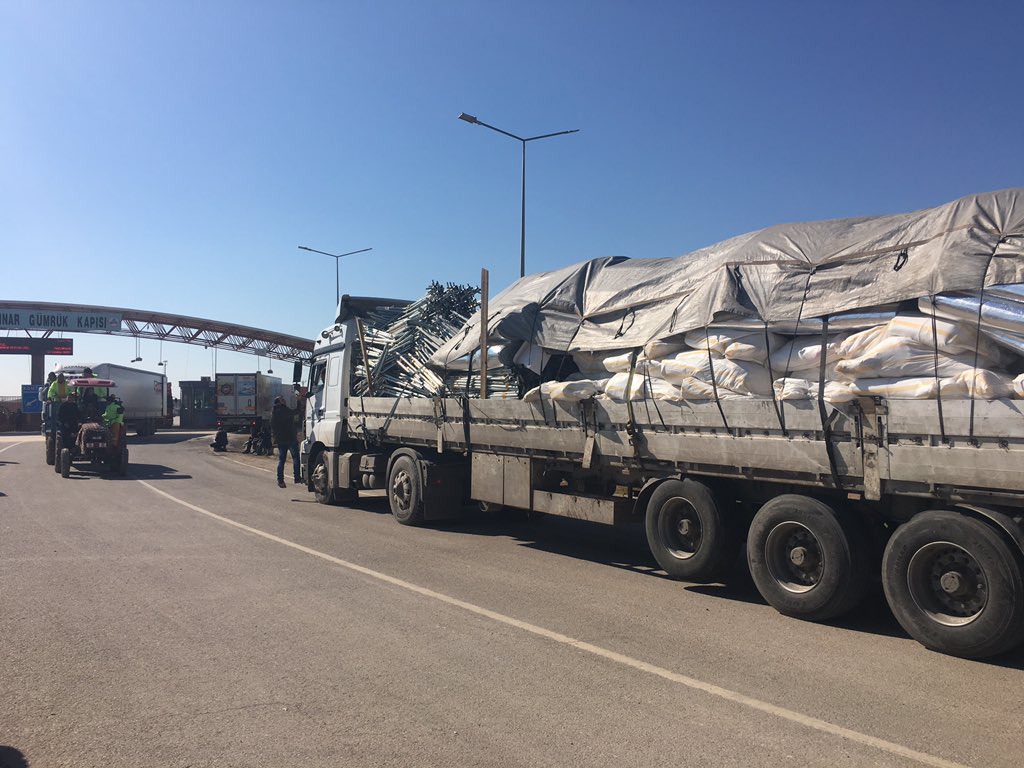 The Turkish government is continuing to resist pressure from the EU to admit more refugees with between 30-40,000 Syrians held just over its border.
Advertisement
Turkish deputy premier says 15,000 refugees from Syria have been admitted with a further 30,000 refugees being cared for across the border
Read the full story ›
The EU has urged Turkey to open the border to ten thousands of displaced Syrians fleeing from war.
Federica Mogherini, the EU's representative for foreign affairs, said that Turkey had both a moral and legal duty to help genuine asylum seekers.
She added that support provided for Turkey was intended to ensure that the state could give sanctuary to hoist and care for refugees, in comments after a press conference in the Netherlands on Saturday.
It is unquestionable that people coming from inside Syria are Syrians in need of international protection.
– Federica Mogherini
Turkey has said it is caring for some 35,000 refugees massed at its borders, but it has not as yet allowed them to enter.
Today Ms Mogherini said the issue of migrants showed that Europe needed to find "common solutions" or state will find they "don't find solutions at all."
Around 35,000 Syrian refugees have arrived at the Turkish border near Kilis in the last 48 hours, a Turkish official has said amid warnings that tens of thousands more people may still be on their way to the frontier between the two countries.
Kilis governor Suleyman Tapsiz said the recent arrivals were being provided with food and blankets while accommodated in camps at the Syrian side of the border, adding that another 70,000 could be expected if Russian airstrikes and advances by the Syrian regime continued.
He told reporters that while the border was not closed, "at the moment there is no need to host such people inside our borders".
Speaking at around the same time, Turkey's foreign minister said the border between his country and Syria was still open, claiming that people needed to flee because Russian airstrikes were hitting "schools, hospitals and civilians".
He added that a further 55,000 people could be expected to arrive at the border in the coming days.
Syria's foreign minister has warned that any foreign ground troops who enter Syria without approval will "return home in coffins" - an apparent warning to Saudi Arabia which announced days ago it was ready to send forces into country.
Speaking amid talks intended to broker a ceasefire in the country, Walid al-Moualem said no such deal would be possible until the country's borders with Turkey and Jordan are closed.
It comes as thousands fled to the border of Turkey amid a fresh wave of fighting in Aleppo.
Load more updates