US Secretary of State John Kerry has played down expectations of a new ceasefire agreement between Syria and Russia.
His comments come as Russian President Vladimir Putin and Syria's President Bashar al-Assad discussed a "humanitarian pause" in the Syrian city of Aleppo, according to a Kremlin spokesman quoted by Russian news agencies.
Speaking to reporters on Wednesday, Mr Kerry said: "I'm not approaching this with a high sense of expectation and nothing is based on trust."
The Syrian Army is observing a temporary ceasefire in Aleppo to alleviate the humanitarian situation.
Syria's Foreign Ministry added the army has pulled back and have created two designated corridors to enable rebel fighters to leave the city.
"The government will use all means to stabilise the situation in Aleppo and transfer civilians without restrictions and bring in humanitarian aid."
They said Russia, who are backing the Syrian Army in Aleppo, will observe a temporary ceasefire on Thursday.
However ITV News is on the ground and have reported shots are still being fired in the city.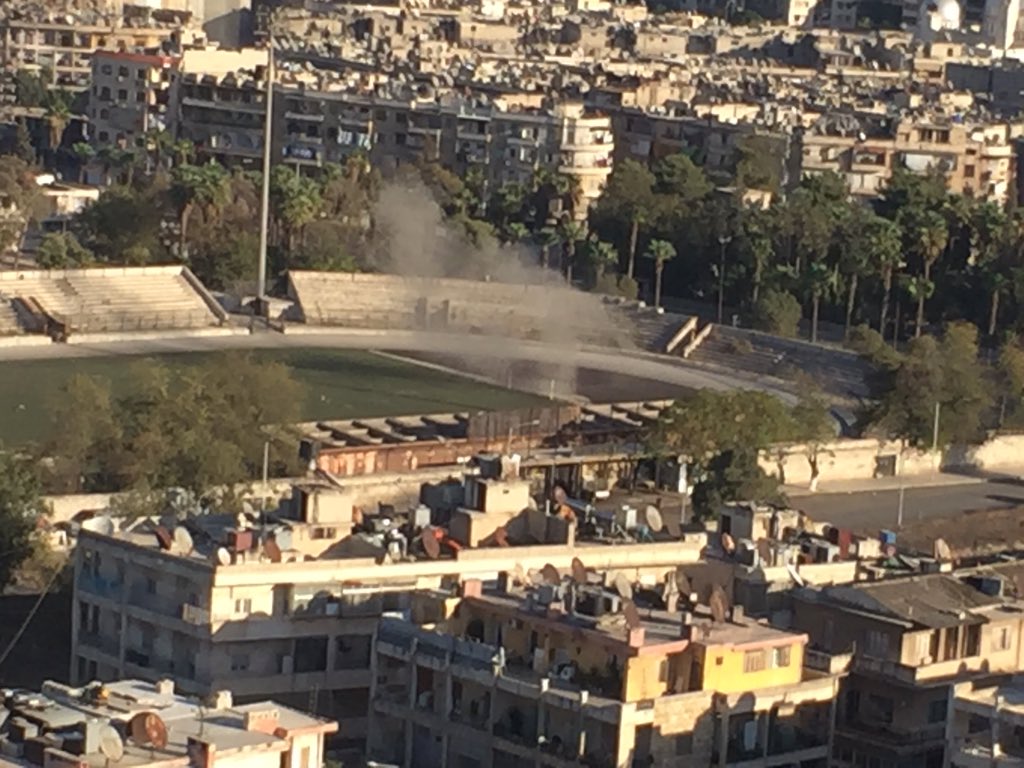 Advertisement
ITV News Correspondent Dan Rivers, who is in Aleppo, says the ongoing battle gives "very little peace for people caught in the crossfire".
Read the full story ›
The US has criticised a Russian plan for a temporary halt to the bombing of Aleppo as "too little too late".
Moscow announced earlier that, alongside the Syrian government, it would suspend attacks on Aleppo for eight hours on Thursday, giving a window for civilians and rebels to flee the city.
State Department spokesman Mark Toner, asked about the plan at a daily briefing, said that it if led to "an eight-hour pause in the unremitting suffering of the people of Aleppo, that would be a good thing, but frankly it's a bit too little, too late".
Russian and Syrian armed forces will temporarily halt attacks on the Syrian city of Aleppo for eight hours on Thursday to allow civilians and rebels to leave the city, the Russian defence ministry has said.
"On Oct. 20 from 08:00 (05:00 GMT) until 16:00, a humanitarian pause will be implemented in the area of Aleppo," Russian defence ministry official Sergei Rudskoy said.
"For that period, Russia's air force and Syrian government forces will halt air strikes and firing from other weapons."
Moscow ruled out a lasting ceasefire, a step that Western governments have been demanding, saying that would only give Islamist rebels in the city an opportunity to regroup.
Syria's president said taking the city of Aleppo from rebel forces will be a springboard to "liberate" other areas of the country.
Read the full story ›
Advertisement
At least four children have been killed and 10 wounded after a shelling near a school in government-held western Aleppo.
The Syrian Observatory for Human Rights - a British-based war monitoring group - said the incident took place on Thursday.
Syrian state news agency SANA said the school, situated in the al-Suleimaniya area, had been targeted in what they described as a terrorist attack.
Dramatic ootage captured the moment a boy trapped under rubble in Aleppo is rescued following an airstrike.
Read the full story ›
Russian jets have resumed heavy bombing of rebel-held eastern Aleppo after several days of relative calm.
The airstrikes mostly hit the Bustan al-Qasr neighbourhood.
Casualties were reported, but a number was not known.
Last week Moscow and the Syrian government had reduced air raids, partly to allow civilians to leave opposition-held neighbourhoods.
Damascus had said that rebels holed up in Aleppo can leave with their families if they lay down their arms.
Meanwhile Russian President Vladimir Putin postponed a meeting in Paris with French President Francois Hollande amid growing diplomatic tensions between Moscow and the west.
Yesterday, ITV News told the story of four-year-old Eman using pictures and testimony from her doctors.
Read the full story ›
Load more updates