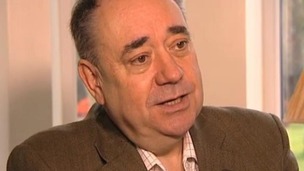 Alex Salmond maintains his 'Yes' campaign will win despite polls indicating a lack of appetite for independence.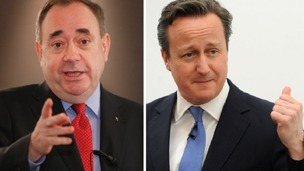 Is it a coincide the Cabinets of both the UK and Scottish governments are meeting in Aberdeenshire on the same day? Of course not.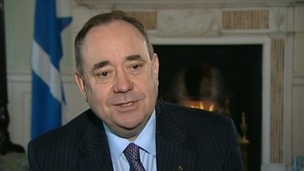 On the eve of Burns Night, Scotland's First Minister has used the Bard's words to describe the PM as a "mouse" over his refusal to debate.
Live updates
Pro-Russian separatists seize another eastern Ukraine town
SNP leader Alex Salmond has said he admires "certain aspects" of Vladimir Putin's leadership of Russia and said he had "restored a substantial part of Russian pride.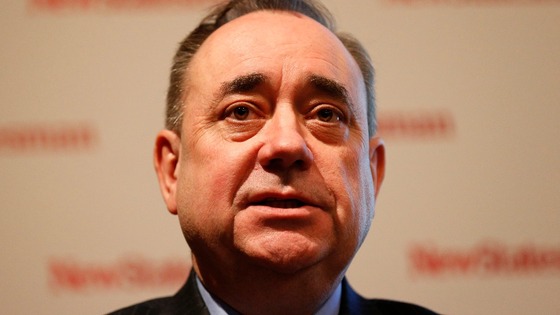 In an interview with former Labour spin doctor Alastair Campbell for GQ magazine, the First Minister said Mr Putin was "more effective" than some perceive him to be.
However, he also tempered his praise by criticising "aspects of Russian constitutionality and the inter-mesh with business and politics" in the country.
Independence pleas from both sides on St George's Day
The social union between Scotland and the rest of the UK "will remain", Alex Salmond is expected to say in a speech given in the north of England later today.
The First Minister will argue people either side of the border can still marry freely and the monarchy will preside over Scotland as it does for "other Commonwealth countries":
People would still live in Annan and work in Carlisle, or live in Penrith and work in Lockerbie. Friends and family would continue to visit each other.

We would still watch many of the same television programmes. People from Scotland and England would still celebrate personal unions - by getting married in Carlisle Cathedral or perhaps by going to Gretna instead.

On Monday, there were gun salutes in Stirling, Edinburgh and London to mark the Queen's birthday. That would continue, since we would still share a monarchy with the rest of the UK...just as 16 other Commonwealth countries do now.
– Alex Salmond
Advertisement
Independence pleas from both sides on St George's Day
Scotland's First Minister will attempt to woo more voters along the border with England, arguing there will be no disruption to trading relationships if voters chose to go it alone.
Read: Salmond: 'Bluff and bluster' over pound is just tactics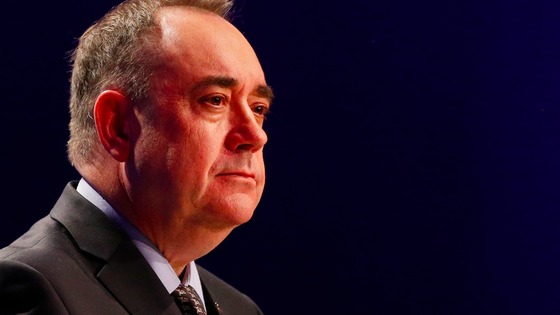 In a speech given in the English city of Carlisle on St George's Day, Alex Salmond will insist Scotland will keep the pound, despite a rousing refusal from all major UK parties to agree to a currency union.
The SNP leader is expected to refute Westminster allegations that Scottish independence will have a "profound change" on cross-border relations.
Instead, Mr Salmond will claim existing social and economic ties on the border will continue as they are.
Red Road flats demolition dropped from Glasgow 2014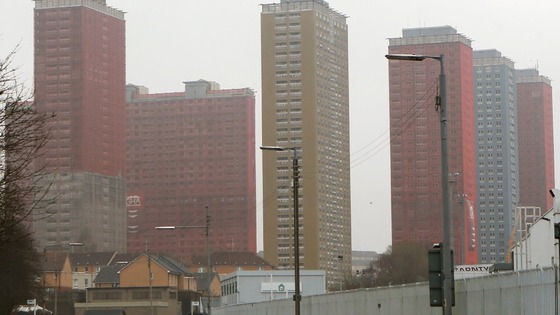 Scotland's First Minister Alex Salmond has welcomed the decision taken by Glasgow 2014 organisers to drop the demolition of the Red Road flats from the Opening Ceremony.
"I think it's a sensible decision that will be widely welcomed and we've already seen indications of that," he said.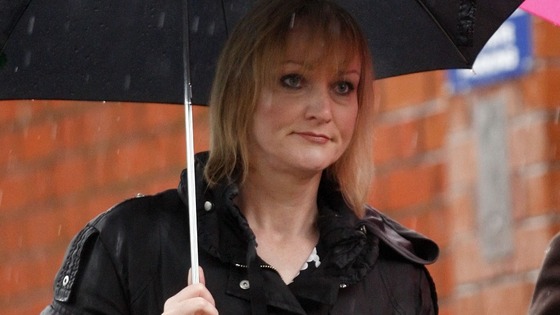 Former Scottish Socialist MSP Carolyn Leckie said she was 'relieved and extremely pleased' with the move.
"I think it's great, it's a sensible decision. I think everybody will be relieved and I think the over-17,000 people who expressed their views in the petition - making a lot of sensible comments, some of which were also based on safety - will be relieved," she said.
Alex Salmond: Let Scotland decide its own future
Alex Salmond is to echo his deputy's call for Labour voters to back Scottish independence, saying a Yes vote is not about the SNP.
At his party's conference in Aberdeen the Scottish First Minister will say "a Yes vote in September is not a vote for me, or for an SNP government in 2016.
Deputy First Minister Nicola Sturgeon used her own speech yesterday to reach out to Labour supporters, as ITV News' Martin Geissler reports.
Salmond will also say that independence negotiations between Scotland and the rest of the UK could start within days of a Yes vote in the referendum.
He will say that if there is a Yes vote in the referendum "an all-party 'Team Scotland' negotiating group, including non-SNP members, will be convened".
First Minister Alex Salmond has told Sky News that all the talk not sharing the sterling if Scotland votes Yes for Independence is all "bluff and bluster".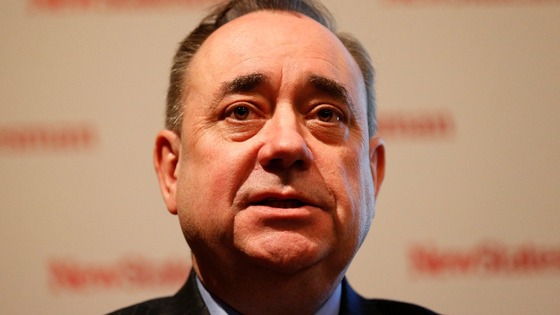 He also reiterated that that on the polls, the Yes campaign is gaining ground and that the best people to govern are the people who "live and work in the country".
Responding on the Murnaghan programme on Sky News to an article on the Guardian on an independent Scotland, Salmond said that all this "bluff and bluster about not sharing sterling is a campaign tactic."
Salmond said the 'No' campaign is trying to 'scare the natives' by insisting there will not be a currency union.
Advertisement
Sharing sterling after independence is the best option for Scotland, First Minister Alex Salmond has insisted, but added that there is a plan B, C, D, E and F.
Read: Carney: RBS might have to leave independent Scotland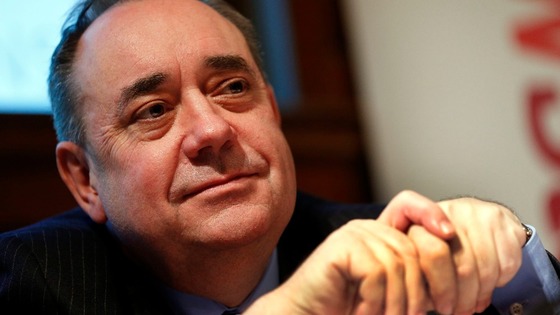 The Scottish Government favours a formal monetary union, in which an independent Scotland would continue to share the pound, but this arrangement has been ruled out by Chancellor George Osborne and the main parties at Westminster.
Speaking on BBC's Andrew Marr show, Mr Salmond said: "We're as entitled to share [sterling] as the people in London and therefore if you claim ownership over that currency like Ed Balls and George Osborne are doing then unfortunately you claim ownership over all the debts of the United Kingdom.
"That's why people in Scotland are seeing through the bluff and the bluster."
Read: Scottish independence 'a threat to safety and security'
Scottish independence 'a threat to safety and security'
David Cameron has said his promise to make devolution work better for Scotland is not a consolation prize for Alex Salmond if the nation votes to stay as part of the UK.
Mr Cameron was addressing his Scottish party members at the Edinburgh International Conference Centre.
Salmond likens Osborne to Thatcher in sterling row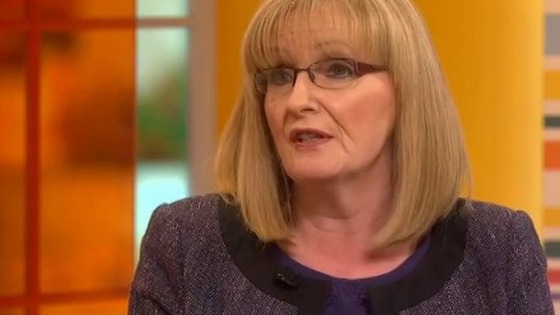 Scotland "gives a lot" to the UK and voters value "the success" of the union, the Shadow Secretary for Scotland has told Daybreak.
"The welfare state, we have built together - I think that benefits a lot of people and I think that really is where opinion is starting to settle in Scotland.
"Big debates still to be had, not complacent in any of that at all. It is a big, big decision.
"But I think it is the fundamental issues of our standards of living. If you can't tell us what kind of currency we are going to have, I think Alex Salmond is asking us to back a very, very bad idea."
Salmond likens Osborne to Thatcher in sterling row
Alex Salmond has hit out at George Osborne's warning that an independent Scotland could not share currency with the rest of the UK - comparing it to an infamous speech by Margaret Thatcher.
The Scottish first minister said Osborne had made a "monumental error" with what he called a "Sermon on the Pound".
Load more updates
Back to top