The inquest into the death of the prime suspect in the murder of schoolgirl Alice Gross is expected to resume today.
The body of convicted killer Arnis Zalkalns was found in a park in west London on October 4, more than a month after the 14-year-old went missing from her home in Hanwell.
The 41-year-old Latvian man was found hanged in woodland at Boston Manor Park four days after Alice's body was pulled from the River Brent.
Alice was reported missing on August 28, sparking Scotland Yard's biggest manhunt since the aftermath of the July 7 bombings.
Her inquest has been adjourned until January.
Read: Alice Gross' mother tells of grief and anger at schoolgirl's murder
Ros Hodgkiss has spoken of her "unbelievable sadness" in her first public statement since her murdered daughter's body was found.
Read the full story ›
Advertisement
I have been numbed by shock and grief, I have felt outrage and anger at the loss of her life and unbelievable sadness at the emptiness that has been left. I have wracked my brains for all the 'what ifs' of that day, anything that might have stopped this random, incomprehensible tragedy. It is even harder to talk about that pain than it is to talk about Alice. I cannot imagine life without Alice."
– Rosalind Hodgkiss, Alice Gross' mother
Speaking the memorial service to remember their daughter, Rosalind Hodgkiss and Jose Gross have thanked the emergency services for their dedication, persistence and in the end tenderness.
The operation to find Alice was the biggest police search since the aftermath of the July 7 bombings.
Hanwell stood silent today to remember the murdered schoolgirl Alice Gross on the day of her funeral.
Local people came to pay their respects as a hearse carrying the 14-year-old's coffin passed through the area in west London.
Alice's family said it was "impossible" to understand the "appalling" circumstances in which Alice died.
ITV News Reporter Sejal Karia reports:
A public memorial service for Alice Gross will be held next month, her family have announced, as they paid tribute to the support of local people in Hanwell.
ITV News Reporter Sejal Karia reports:
#AliceGross parents add a public memorial ceremony will take place on 2 Nov for family to thank local people whose outpouring of support..
Advertisement
The funeral of murdered schoolgirl Alice Gross will be a "humanist celebration full of music", her parents say.
Videos of Alice singing songs she wrote will be played during the service.
Her parents, elder sister and teachers will all pay tributes to the 14-year-old who was found dead on September 30.
Her coffin was painted by sister Nina, Alice's Grandmother, Anne Hodgkiss, and family friend, Carole McCourt.
The coffin, showing a meadow scene, is said to capture Alice's love of nature and features her three cats, Lottie, Louis and Pattie, and her dog, Peggy.
The parents of Alice Gross have described their devastation at the "appalling circumstances" of her death.
In a statement released on the day of their daughter's funeral, Jose Gross and Rosalind Hodgkiss said Alice was "so spirited, so present, so vital and so full of promise".
"We find it almost impossible to understand what has happened and that we have to say goodbye to her.
"We want Alice's funeral to focus on the joy of Alice's life and the joy of having known her."
They also thanked the community of Hanwell for their support during their ordeal, saying it has "touched them very deeply".
Residents of Hanwell have left tributes and flowers in honour of murdered schoolgirl Alice Gross, whose funeral takes place today.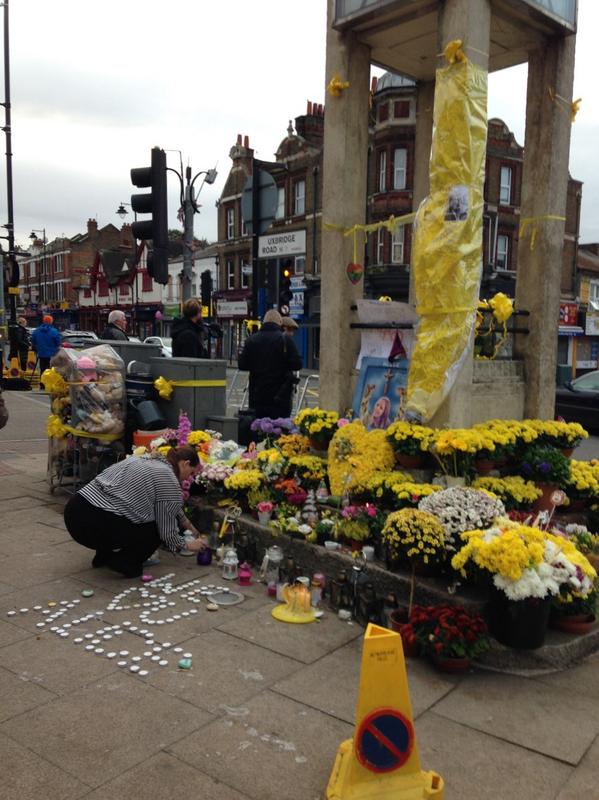 Load more updates