Scottish people "do not expect to be shouted down" and want to debate freely, the leader of the Better Together campaign told Good Morning Britain.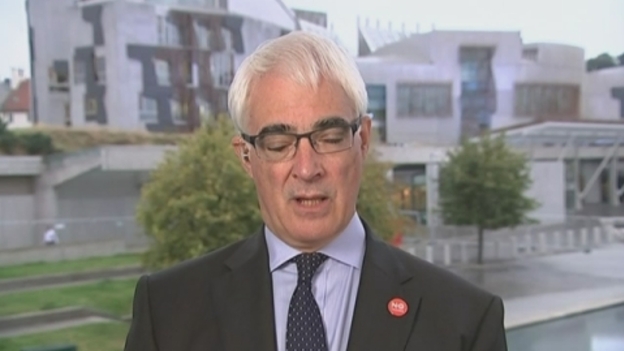 While Alistair Darling acknowledge it was only a small minority of Yes campaigners who had intimidated voters, he said it is "not the sort of Scotland any of us want to live in."
The leaders of the Better Together and Yes Scotland campaigns, Alistair Darling and Alex Salmond, are about to take part in a web debate on Mumsnet.
The move is being seen as an attempt by both leaders to reach out to female voters, who polls have shown to be in favour of independence for the most part.
Mumsnet founder Justine Roberts said: "Our Scottish users have been actively debating the referendum on Mumsnet.
"Many are firmly in either the Yes or No camp but a significant number are still very much undecided and we hope the webchat will help them reach a decision on who to vote for."
"The issue of the economic viability of an independent Scotland has been raised far more frequently than individual household budgets in discussions, but the impact of independence on jobs, welfare, health and education are all areas of concern for Mumsnet users."
Advertisement
Alistair Darling has said Scots could achieve their goal of greater powers over tax and welfare "in months" in the event of a 'No' vote.
By contrast, the Better Together leader said that a 'Yes' vote would result in "years of negotiation".
Pressed by STV's political editor Bernard Ponsonby to say how much the three pro-Union parties agree on, he said: "The parties are more or less in the same place, of course there are some differences."
He said that in the event of a 'No' vote there would be a period of discussion and compromise between the political parties and then a consultation outside the parties, but that it would still be quicker than the alternative.
A vote for Scottish independence will lead to years of wrangling with the UK and Europe, the leader of the Better Together campaign has claimed.
Alistair Darling told STV's Scotland Tonight: "I don't want to see that turbulence, all that risk, all that uncertainty.
"I want to make sure we can improve the quality of people's lives within the United Kingdom, within Scotland."
But Darling would not be drawn on whether he would join First Minister Alex Salmond's "Team Scotland" to negotiate a deal on independence if there is a Yes vote in the referendum.
Alistair Darling said the gap between support for the Yes and No campaigns had always been expected to narrow, dismissing suggestions that plans to outline the handover of more powers this week were little more than a bribe.
He told BBC Radio 4's Today programme: "The additional powers coming to the Scottish Parliament were announced by the party leaders north and south of the border some time ago.
"People have said yes, we want to know the timetable and the process, and that is something that the Government is going to announce this week."
"I believe that we will win this referendum because a majority of people in Scotland do want to ensure that there is a better and stronger future for themselves and the generations to come," he said. "I'm very confident we will win the day."
First Minister of Scotland Alex Salmond and the leader of the Better Together campaign Alistair Darling are preparing to take part in the second televised debate on the Scottish Referendum.
The leaders will debate four topics: Economy, Scotland at Home, Scotland in the World and What Happens after the Vote. They will also have a chance to cross-examine each other.
The debate kicks off at 8:30pm and will screened on BBC Scotland One and across the UK on BBC Two.
Advertisement
ITV News Correspondent Martin Geissler reports from Edinburgh, where the battle over Scottish independence shows no signs of letting up.
Former chancellor Alistair Darling, who also leads the Better Together campaign to keep Scotland in the UK, said Bank of England governor Mark Carney's speech on currency union spells out stark problems.
Mr Darling said: "This is a detailed speech but make no mistake - the governor's judgment on currency unions is devastating for Alex Salmond's currency plans. Why? Because the whole point of independence is to break the fiscal and political union that makes monetary union possible.
"The governor has spelled out in stark terms the problems of a currency union. Above all, it needs people living in the rest of the UK to agree to something they have never been asked about.
"As the governor makes clear, in a currency union both sides have to agree to each other's taxes, spending and borrowing. This is what is happening in the eurozone today.
"It is highly unlikely that the people living in the rest of the UK would agree to this. And remember, in a currency union like this, Scotland has 10% of GDP and the rest of the UK would have 90%. It is clear who would call the shots."
After comments made by Mariano Rajoy, Prime Minister of Spain concerning an independent Scotland's membership of the EU, Better Together leader Alistair Darling said:
Labour's refusal to reopen its inquiry into the Falkirk vote-rigging row comes as the Party's former chancellor Alistair Darling and Scottish Labour leader Johann Lamont suggested that the issues around the contest in the constituency should be looked at again.
"Something has gone very wrong in Falkirk. There needs to be a very thorough investigation," Mr Darling said in a television interview.
"I understand the police are looking at matters now.
He added: "If they proceed, then that is what'll happen but if they don't there needs to be a full inquiry and I am quite clear that the results have to be published because that is the only way in which people will be satisfied that justice is done and been seen to be done."
Load more updates