Amir Khan had to climb off the canvas to continue his comeback with a points win over Samuel Vargas in Birmingham.
The Bolton welterweight, in his second fight since returning to the ring after a two-year absence, was knocked to the floor in the final seconds of the second round.
Colombian-born Vargas had already been put down himself when he stunned Khan and the capacity crowd.
But, with potential next opponent Kell Brook watching at ringside, Khan recovered and floored Vargas again.
He was unable to finish the job there and then, though, and eventually had to settle for a unanimous points victory from what was at times a gruelling battle.
Amir Khan made a blistering return to the ring by beating Phil Lo Greco by stopping his opponent inside 39 seconds at Liverpool's Echo Arena.
The 31-year-old had not fought for two years, since being beaten by Saul 'Canelo' Alvarez in Las Vegas in May 2016, and he made up for lost time by knocking Canadian Lo Greco down twice in the early stages.
Khan, in his first bout on British soil in five years, sent Lo Greco to the canvas with a swift one-two combination inside the opening 30 seconds.
The contest was over moments later as the Briton's devastating hand speed pinned his opponent up against the ropes to ensure it was over moments after it had started.
It meant Khan delivered an emphatic statement to Kell Brook, who was watching on from ringside, ahead of a possible all-British grudge match between the two Matchroom stable mates.
Advertisement
Amir Khan will fight Manny Pacquiao on April 23 in a "super fight", both fighters have announced on Twitter.
After the pair revealed earlier this week that negotiations were ongoing over a bout, a date has now been agreed, but no venue yet.
There were reports earlier this week that a verbal agreement was in place for Pacquiao-Khan to take place in either Bolton or Manchester. The United Arab Emirates has been suggested as the likeliest location, but there has been no confirmation.
Pacquiao continues to be trained by Freddie Roach but Khan left the American in September 2012 and is now under the tutelage of Virgil Hunter.
The two-time world boxing champion invited 250 guests to the lavish event, which including a real-life ballerina.
Read the full story ›
Amir Khan defiantly insisted he was okay while he was taken to hospital as a precaution after his heavy sixth-round knockout defeat by Saul 'Canelo' Alvarez in Las Vegas.
The WBC champion brutally stopped Khan with a huge right hand to make the first successful defence of his title, inflicting the fourth defeat of the 29-year-old's professional career and exposing him as a natural welterweight too small to convincingly compete at the catchweight of 155lbs.
There was little shame in the nature of the defeat for Khan, who impressed with his speed and combinations in the opening five rounds until Alvarez's superior size and strength began to slow him down and leave him vulnerable to the knockout that followed.
Khan said afterwards he expects to return to 147lbs, where he is undefeated and where his domestic rival Kell Brook is the IBF champion, and added on Twitter on his way to hospital: "Im okay everyone. thats boxing for you."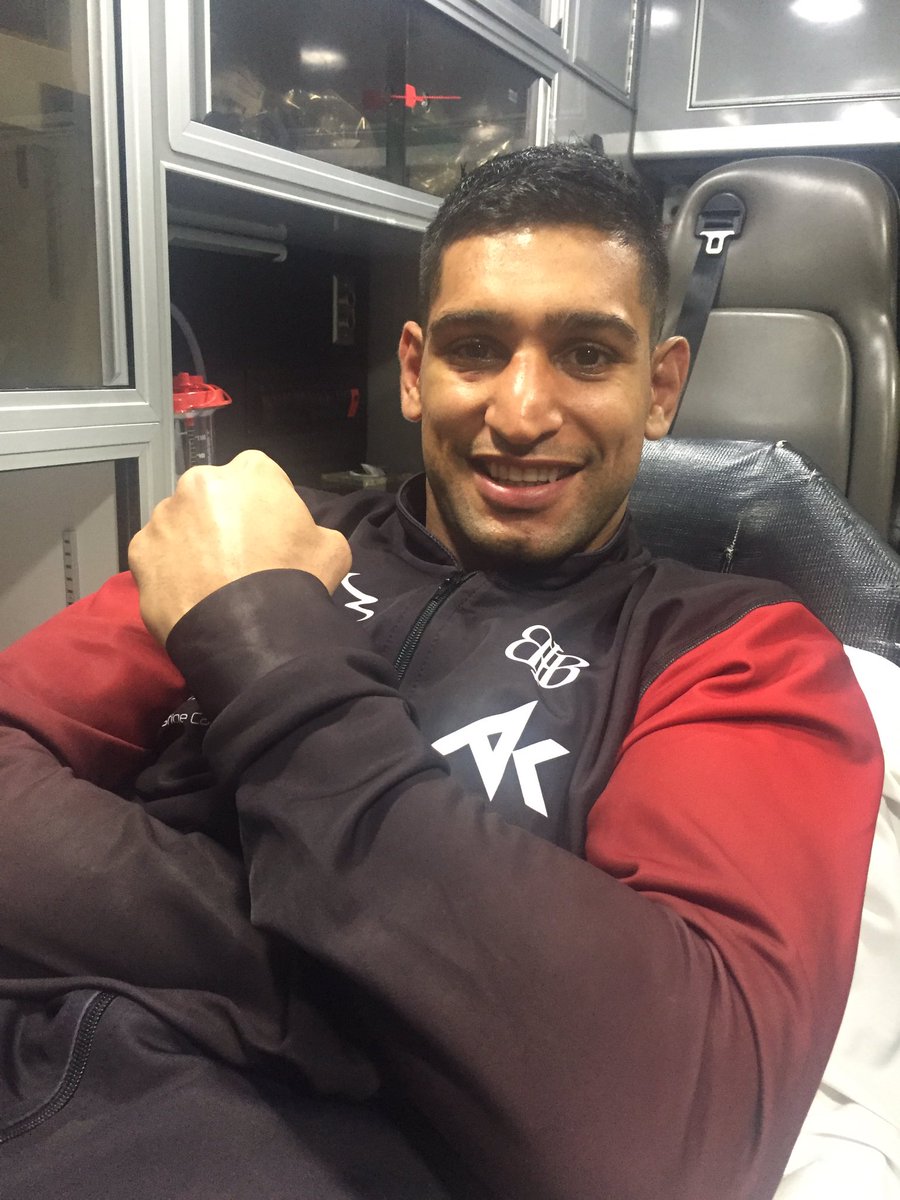 He hit the canvas so heavily it was instantly obvious the fight was over - the official time was two minutes and 37 seconds of the sixth round - and the 25-year-old Alvarez knelt beside him to check he was okay.
"You want to win by knockout, but you don't want to hurt anybody," the Mexican said. "It was a human reaction to make sure he was okay and I'm glad he appears to be."
Boxer Amir Khan sparked laughter in Las Vegas when he aimed a verbal jab at Republican presidential candidate Donald Trump.
Read the full story ›
Advertisement
Amir Khan has insisted he would not be interested in fighting Floyd Mayweather if the American makes his expected return from retirement, even if he defeats Saul Alvarez to win the WBC middleweight title.
He challenges Mexico's defending champion 'Canelo' Alvarez on Saturday at Las Vegas' new T-Mobile Arena when he is such an underdog that victory would be among the greatest ever by a British fighter.
Mayweather has this week attracted significant attention since hinting at plans for a comeback and speaking of talks with American television networks CBS and Showtime, and if Khan were to hold a middleweight title where the 39 year old is yet to fight, the potential money involved would be likely to get Mayweather's attention.
"He messed me around a lot so I don't think I'd take that fight. He messed me around, so I'd probably treat him the same way," said Khan.
"Floyd's probably missing not having his picture on the MGM. He must see my picture and Canelo's picture and think, 'People have forgotten about me'. As soon as you say you're retired, we do forget about the people who say that.
"Mayweather's feeling that now, he's feeling like no one's talking about him, that he's old news, and maybe that's why he's trying to get everyone supporting him again by saying 'I want to make a comeback'.
"Whatever Mayweather says, let him say it."
Amir Khan has agreed in principle a lucrative welterweight fight with former sparring partner Manny Pacquiao next year
Read the full story ›
Amir Khan has called for his next fight to be against Floyd Mayweather after his unanimous points victory over American Chris Algieri in their welterweight bout in New York.
The Bolton fighter said: "Everyone knows I want Floyd next after all the talk about it".
"I think I've proven myself and who else is out there for Floyd..Nobody?"
"Manny Pacquaio didn't really show what we thought he was going to show..but I think I do know exactly what to do in that fight", he added.
Amir Khan is hopeful of arranging a showdown with Floyd Mayweather in September, aided by the fact Ramadan falls earlier this year.
The Bolton fighter believes an eight-week training programme after Ramadan ends on July 17 will be sufficient to prepare him to face the American.
"I'm not ruling out fighting in September because it's possible that it could happen," Khan said.
"Mayweather only fights in mid-September and Ramadan will be a little earlier this year, which helps. It gives me enough time to get the training done. So it can happen in September."
Load more updates