Parts of Schiphol Airport remain closed following reports of a suspicious package.
The official Twitter account for the airport has tweeted that air traffic has 'not been affected' by the incident.
The airport said the security alert is now over and all areas are now open
A bomb disposal robot is investigating a suspicious package at Amsterdam Airport Schiphol, according to Airlive.
Pictures of the scene were shared on social media: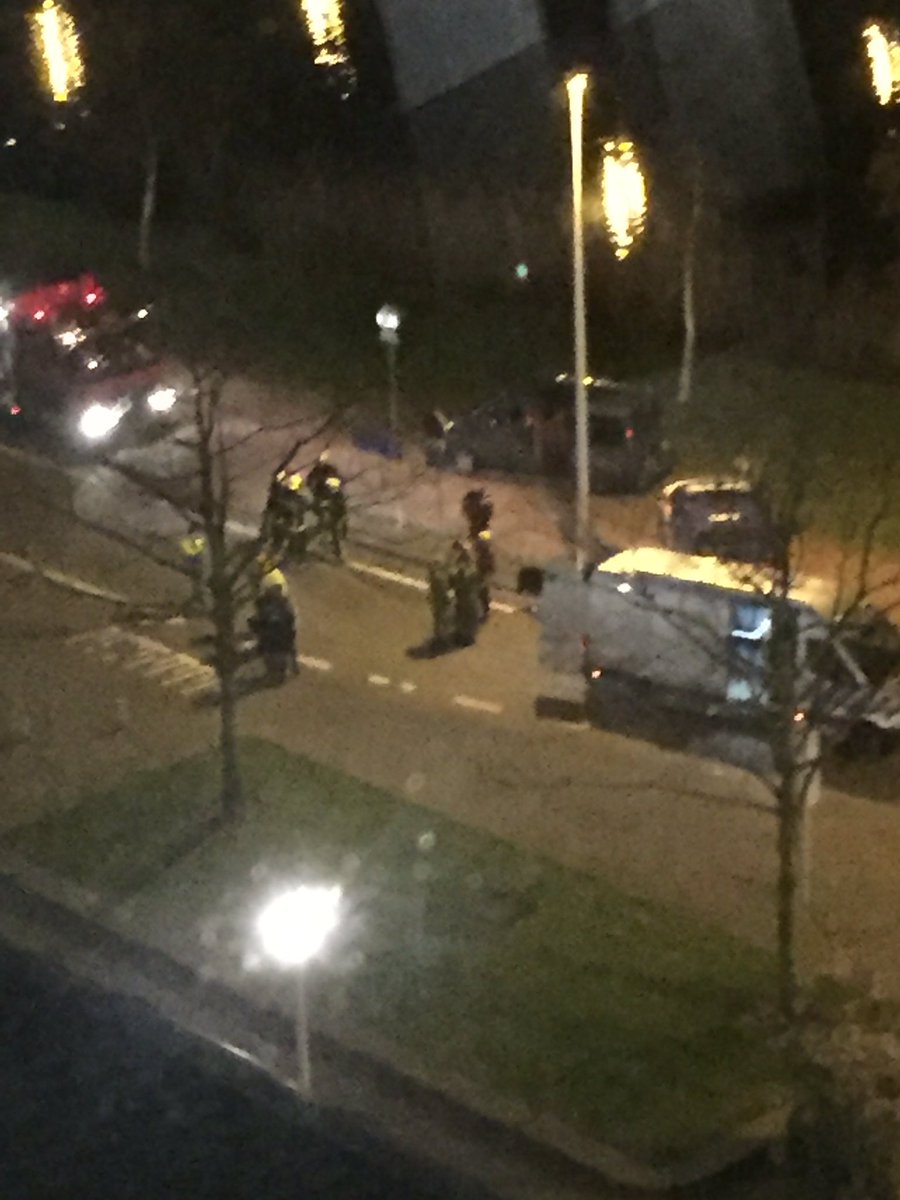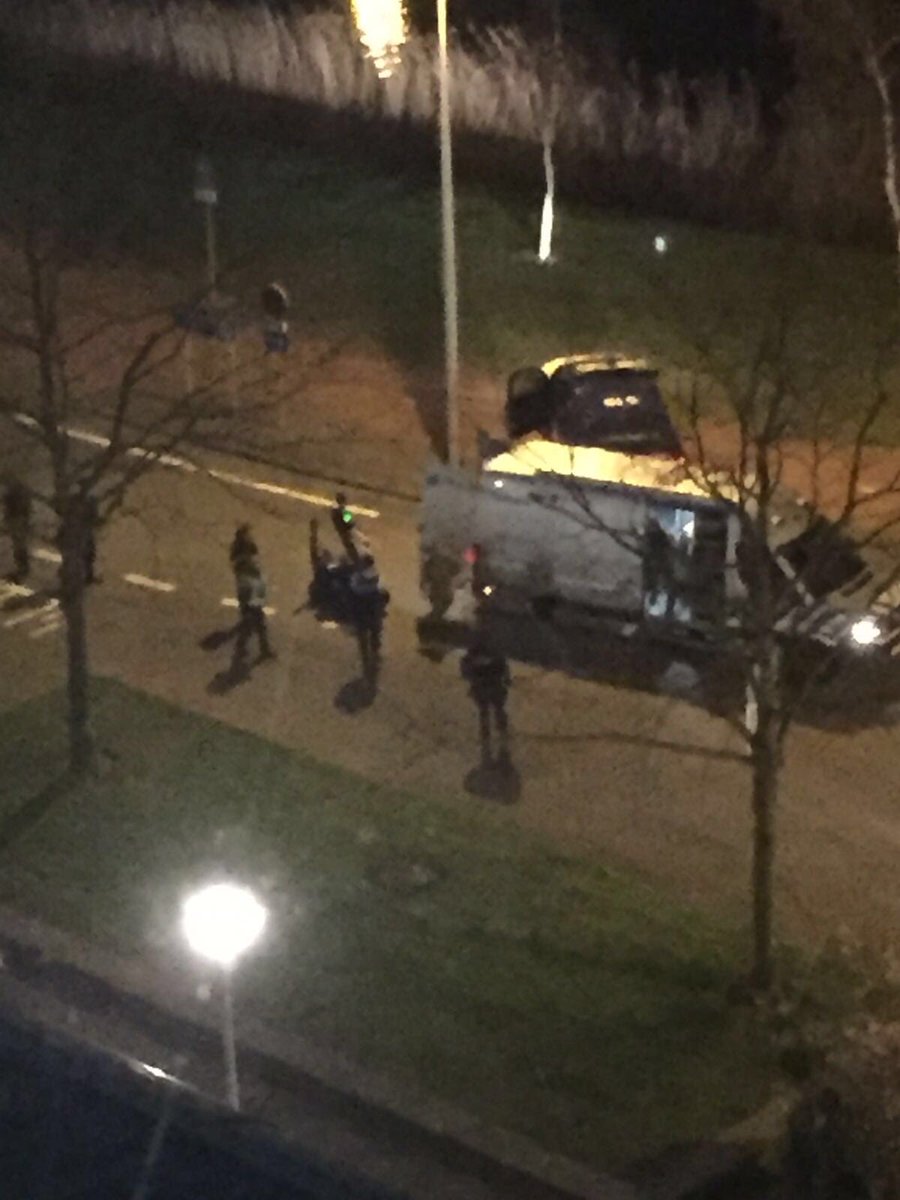 Hundreds have been evacuated from the commercial square in the airport and one person has been arrested, authorities say.
Air traffic has so far not been affected, the airport said.
Advertisement
A section of Amsterdam Airport Schiphol has been evacuated after the arrest of a suspect, a spokesperson has told ITV News.
Social media users report armed police are patrolling the airport and hundreds of people have been evacuated from the commercial section.
A severed head has been discovered in a box that was left on the pavement outside a cafe, according to police.
Read the full story ›
Dramatic footage has emerged of a mother and her toddler being rescued after their car plunged into an Amsterdam canal on Tuesday.
Read the full story ›
Passengers were evacuated from Amsterdam's Schiphol airport when a British man was arrested after reportedly shouting bomb threats.
Read the full story ›
Advertisement
The deaths of two British men found in an Amsterdam hotel room after apparently snorting white heroin are believed to have been targeted by the same dealers who sold drugs to another Briton who died in the city last month, Dutch police said.
Police spokesman Rob van der Veen said investigators believe the men were targeted by the same street dealer, or ring of dealers, involved in the death of 22-year-old Joel McDevitt, from Burnley.
A number of other people have become ill after snorting the heroin.
We did a quick test to find out what kind of powder it was. It wasn't cocaine, it was an opiate - in this case, white heroin.

We took the sample to the Dutch forensic institute and they found out that the contents of this material is the same contents as other material that we already seized in other cases where people got sick.
– Police spokesman Rob van der Veen
Local authorities have advised tourists to avoid street pushers, and since October have distributed warning signs and flyers across the capital, warning that white heroin was being sold as cocaine.
Two British tourists have died in Amsterdam after snorting what is believed to have been white heroin that was sold to them as cocaine.
The men, aged 20 and 21, and both from England, were found in a hotel room in the city yesterday next to traces of white powder.
A post-mortem examination is due to be conducted later this week to confirm the time and cause of the men's deaths.
The Foreign Office is liaising with Dutch authorities and is "providing consular assistance to the family", a spokesman said.
Saint Nicholas was welcomed by thousands as he arrived in the Netherlands this weekend, beginning the traditional run-up to Christmas there.
But there was controversy over his choice of companion. Instead of elves, Holland has a character called 'Black Pete' - a white man with a blacked face and curly wig.
Many believe there are racist overtones, and the event should be abolished.
Eurostar has reached an agreement to run direct train services between London and Amsterdam, the company announced.
Launching in December 2016, the journeys will take around four hours each way and will run twice a day, stopping at Antwerp, Rotterdam, Schiphol Airport and Amsterdam Centraal, Eurostar said.
"We have long been ambitious for expansion to new destinations so today's announcement marks a major advance in our growth plans," said Eurostar chief executive Nicolas Petrovic.
"With over 3 million passengers travelling by air between London and Amsterdam, this is one of Europe's most popular routes."
Load more updates