Colin Graves has insisted he "didn't make any promises" to Kevin Pietersen about a possible return to Test cricket.
The England and Wales Cricket Board chairman released a statement via the governing body's website in which he strongly defends his integrity - his first public response to Pietersen's claims that he has received "incredibly deceitful" treatment.
Pietersen learned on Monday from new ECB director Andrew Strauss, after making a triple-century for Surrey, that his attempt to force his way back into England contention via runs in the LV= County Championship had come to nought.
In the past few days my integrity has been called into question, something I can't accept. Throughout my business career and my years at Yorkshire, integrity has been my watchword. It governs everything I do and is an important part of what I bring to the ECB. So it saddens me that what was a private conversation with Kevin in March has been used to do just that. Kevin felt he had a lot to offer and was interested in a dialogue with the ECB, sorting things out and working together. He would love to play for England again but he wanted to contribute, whether as a player or not.I didn't make any promises.

There were no guarantees that if he chose to exit his IPL (Indian Premier League) contract, play county cricket and score runs he would be selected for England - and I said he should make any decision on his future on that basis.
– ECB chairman Colin Graves
Andrew Strauss tells ITV News Sports Editor Steve Scott that Alastair Cook had no input whatsoever with his decision about Kevin Pietersen
Read the full story ›
Advertisement
England's director of cricket Andrew Strauss says he is willing to appoint an Australian as the national head coach.
Jason Gillepsie and Justin Langer are two of the frontrunners for the role, and Strauss admits he's open to bringing someone in from the Southern Hemisphere.
"We've had Australian support staff - David Saker as bowling coach, Troy Cooley in the past," he said.
"When people are in the team environment, they're professional."
Kevin Pietersen has accused cricket bosses of being "incredibly deceitful" as he said he was "devastated" his chances of being recalled to England were over.
The England and Wales Cricket Board's new director of cricket, Andrew Strauss, today cited a "massive trust issue" as the reason for ending the batsman's international career.
In a first-person piece for The Telegraph, Pietersen has questioned why he was given hope to believe he could earn his way back into the team, when it now seems there was never any intention to let him return.
He also criticised Strauss and his team for, he said, leaking the story to the media.
They have used the word trust to justify not selecting me, well, trust is a two-way thing. I couldn't believe just half an hour after I had my meeting, the result of it was on the internet and on the BBC airwaves. Now I certainly didn't tell anybody, so who did? They say they don't trust me but how can anybody trust them?

Nobody has called me. I have given up my IPL contract, at great expense, to play in county cricket. Surrey did not have any funds free to pay me so I said I would play for nothing, just a donation to charity, and it is horrendous to feel I have been led down the garden path. They knew all along this was a dead end for me.

I just find it incredibly deceitful what has happened to me and am frankly finding difficult to understand right now. I have done everything I have been asked. I keep asking myself, what more could I do?
– Kevin Pietersen
He will now be travelling to India, he said, to take part in the final stages of a tournament with Sunrisers Hyderabad and to assess what he will do next. "I'm just sorry it won't be putting on an England shirt," he added.
What has Kevin Pietersen done or what is he possibly capable of doing that is so damaging, so unmanageable?
Read the full story ›
Kevin Pietersen feels "deeply misled" after being informed he is still not part of England's plans, according to his friend Piers Morgan
Read the full story ›
Advertisement
England director of cricket Andrew Strauss believes it would be "madness" to lose Kevin Pietersen's knowledge of limited overs cricket - on the day he closed the door on the 34-year-old's ambitions of an international return.
Former England captain Strauss, who was appointed on Saturday, has a long, chequered history with Pietersen, with a lack of trust between the batsman and the England and Wales Cricket Board resulting in his non-selection for England this summer.
Yet Strauss, when informing Pietersen of his decision on Monday night, invited the Surrey batsman to be part of the future.
Strauss said:
Kevin has got brilliant experience in one-day cricket, he's played Twenty20 competitions all around the world, he's got some very strong views on one-day cricket and I think it would be madness not to try to get that information out of his head and help us form a strategy for English cricket going forwards.

That's why I asked him to be on that board. Ultimately that may be an opportunity for us to start rebuilding trust. But as it stands right at the moment - for a number of reasons over a long period of time - there is not trust between Kevin Pietersen and people.

We know that, we can see it, it's all over the airwaves for a number of months and years. With that in mind, I don't believe any team can function in any sort of capacity if there's no trust, if we don't trust each other's intentions. That's why I've tried to clarify our position with Kevin Pietersen today.
– England director of cricket Andrew Strauss
Andrew Strauss stopped short of announcing 34-year-old Pietersen will never add to his 104 Test caps for his adopted country, but made clear that the working relationship between the two of them is central to the decision that has been made.
As Pietersen's Test captain in 2012, Strauss discovered the record-breaking batsman had sent "provocative" texts about him to opposition players from their native South Africa.
Strauss told Sky Sports News:
The first thing to say is now's the time for some really honest and open conversation about Kevin Pietersen.

No one has ever doubted Kevin Pietersen's ability as a player. He has been a phenomenal player for England over a long period of time.

His record stacks up to anyone in England cricket, and he should be very proud of that. But over months and years, the trust between himself and the ECB has eroded.
– Andrew Strauss speaking to Sky Sports News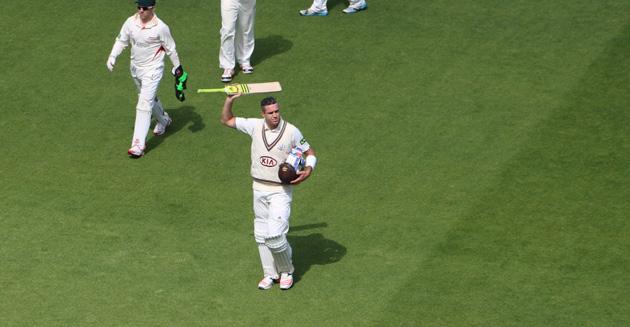 Kevin Pietersen made an unbeaten 355 for Surrey against Leicestershire at the Oval, with Surrey bowled out for 557.
Ironically, the England exile's heroics coincide with new director of cricket for England, Andrew Strauss, explaining why Pietersen does not form part of his future plans.
Load more updates