A senior Andy Burnham supporter has accused Harriet Harman of taking a "ridiculous" position in supporting cuts to child tax credits.
Read the full story ›
Labour leadership hopeful Andy Burnham has called the Institute for Fiscal Studies' verdict on the Budget as "devastating" and condemned Iain Duncan Smith's Commons celebrations.
The IFS said 13 million families will be worse off because of the freeze on working-age benefits.
The Work and Pensions Secretary was seen on camera cheering when the Chancellor announced the new National Living Wage yesterday - a celebration that Burnham said showed the "nasty party was well and truly back".
Read the devastating @theifs verdict on the Budget. Then look at this picture again. Nasty Party is well & truly back http://t.co/f0c7Ysfp6t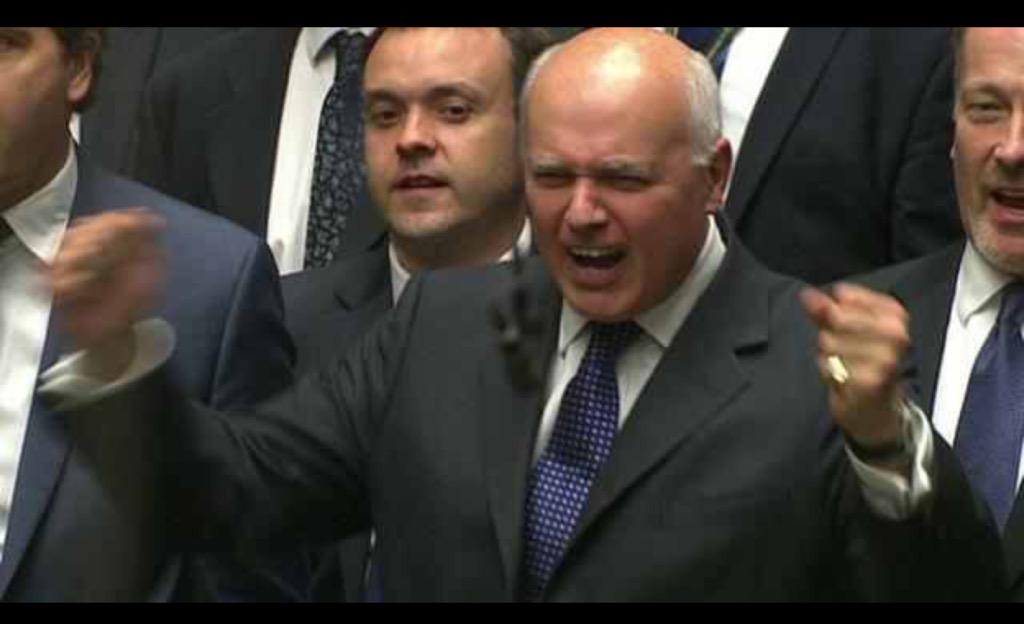 Advertisement
Labour leadership frontrunner Andy Burnham has used a speech to focus his campaign on apprenticeships and technical education.
He said: "I believe we need a revolution in technical education, giving it all the support and prestige that comes with the university route. And that means access to financial support too."
"My ambition is for a national Ucas-style system for apprenticeships, raising sights, rewarding those who work hardest, giving all children hope and a goal in life."
Mr Burnham indicated that he would back changes to the tuition fees system for university students, which he said burdens young people with too much debt.
Labour leadership candidate Andy Burnham has warned David Cameron will struggle to get the best deal for Britain "if his party tears itself apart over Europe".
"I will establish a separate 'Labour Yes' campaign, alongside the wider 'in' movement, to learn the lessons of Scotland's independence referendum, " Burnham promised.
"But, unlike David Cameron, I will be strong in defending Britain's place in Europe as the best bet for British business and jobs," he added.
Labour should run its own "distinctive" Yes campaign for the UK to remain in the European Union, leadership hopeful Andy Burnham has said.
Mr Burnham said Labour had to learn lessons from the Scottish independence referendum campaign. Critics argue the party lost votes in Scotland because of former leader Ed Miliband's decision to campaign for a No vote with the Conservatives.
The shadow health secretary promised that Labour would run its own Yes campaign, focusing on issues such as preventing workers being "undercut" by EU immigrants, exclusive recruitment from overseas and strengthening enforcement of the national minimum wage.
He is travelling to Brussels for talks with MEPs and the UK's ambassador to the EU on Wednesday.
"Even though Labour is in a leadership campaign, I am not going to let the EU debate be defined by David Cameron."
Andy Burnham is to argue that wealth-creators must be valued as highly as NHS staff today.
In a speech to senior business figures, the frontrunner in the Labour leadership fight will claim to be on the side of those who "put in the hours, the sweat and the hard graft".
He will also attack Labour's management of the economy when it was last in power, saying it had allowed a "significant" deficit.
Apparently conceding that Tory jibes about the "party of welfare" have stuck, he will add: "I have never believed in levelling down, denigrating success or the politics of envy.
"Nor have I believed that people should be handed everything on a plate."
Advertisement
Former deputy prime minister John Prescott has thrown his support behind Andy Burnham in the race to replace Ed Miliband as Labour leader and compared the former health secretary to former Prime Minister Tony Blair.
Lord Prescott said Mr Burnham showed many of the "skills and qualities" demonstrated by Mr Blair.
In his Sunday Mirror column Lord Prescott said: "Before Tony became our leader, he spent 11 years as an MP. In that time he learned his brief, gained the -experience, handled the media and won the public's trust with an overwhelming landslide.
"I have seen a lot of those skills and -qualities in Andy Burnham during his 13 years as an MP. Many people talk about aspiration but Andy is a living example - a working class lad from Liverpool who went to a -comprehensive and got a place at Cambridge University."
He added: "Andy also has that one thing all leaders crave - the common touch. I've seen him in small groups and big meetings.
"People instantly warm to the guy. He's a family man who loves his football. He's not just faking it like Cameron to be popular...
"Tony was a winner. We now need someone who can earn the trust of the public and has an insatiable desire to help everyone get on in life."
The shadow health secretary has called for the recommendations on NHS whistleblowers to apply equally to social care.
Andy Burnham called it a "major concern" that social care was not covered by the Francis review.
Burnham told MPs, "It could be argued some of the poorest care being provided in England today is in social care settings, or indeed in people's own homes."
The medical director of NHS England, Sir Bruce Keogh, will give evidence to MPs today about pressure on emergency services.
The hearing comes after one NHS trust admitted downgrading thousands of 999 calls without permission from senior management.
The East of England Ambulance Service released an internal report showing that 57 patients died after having their 999 calls downgraded leading ambulances to either arrive late at the scene or not turn up at all.
Yesterday, shadow health secretary Andy Burnham raised the case in the House of Commons, claiming that some of the downgraded calls were on behalf of terminally ill patients.
Health Secretary Jeremy Hunt said the East of England ambulance service has received £3.6 million of extra support this winter and defended the record of ambulance services nationwide.
Andy Burnham has said that Labour would combine the health and social services budgets to try and care for the elderly in their homes before they become a burden on the NHS.
The shadow health secretary told Good Morning Britain: "I've repeatedly warned that if you cut social care, if you take away support from older people in their homes; in the end that falls back on the NHS because people go into hospital and they become trapped there. "I've said that we'll bring health and social care together I think the time has come to see them as one budget."
Load more updates