Labour's shadow health secretary Andy Burnham has said that today's five-year forecast for the NHS "endorses key planks of Labour's plan".
He said he agrees with the report's finding that primary care has been under-resourced and called on the government to stop cuts to the budget for GPs.
Mr Burnham also noted that the report "does not give one mention to competition" and says the Coalition should review its competition rules.
While the Health Secretary denied that the report endorses Labour's vision, he said there were large parts of it that Labour and the Conservatives "can agree on".
Shadow health secretary Andy Burnham said that as a politician you must "always plan for the worst", and "that is what Jeremy Hunt is doing" with Ebola screening.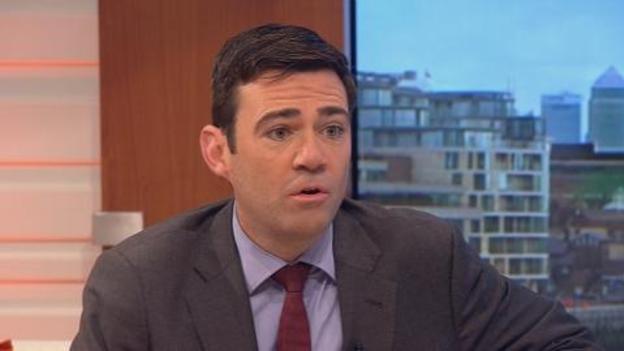 Burham told Good Morning Britain there would be "no point scoring" on the issue, but that he would ask "challenging questions".
Advertisement
A Conservative Party spokesman said:
Labour has accused the Government of neglecting the NHS' first responsibility to clinical care and instead, having a financial focus when making changes to hospitals.
Shadow Health Secretary Andy Burnham said:
Labour is appealing for Tory and Liberal Democrat MPs to help block measures it says will give ministers sweeping powers to close hospitals.
Shadow health secretary Andy Burnham said clause 119 of the Care Bill - due to be debated in the Commons today - would allow Jeremy Hunt to "ride roughshod" over local residents' concerns.
Advertisement
Labour said the ambulance figures confirm that cuts to social care funding are driving up the need for hospital attention among the elderly.
Shadow health secretary Andy Burnham said data in the House of Commons library shows that local authority spending on adult social care has been cut by £1.8bn since 2009/10.
He said: "These shocking figures expose the growing crisis in older people's care on David Cameron's watch.
"The Government's severe cuts to social care have left thousands of older people without the support they need - at risk of going into hospital and getting trapped there. It is one of the root causes of David Cameron's A&E crisis.
"It is appalling to think that every week there are thousands of frail and frightened people speeding through our towns and cities in the backs of ambulances to be left in a busy A&E."
Labour's shadow health secretary Andy Burnham has warned that the NHS could be "on the brink of a very dangerous winter" as A&E departments are increasingly overcrowded.
He was speaking as a new report by the National Audit Office finds that more people are being admitted to hospital through A&E departments than ever before, and that many of these admissions are avoidable.
Mr Burnham told Daybreak that older people are "drifting towards A&E in ever greater numbers" as care facilities in the community are taken away.
Labour's shadow health secretary Andy Burnham said: "We are in favour of improving the recovery of costs from people with no entitlement to NHS treatment.
"But it's hard not to conclude that this announcement is more about spin than substance. The Government's own report undermines their headline-grabbing figures, admitting they are based on old and incomplete data.
"Instead of grandstanding, the Government need to focus on delivering practical changes. Labour would not support changes that make doctors and nurses surrogate immigration officials."
Health Secretary Jeremy Hunt said he does not doubt Andy Burnham's "personal integrity" following a row over allegations his opposite number was involved in a hospital "cover up" when he was in office.
In a letter to the now shadow health secretary, Mr Hunt that he was "very surprised" to receive correspondence from Mr Burnham's lawyers and that his comment "was not a suggestion that you personally covered up evidence of poor care".
However he added, "I do believe that the previous Government, with you as the Secretary of State for Health, must acknowledge and take responsibility for these failures on your watch."
Load more updates