Novak Djokovic believes Andy Murray would be right to quit the Australian Open and fly home for the birth of his first child
Read the full story ›
Scottish tennis star Andy Murray has been named the 2015 Sports Personality of the Year, at the BBC ceremony in Belfast.
Read the full story ›
Advertisement
Andy Murray will quit the Australian Open early if necessary to attend the birth of his first child.
Read the full story ›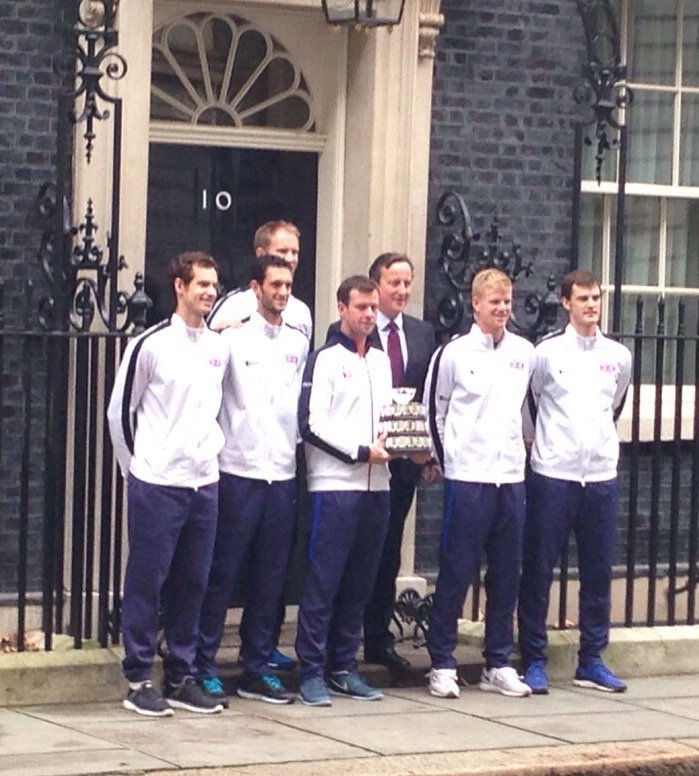 Prime minister David Cameron has met Great Britain's triumphant Davis Cup team at 10 Downing Street.
Team captain Leon Smith paraded the trophy alongside his team and Cameron after beating Belgian over the weekend.
British No.1 Andy Murray won his two single matches in Gent, as well as teaming up with brother Jamie for a victorious doubles match, as Great Britain won the trophy for the first time in 79 years.
The Scot is downbeat about the future of British tennis despite starring in their extraordinary Davis Cup victory
Read the full story ›
Andy Murray says fatherhood will become his primary focus over tennis once his child is born next year.
Read the full story ›
Advertisement
A legendary Bunny, leisure centres and protests from the Anti-Nazi League. There's plenty to learn as Murray and Co bid for tennis glory.
Read the full story ›
Here in Belgium they're describing the Davis Cup Final as the host nation against Andy Murray and in a way it is.
Read the full story ›
Andy Murray has told reporters that recent criticism from David Lloyd was like "background music".
Ahead of this week's Davis Cup final, when Murray will spearhead Great Britain's team against Belgium, Lloyd accused him of not doing enough to promote the growth of tennis in Britain.
Speaking to the press today, Murray hit back at hose claims by describing them "a bit like background music. You know it's there but you're not really listening."
Andy Murray says Great Britain's tennis players feel "very comfortable" in Belgium as they prepare to play in Friday's Davis Cup final
Read the full story ›
Load more updates