Heavy rain didn't stop Andy Murray fans flocking to watch his game against Kevin Anderson from Murray Mound.
Many huddled under umbrellas or donned ponchos to keep dry as Murray played his third set.
But at least these ladies managed to nab themselves a seat instead of sitting on the soggy grass.
Heavy rain has halted play at Wimbledon with only the Murray match against Anderson continuing with the roof closed on Centre Court.
There will be no play on the outdoor courts before 18:30 BST #Wimbledon
Advertisement
Andy Murray smashes his way through the second set at Wimbledon against South African Kevin Anderson winning 6-3.
The rain shows no sign of slowing down at Wimbledon but spirits were not dampened as the Murray game continues into the second set.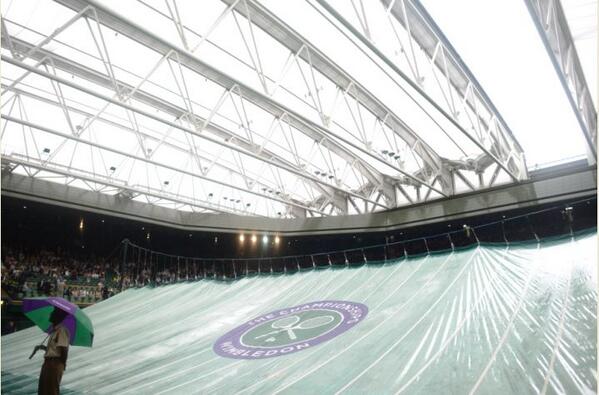 The match between Andy Murray and Kevin Anderson has resumed at Wimbledon after the roof at Centre Court had to be closed due to rain.
The roof on Centre Court had to be closed after rain halted Murray's match against Anderson during the second set.
Play is expected to resume shortly.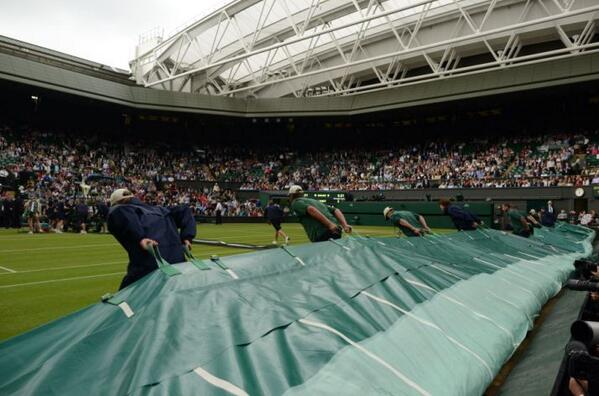 Advertisement
The match between Andy Murray and Kevin Anderson has been halted during the second set due to rain.
Sir Richard Branson and his daughter Holly cheer on Andy Murray from the royal box at Wimbledon.
Also spotted in prime seats in the royal box was former football supremo Sir Alex Ferguson.
Sir Alex Ferguson shouts 'come on' as Murray wins first set 6-4 against Kevin Anderson.
Andy Murray has won the first set in his match with South African Kevin Anderson during the eighth day at Wimbledon.
Load more updates