Angela Merkel has been speaking at a joint press conference with David Cameron in Westminster:
Merkel: What we are discussing here is "doable" but adds "I am a great champion of freedom of movement"
Merkel: Is immigration into social security possible? It's just as much a headache for us in Germany as it is in Britain
I'm happy to welcome Angela Merkel to my Downing St flat, after her excellent address to Parliament. http://t.co/0LoSuIKI0A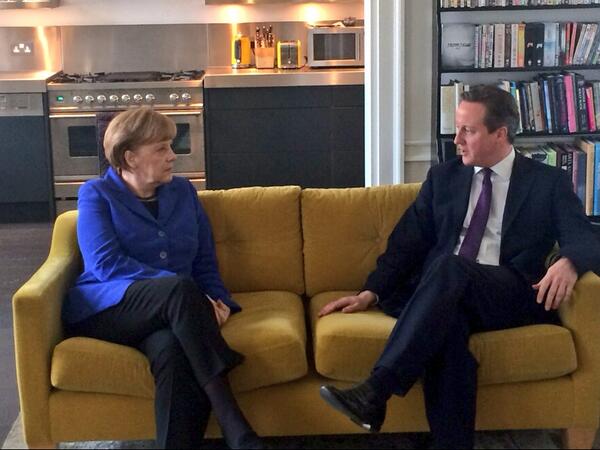 Advertisement
Verdict; she doesn't rub Dave's nose in it, but she doesn't offer an awful lot of help and support either.
Merkel's "don't leave" plea: We need a strong United Kingdom with a strong voice inside the European Union
Tax payers should never again have to foot the bill for banks making mistakes, she says. Popular, for sure, but easier said than done.
We need to reform the political shape of Europe in keeping with the times, she says.
Talking about freedom of movement, she says 'we need to acknowledge mistakes and tackle them'. But no indication as to what that means.
Hint of reform on freedom of movement the only carrot I can see for Cameron so far.
Advertisement
Very generous speech from Merkel. What would have happened to Europe if the UK had not stood up for freedom, sometimes alone, she says.
And she notably seems to blame the Germans for the First World War, as well as the second.
Angela Merkel also repeated Winston Churchill's famous quote: "To improve is to change; to be perfect is to change often."
German leader Angela Merkel told Westminster Hall that those expecting fundamental reform of Britain's EU membership were "in for bitter disappointment."
Merkel jokes: People who want me to pave the way for a the UK's fundamental reform are "in for bitter disappointment" Take note Mr Cameron!
She is addressing expectations. I am caught between the devil and the deep blue sea, she says.
The Royal Gallery is as packed as the tube in rush hour to hear Merkel. Anyone would think she was quite powerful...
German Chancellor Angela Merkel will address parliament and have tea with the Queen in a high-profile visit to London today where she is expected to indicate her support for Britain staying in the European Union.
Merkel's support is seen as crucial to David Cameron's aims to reform the country's relationship with the EU.
The Prime Minister has promised to renegotiate the UK's membership and hold an in-out referendum in 2017 if the Conservatives win the general election next year.
The German Chancellor will also hold meetings with Ed Miliband and Nick Clegg.
Load more updates