Chinese President Xi Jinping said the crisis in Ukraine needed to be solved via diplomacy.
In a telephone conversation with German Chancellor Angela Merkel, Mr Xi said solution needed to be on the basis of international law, German government said in a statement.
German Chancellor Angela Merkel told Russian President Vladimir Putin referendum planned for March 16 on Crimea joining Russia violated Ukraine's constitution and was against international law.
The Chancellor also said she regretted that there had not been any progress on forming an "international contact group" which could find a political solution to the crisis in Ukraine.
Advertisement
David Cameron has spoken to the German Chancellor Angela Merkel and the French President Francois Hollande about the crisis in Ukraine, Number 10 has revealed.
Ahead of the meeting of EU leaders on Thursday, Downing Street said they all agreed "the international community should speak with one voice and send a clear message to Russia that its actions in Ukraine were completely unacceptable."
They also talked about the importance of "the costs and consequences for the Russian government of continuing to violate Ukraine's sovereignty."
German chancellor Angela Merkel met the Queen at Buckingham Palace this afternoon.
"You've had a very busy day," the Queen said.
"Yes but it's my duty to have busy days," Mrs Merkel replied.
Good meeting with Angela Merkel – discussed challenges for EU, crisis in Ukraine & need for action on climate change http://t.co/h4yZ3TlWwq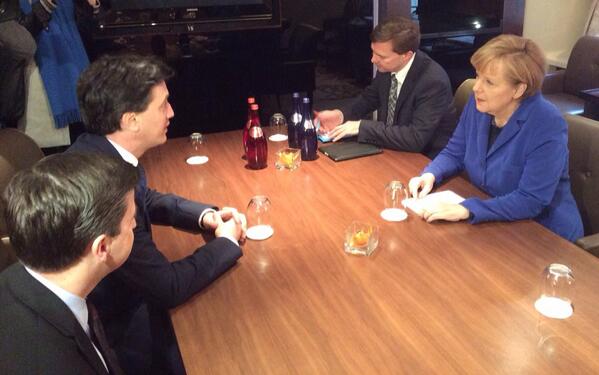 Angela Merkel has been speaking at a joint press conference with David Cameron in Westminster:
Merkel: What we are discussing here is "doable" but adds "I am a great champion of freedom of movement"
Merkel: Is immigration into social security possible? It's just as much a headache for us in Germany as it is in Britain
Advertisement
I'm happy to welcome Angela Merkel to my Downing St flat, after her excellent address to Parliament. http://t.co/0LoSuIKI0A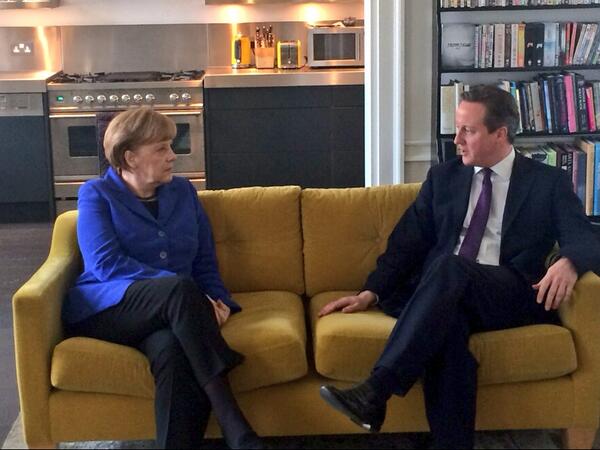 Verdict; she doesn't rub Dave's nose in it, but she doesn't offer an awful lot of help and support either.
Merkel's "don't leave" plea: We need a strong United Kingdom with a strong voice inside the European Union
Tax payers should never again have to foot the bill for banks making mistakes, she says. Popular, for sure, but easier said than done.
Load more updates