Angela Merkel joined in the celebrations after the German football team thrashed Portugal in their opening World Cup match.
Government spokesman Steffen Siebert tweeted the picture of the German Chancellor from the dressing room at the Arena Fonte Nova in the north-eastern Brazilian city of Salvador.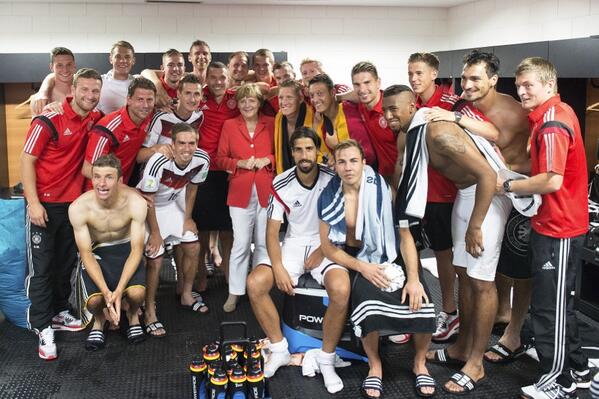 World leaders attending the G7 summit in Brussels have posed for what is known as the "family photograph".
Advertisement
Downing Street has refused to wade into a row over the decision to potentially elect former Luxembourg premier Jean-Claude Juncker, after reports emerged that David Cameron warned Britain could leave the EU.
We are not commenting on this. It was a private meeting, a private conversation.
– Spokesman, Downing Street
EU leaders should not bow to pressure from the minority in their decision of who to elect as European Commission chief, Jean-Claude Juncker has said, according to an advance extract of an article published in Germany's Bild am Sonntag newspaper on Sunday.
"Europe must not allow itself to be blackmailed," Luxembourg's ex-premier said, adding that a broad majority of Christian Democratic and socialist leaders in the European Council backed him.
German magazine Spiegel said David Cameron has warned German Chancellor Angela Merkel he may have to bring the UK referendum on EU membership forward if Jean-Claude Juncker becomes the European Commission chief.
The Prime Minister said he sees Mr Jucker, Mrs Merkel's candidate for the post, as too federalist and likely to damage his hopes of reforming Britain's EU ties.
The Prime Minister has "indirectly threatened" Germany's Angela Merkel that he would no longer guarantee British membership in the EU if European leaders elect Jean-Claude Juncker as European Commission chief, German magazine Spiegel said.
David Cameron said that if Mr Juncker became the EU Commission's president, the UK government could be destabilised to the extent that an "in-out" referendum would have to be brought forward, Spiegel reported.
The European Commission president is selected by EU leaders but must be approved by the EU parliament where Eurosceptics from the right made gains in last week's election.
Advertisement
German Chancellor Angela Merkel said the performance of right-wing parties in the European parliament election was both "remarkable and regrettable".
German Chancellor Angela Merkel has told Vladimir Putin that Russia had not done enough to implement the Geneva accord - and warned of the possibility of further sanctions against the country.
Speaking at a news conference in Berlin with Poland's Prime Minister Donald Tusk, she said:
"I spoke to the Russian president this morning and made clear again that on the one hand Ukraine has taken a whole series of steps to implement the Geneva accord but on the other side I see no Russian backing for the accord which would of course have an effect on the separatists in Ukraine.
"Russia has the power, or could have the power, to bring the separatists on to a peaceful path of discussions about the constitution and preparations for elections, but such signals are unfortunately lacking."
"We will therefore have to react," she added. "This will be a joint European action and an action by the G7... because of the lack of progress we will have to contemplate further sanctions within the second stage of sanctions."
Germany has joined a host of voices criticising Turkey's ban on Twitter.
"It doesn't fit with our idea of freedom of expression to forbid or block any form of communication," Chancellor Angela Merkel's spokeswoman said.
Turkey's courts blocked access to Twitter following Prime Minister Tayyip Erdogan's vow, on the campaign trail ahead of March 30 local elections, to "wipe out" the service.
He says he does not care what the international community says about it, though President Abdullah Gul has objected to his actions.
The current tension with Russia means that the G8 does not exist at the moment the German Chancellor said.
Angela Merkel said that her government had not yet decided if scheduled German-Russian consultations will take place in April.
She also confirmed that EU leaders will agree further sanctions against Russia at a summit beginning today.
Load more updates