German Chancellor Angela Merkel said there have been "setbacks" to reaching a diplomatic solution with Russia on the situation in eastern Ukraine.
However, Germany does not see a military solution to the Ukraine crisis, Merkel said during a press conference at the White House.
German Chancellor Angela Merkel has arrived at the White House to discuss the situation in eastern Ukraine with US President Barack Obama.
Advertisement
German Chancellor Angela Merkel said it was unclear it today's talks with President Vladimir Putin in Moscow will achieve a ceasefire in Ukraine.
Merkel stressed that a diplomatic solution was the only way to resolve the crisis, but said it was "unclear" if there will be further talks after today's meeting.
"It is totally open as to whether we will, with these talks, succeed in achieving a ceasefire, we don't know if that will be achieved today, if, perhaps further talks will be needed," Merkel said before departing for Moscow.
German chancellor Angela Merkel will reportedly withdraw her support for keeping Britain in the EU if David Cameron continues his drive to curb immigration into the UK.
Der Spiegel news magazine quoted sources within Mrs Merkel's office and German foreign ministry who said she feared Britain was approaching "the point of no return" unless Mr Cameron changed his strategy.
Mrs Merkel, along with other EU leaders, firmly believes the measures the Prime Minister is planning, which are widely seen as aimed to counter the threat of Ukip, would undermine the principle of the free movement of labour.
According to The Sunday Times, Mr Cameron's awareness of German opposition has seen him ditch a proposal to impose quotas on low-skilled EU migrants but he will still bid to stretch the EU rules "to their limits".
German Chancellor Angela Merkel has said that Nato stands by the Founding Act even though Russia has broken it through its actions in Ukraine.
She said that new EU sanctions against Russia, due to be adopted today, could be suspended if a promised ceasefire materialises.
The Founding Act is a 1997 agreement between Nato and Russia agreeing how they are to pursue relations. Among other things, it covers the "permanent stationing of substantial combat forces".
Russian President Vladimir Putin has reportedly told German Chancellor Angela Merkel that he decided to send a humanitarian aid convoy into Ukraine because he could no longer wait.
According to the Kremlin account of the phone call, President Putin expressed "serious concern" about the military escalation in eastern Ukraine.
Advertisement
The leaders of Germany and Sweden have offered assurances to Britain after David Cameron failed to stop Jean-Claude Juncker from taking the European commission president job.
German chancellor Angela Merkel said she was "ready to address British concerns" while Sweden's prime minister Fredrik Reinfeldt added he would "walk the extra mile" to address the UK's concerns over the European Union.
Both Germany and Sweden backed Juncker for the job.
Reinfeldt told BBC Radio 4's Today programme: "Just look into what we have written in our conclusions.
"You will find references with text, which I think is very important for David Cameron, saying this ever-closer union perception is maybe not the best for everyone."
Angela Merkel joined in the celebrations after the German football team thrashed Portugal in their opening World Cup match.
Government spokesman Steffen Siebert tweeted the picture of the German Chancellor from the dressing room at the Arena Fonte Nova in the north-eastern Brazilian city of Salvador.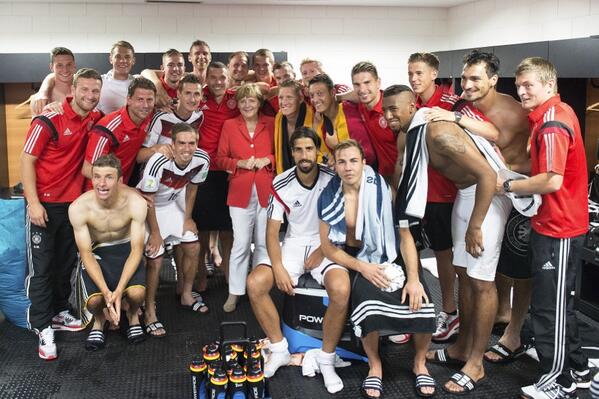 World leaders attending the G7 summit in Brussels have posed for what is known as the "family photograph".
Downing Street has refused to wade into a row over the decision to potentially elect former Luxembourg premier Jean-Claude Juncker, after reports emerged that David Cameron warned Britain could leave the EU.
We are not commenting on this. It was a private meeting, a private conversation.
– Spokesman, Downing Street
Load more updates