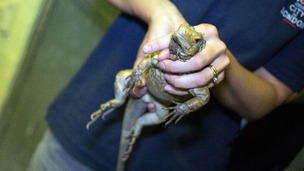 A dozen rare iguanas seized from Romanian smugglers at Heathrow Airport have been returned to their native Bahamas.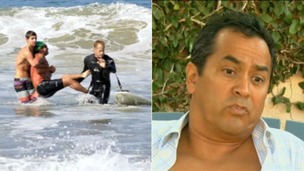 A swimmer who survived a shark attack in California at the weekend has told of the moment he came face-to-face with the great white.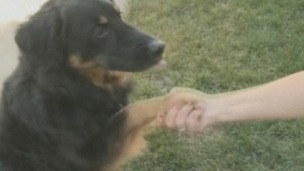 A Wisconsin woman who had given up all hope of finding her lost wedding ring was shocked when her dog Tucker finally coughed up the diamond.
Live updates
Boo the Border Collie has taken up an unusual role of being a surrogate mum to two newborn kittens who were rescued from a shed after they were found abandoned by their mum.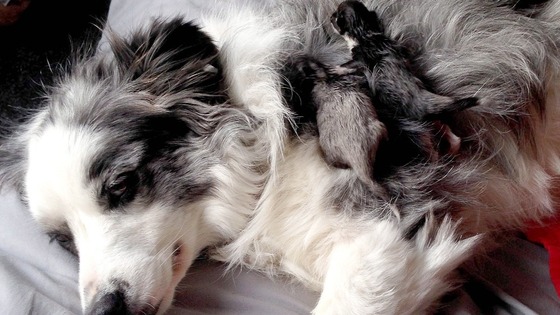 While Erica bottle feeds the kittens, four-year-old Boo has taken to giving cuddles to the five-day-old babies, who have been named Polly and Margo.
Dog owner Erica Fox from Reepham, Lincolnshire, is giving round the clock care to the tiny female kittens and is planning to look after them until they are old enough to be re-homed.
Read: Whisper becomes first dog to skydive off Eiger Mountain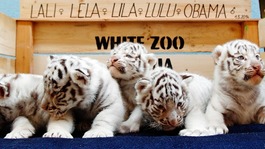 According to the zoo, their birth in April was the first time five white tiger cubs were born in a single litter in Europe.
Read the full story
Advertisement
Wild animals including tigers, lions and zebras are to be banned from travelling circuses in England after years of campaigning by MPs and animal welfare groups.
According to The Sunday Times (£), the Government is drafting a bill for inclusion in the Queen's speech to prevent circuses in England using wild animals.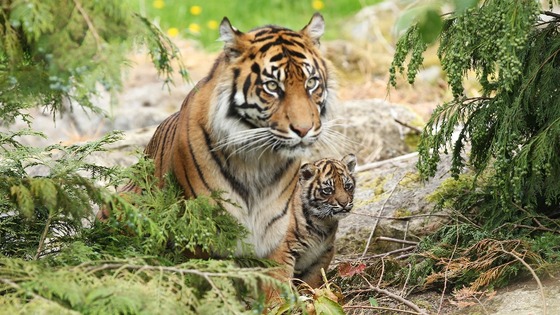 The move follows an outcry over the treatment of Anne, Britain's last circus elephant, who was secretly filmed being kicked, hit and stabbed by her carer as she stood chained in a barn in 2011. There are 24 wild animals including tigers, lions, zebras and a raccoon still used in circuses in the UK.
The RSPCA and Born Free Foundation will help to rehome circus animals.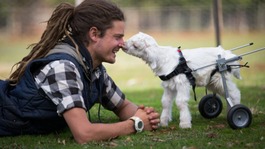 A goat born unable to use his hind legs has been given a new lease of life thanks to a harness and a set of wheels.
Read the full story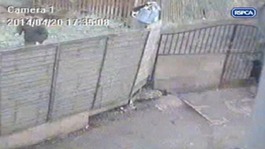 CCTV footage has captured a teenage boy throwing a cat to two waiting dogs on the other side of an 8ft garden fence.
Read the full story
An extremely rare piglet has been born at Chester Zoo. Only 200 Visayan warty pigs are thought to be left in their native habitat in the Philippines, making them the rarest of all wild pigs.
Keeper Lucy Edwards said: "Visayan warty pigs are critically endangered and face an extremely high risk of becoming extinct in the wild [...] It really is a battle against time to save them".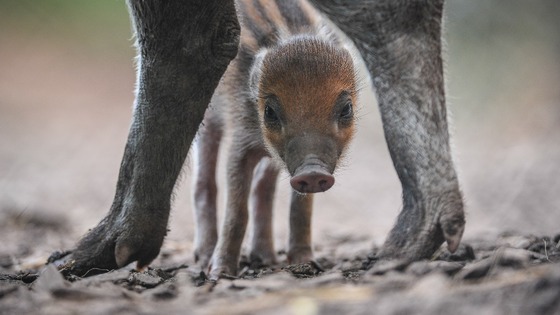 Chester Zoo was the first in the UK to welcome Visayan warty pigs, a species that gets its name from three pairs of fleshy warts on the boar's face. The sex of the pig is yet to be determined.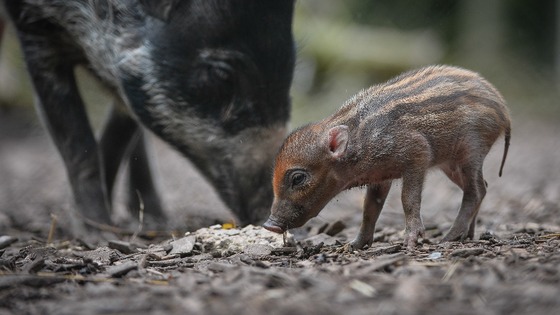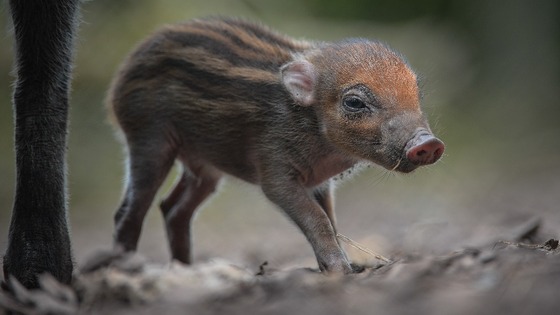 Advertisement
A 20-year-old elephant has been relocated after local farmers complained that the male had been raiding their crops in Mazabuka, Zambia.
Game Rangers International (GRI) and the Zambia Wildlife Authority (ZAWA) successfully moved the animal from the Nega Nega area of Mazabuka District to the Kafue National Park.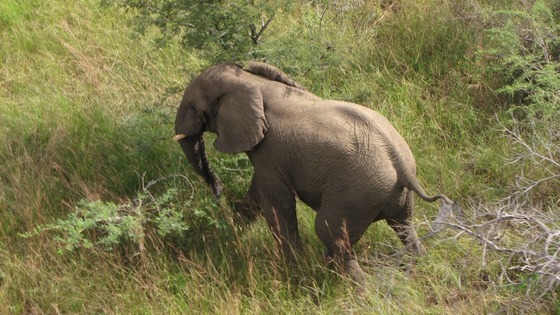 The operation began on Saturday morning and lasted over 12 hours.
The animal was airlifted by helicopter before being holstered onto the back of a crane truck and then carried to a larger transporter truck for the last part of the journey.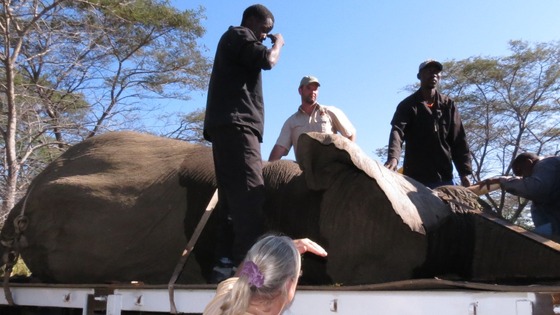 Many of the affected community were happy that the animal was moving to a new home rather than being shot.
Arriving at the Kafue National Park, the elephant headed straight into the forest where it is hoped he will enjoy a "long and peaceful life" in his new home.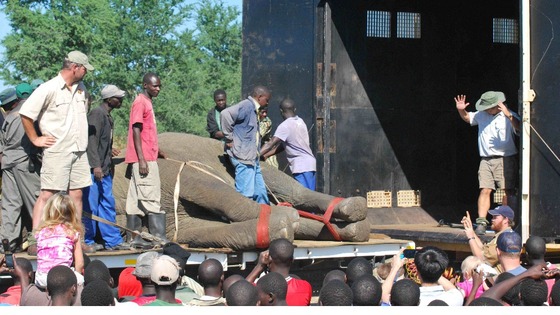 The operation was supported by the International Fund for Animal Welfare.
Kellar the dog was born blind four years ago but owners Marcy Stapley and her fiance Mike Miller have a developed a way for the springer spaniel to play fetch.
The couple from Petersburg, Ontario said despite Kellar's blindness, it did not dissuade his basic doggy instincts to play.
"He was really interested in playing. He tried to chase things at the dog park, but he couldn't find them," Stapely told New York Daily News.
In the video Kellar can be seen using voice commands and his sense of smell to fetch a rubber duck in the park.
Through a period of trial and error, they can command Kellar to play fetch by saying the word "listen" before throwing an item and then saying "hot" in a high excited voice if he gets close to the object, and "cold" in a quieter voice when he is too far away.
A runaway rhea named Rita who escaped from her enclosure in Hertfordshire almost two months ago has been shot dead by a gamekeeper - and will reportedly be turned into gourmet sausages.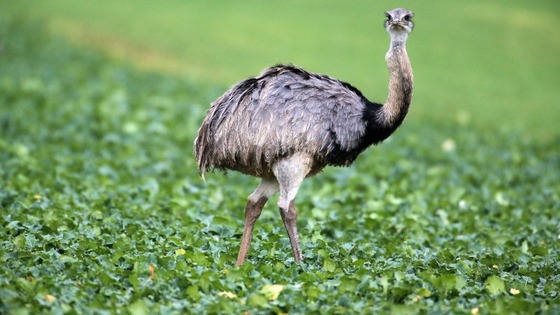 The six-foot bird, which is native to South America, was killed by a single shot to the head by Stuart Howe, who told the The Daily Telegraph he understood that the police wanted the bird "out of the way" because they were worried that it could cause a car crash
Mr Howe, who is a deer manager, said it was better a professional marksman brought down the bird, and said the meat would be made into gourmet sausages.
"I suppose some people might say it is a shame the rhea is dead but it would be terrible if it caused someone to die in a car crash," the 65-year-old told the newspaper.
A Hertfordshire Police spokesman said that the bird's owner had previously given permission for the bird to be "dispatched if the situation deemed it necessary, which was the case" and was aware of its death.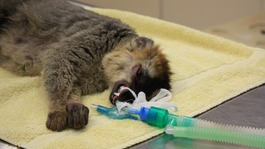 A blind lemur was able to see for the first time in weeks after British vets removed his cataracts during an operation.
Read the full story
Load more updates
Back to top