Crew members from the stranded research vessel Akademik Shokalskiy have been giving thanks after arriving safely on an Australian rescue ship.
The expedition leader Professor Chris Turney tweeted:
We've made it to the Aurora australis safe & sound. A huge thanks to the Chinese & @ausantarctic for all their hard work! #spiritofmawson
Guardian journalist Alok Jha was also full of praise for their rescuers:
All but four passengers from the research vessel stranded in the Antarctic have been safely transferred to an Australian icebreaker, according to the Australian Maritime Safety Authority (AMSA) which is coordinating the rescue effort.
AMSA has received confirmation that 48 passengers from the Akademik Shokalskiy are now on board the Aurora Australis.
Advertisement
The second team of people stranded in the Antarctic have been airlifted from the ice by a Chinese rescue helicopter, according to expedition leader Professor Chris Turney.
The helicopter from the Chinese icebreaker Snow Dragon will take all the passengers from the ice-bound Akademik Shokalskiy and transfer them to an Australian Antarctic supply ship, the Aurora Australis.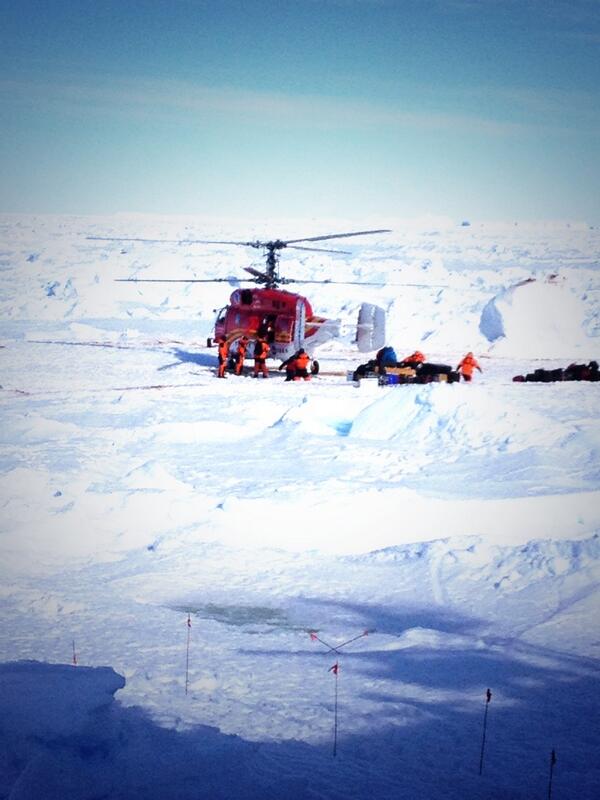 The helicopter from a Chinese icebreaker has arrived to help evacuate passengers and crew from the stranded Akademik Shokalskiy ship.
Professor Chris Turney posted footage of the helicopter arriving on the group's YouTube account.
A Chinese rescue helicopter has arrived to rescue passengers from a ship trapped in ice at the Antarctic, a passenger has said.
Expedition leader Professor Chris Turney tweeted a helicopter had arrived to rescue the 74 passengers on board.
Fifty two scientists, journalists and tourists, along with 22 crew members, have been trapped in sea ice on the Akademik Shokalskiy since Christmas Eve.
Advertisement
The latest attempt to airlift passengers in a research ship trapped in Antarctic ice for more than a week has been delayed again after sea ice prevented a barge from reaching one of the rescue vessels.
A helicopter was expected to airlift passengers to Chinese icebreaker the Snow Dragon, and a barge would then ferry them to a nearby Australian vessel.
But before the operation could begin, sea ice blocked the path of the barge that needed to make it from the Australian vessel, the Aurora Australis, to the Snow Dragon.
The setback comes after the Australian Maritime Safety Authority's Rescue Co-ordination Centre claimed the weather conditions had improved and rescue flights were likely to begin.
Expedition leader Chris Turney had earlier described a "stunning day" in a video posted on his Twitter account.
Tourists and scientists aboard a Russian ship trapped in Antarctic sea-ice have been celebrating the new year with songs.
In this video, they sing their specially-composed "anthem of the expedition".
The crew of a research vessel that has become trapped in ice in Antarctica have uploaded this video showing them preparing to be rescued by helicopter.
They can be heard singing 'Auld Lang Syne' as they stamp down the snow near the ship to make it easier for the helicopter to land:
Load more updates