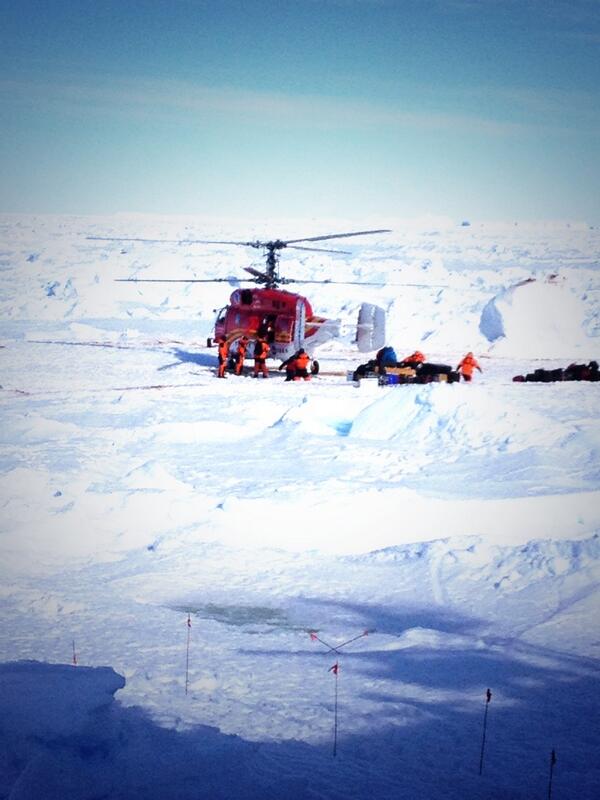 The helicopter from a Chinese icebreaker has arrived to help evacuate passengers and crew from the stranded Akademik Shokalskiy ship.
Professor Chris Turney posted footage of the helicopter arriving on the group's YouTube account.
Advertisement
A Chinese rescue helicopter has arrived to rescue passengers from a ship trapped in ice at the Antarctic, a passenger has said.
Expedition leader Professor Chris Turney tweeted a helicopter had arrived to rescue the 74 passengers on board.
Fifty two scientists, journalists and tourists, along with 22 crew members, have been trapped in sea ice on the Akademik Shokalskiy since Christmas Eve.
The latest attempt to airlift passengers in a research ship trapped in Antarctic ice for more than a week has been delayed again after sea ice prevented a barge from reaching one of the rescue vessels.
A helicopter was expected to airlift passengers to Chinese icebreaker the Snow Dragon, and a barge would then ferry them to a nearby Australian vessel.
But before the operation could begin, sea ice blocked the path of the barge that needed to make it from the Australian vessel, the Aurora Australis, to the Snow Dragon.
The setback comes after the Australian Maritime Safety Authority's Rescue Co-ordination Centre claimed the weather conditions had improved and rescue flights were likely to begin.
Expedition leader Chris Turney had earlier described a "stunning day" in a video posted on his Twitter account.
Tourists and scientists aboard a Russian ship trapped in Antarctic sea-ice have been celebrating the new year with songs.
In this video, they sing their specially-composed "anthem of the expedition".
Advertisement
The crew of a research vessel that has become trapped in ice in Antarctica have uploaded this video showing them preparing to be rescued by helicopter.
They can be heard singing 'Auld Lang Syne' as they stamp down the snow near the ship to make it easier for the helicopter to land:
An oceanographer awaiting rescue on a Russian ship trapped in ice off Antarctica said it is a case of "hurry up and wait" on the vessel.
Erik van Sebille said in a video diary, "Everything must be ready to go as soon as possible [in case of a successful rescue attempt], but in the meantime it's a lot of waiting here".
The 74 passengers on the MV Akademik Shokalskiy are pinning their hopes on a helicopter rescue after three icebreakers failed to reach the paralysed vessel.
However, the helicopter must wait for a break in the weather before it can attempt a rescue, and conditions are not expected to improve before tomorrow.
Passengers on board the Russian ship stranded off Antarctica are awaiting a "clear weather window" so they can be rescued by helicopter:
Aurora can't make it through. Looks like we're going to be helicoptered out. Just need a clear weather window. Raining! #spiritofmawson
Russia has said that most of the 74 passengers and crew stranded on a ship off Antarctica will be evacuated by a Chinese helicopter, AFP reported.
"A decision has been reached to evacuate 52 passengers and four crew members by helicopter from China's Xue Long ship, should the weather allow," the news agency reported, citing a Russian foreign ministry statement.
Earlier today, an Australian icebreaker's bid to reach Russian ship MV Akademik Shokalskiy was thwarted by poor visibility after a blizzard.
Load more updates