An extreme storm forecast for Antarctic base Novo where Prince Harry has been staying on his South Pole trek was expected to hit within the next few hours. If the teams had been caught in the storm, the expedition's return would "certainly have been delayed," charity Walking With the Wounded said.
Catherine Murphy, a Met Office forecaster working on location at Rothera, Antarctica, with the British Antarctic Survey, said:
"An intense area of low pressure is moving towards the Novo area bringing thick cloud, some snow and winds gusting up to 40mph or more.
This could cause drifting snow or, as the winds strengthen, whiteout conditions which make travel difficult or impossible. These conditions could last for several days as the weather system moves through."
Prince Harry and his the Virgin Money South Pole Allied Challenge team have had to be evacuated from the South Pole before a forecast major Antarctic storm swept in to hit airbase Nova, where they were staying, the Charity Walking With the Wounded said.
Advertisement
An iceberg roughly the same size as Singapore has broken off a glacier in Antarctica.
An image taken by NASA shows the huge iceberg calving from the Pine Island glacier, one of largest and fastest moving glaciers in the region.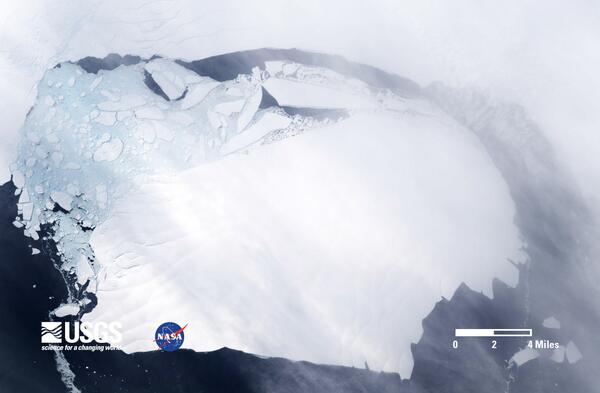 Iceberg B-31 is estimated to be 35x20 kilometres (21x12 miles) which is about 50% larger than previous icebergs in this area.
Splits in the ice have been seen since January 2011 and subsequent images have shown the crack grow until the iceberg eventually calved, experts believe it may have separated during the summer but remained very close to the glacier since then.
A team of scientists from Sheffield and Southampton universities will track it and try to predict its path using satellite data.
Prince Harry has said his expedition team of wounded soldiers have shared "hugs and a few tears" upon reaching the South Pole after a gruelling four-week trek across the Antarctic.
Watch his video message:
Prince Harry has "upped the ante" of royal achievements by trekking for four weeks across Antarctica as part of an expedition to reach the South Pole, his friend Ben Fogle has said.
The TV presenter and adventurer told NBC News that Harry will have "endeared himself to the whole country" by completing the charity trek and "totally transformed" the public view of the royal family.
Prince Harry's expedition team reached the South Pole earlier today at 12:48pm GMT after four weeks of trekking as part of the Virgin Money South Pole Allied Challenge.
Advertisement
Prince Harry has celebrated reaching the South Pole with a team of wounded adventurers following a charity expedition across Antarctica.
Prince Harry has described reaching the South Pole as an "amazing feeling" and said he was humbled by the efforts of his fellow adventurers, who have overcome various disabilities to reach the bottom of the earth.
All 12 of them have different reasons for being here and I don't think it's necessarily sunk in yet for all of them that it will, either tonight or tomorrow or when they get back home, but what an amazing journey for every single one of them and this charity really does do amazing things.

It's not just for the small minority that are here but hopefully in time to come through the documentary, and all the stories will get back home. It will just prove to everybody that there's so much that can be made possible when you think that nothing is left.
The prince signed off: "I think we'll be having a few whiskies tonight and then everyone's looking forward to getting home. Mission success. Cheers."
The first pictures have emerged of Prince Harry and his adventure team reaching the South Pole after a trek of more than 200 miles across Antarctica.
Prince Harry and his fellow adventurers have reached the South Pole, organisers of the Walking With The Wounded charity trek have announced.
After more than three weeks pulling sleds across the frozen wastes of Antarctica the group stood at the bottom of the world at midday.
The adventurers include 12 servicemen and women from the UK and other nations who have suffered terrible injuries, including the loss of limbs.Their trek took them more than 200 miles across the bleak continent to the geographic South Pole
Load more updates