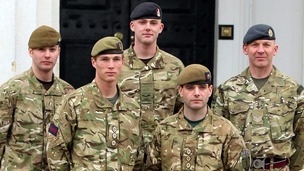 Some 118 members of the British Armed Forces are included in the latest Operational Honours list.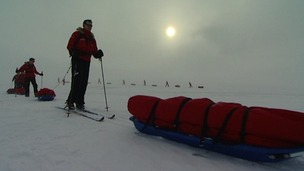 A soldier is hoping to become the first double amputee to walk to the South Pole in a team made up of wounded servicemen and women.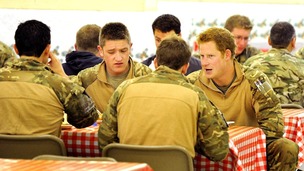 He may be the heir in line to the throne, but Prince Harry was not exempt from making the tea in Afghanistan.
Live updates
Violent crime linked to soldiers
Former soldiers have 'nowhere to go' for help
Bruce Martin from the charity Talking 2 Minds, which specifically deals with soldiers suffering from post-traumatic stress disorder, said there is not enough awareness around the subject.
He told Daybreak he was "not in the slightest" bit surprised to hear that one in five men who return from the armed forces will be violent.
He said, "they don't have anywhere to go to at the moment really to help them."
Violent crime linked to soldiers
Former soldier: 'The smallest thing would infuriate me'
Men under 30 who serve in the Armed Forces are more likely to commit a violent offence than their civilian counterparts, a report has found.
Former soldier Lewis McKay, who served in Afghanistan, told Daybreak that his personal relationships were affected when he returned to civilian life.
Speaking about his wife he said, "it got to the point that she didn't exist to me."
He added, "the smallest thing would infuriate me and it would make me want to lash out and hit my wife."
Advertisement
Violent crime linked to soldiers
Ex-soldier was 'extremely dangerous' after leaving Army
Martin Webster, a former soldier who now works as an emotional coach for servicemen, told ITV News that he was an "extremely dangerous individual" when he left the military.
He said he felt angry at the society he fought for and if it wasn't for the emotional coaching he was given he wouldn't have "turned his life around" as he now has.
He now works with soldiers who have been in trouble with the law and with drug addiction since leaving the military.
Violent crime linked to soldiers
Serving in combat role 'increases violent behaviour risk'
Study leader Dr Deirdre MacManus, from King's College London, said:
There has been a lot of media coverage and public debate about violence committed by veterans of the conflicts in Iraq and Afghanistan.

Our study, which used official criminal records, found that violent offending was most common among young men from the lower ranks of the Army and was strongly associated with a history of violent offending before joining the military.

Serving in a combat role and traumatic experiences on deployment also increased the risk of violent behaviour.
Violent crime linked to soldiers
20% of soldiers under 30 had violent criminal record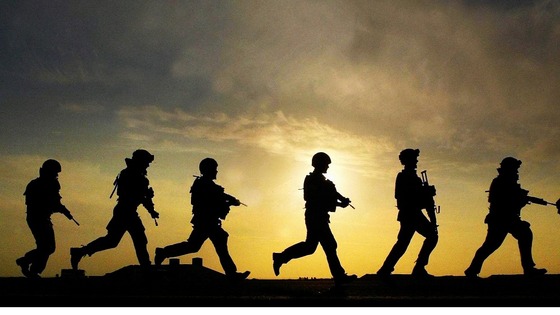 In the biggest study of its kind ever undertaken, researchers were given access to police records on almost 14,000 randomly selected men and women who were active or former members of the armed forces, mostly the Army.
Participants provided information about their experiences before and after joining the military and underwent psychological tests.
A search of the Police National Computer was made for any convictions, cautions or warnings relating to the study population.
Overall, 17% of the men had criminal records, and 11% had committed violent offences.Of the 2,728 aged 30 and younger, 20.6% had a criminal record for violence.
Violent crime linked to soldiers
Young soldiers more likely to commit violent crimes
Young British men are much more likely to commit violent crimes if they have served in the armed forces, a study by Kings College London has found.
Of around 3,000 military men under the age of 30, more than a fifth had a conviction for violent offences, compared with 6.7% of their civvie street peers.
There were strong links between combat experience, post-deployment alcohol misuse, traumatic stress and violence.
Men who had seen combat in Iraq and Afghanistan were 53% more likely to commit a violent offence than comrades given non-combat roles.
Those with multiple experiences of combat had a 70% to 80% greater risk of committing acts of violence.
Professor Sir Simon Wessely, who co-authored the study, said 94% of those who serve in combat will not offend: "We are suggesting there is a problem that needs to be looked at, but just as with post traumatic stress disorder this is not a common outcome in military populations."
Advertisement
Four Army bases to be closed
Government aiming to 'limit' further military cuts
Speaking to ITV News, the Defence Secretary Philip Hammond did not rule out further cuts to the defence budget. But he said the Government would aim to limit any reductions.
It follows his suggestion at the weekend that the government may look to cuts in the welfare budget instead.
Four Army bases to be closed
Government 'generating cynicism' among Armed Forces
Shadow Defence Secretary Jim Murphy says the historic bond between the army battalions and the towns where they have been stationed will be broken by the closure of four barracks. Mr Murphy claimed the Government had only succeeded in creating a great deal of cynicism in the Armed Forces.
Four Army bases to be closed
'Time is right' for British troops to leave Germany
During his Army career, Sergeant Ben Peden has spent 7 years in Germany. But he said the time was right for troops to head back to Britain.
Four Army bases to be closed
11,000 troops based in Germany to return home by 2016
Around 11,000 British troops based in Germany will return home by 2016
Nearly £2 billion will be invested in Army housing and bases
The remaining 4,500 troops will be back in the UK by 2019, a year earlier than planned
Around £1 billion of the funding being announced today will be go towards 1,900 new houses for service families and accommodation for 7,800 single soldiers
Another £800 million will be spent on infrastructure and refurbishment of bases
Load more updates
Back to top