Armed Forces Minister Mark Francois said he was "proud" of the work done by soldiers helping a flood-hit community as they reinforce a dam protecting an electricity substation.
Around 20 troops from 7th Battalion The Rifles, known as 7 Rifles, were stacking up sandbags in submerged fields in Reading, Berkshire, where the River Kennet has burst its banks.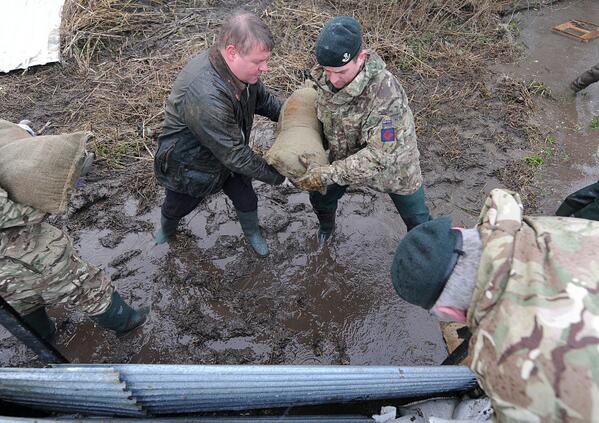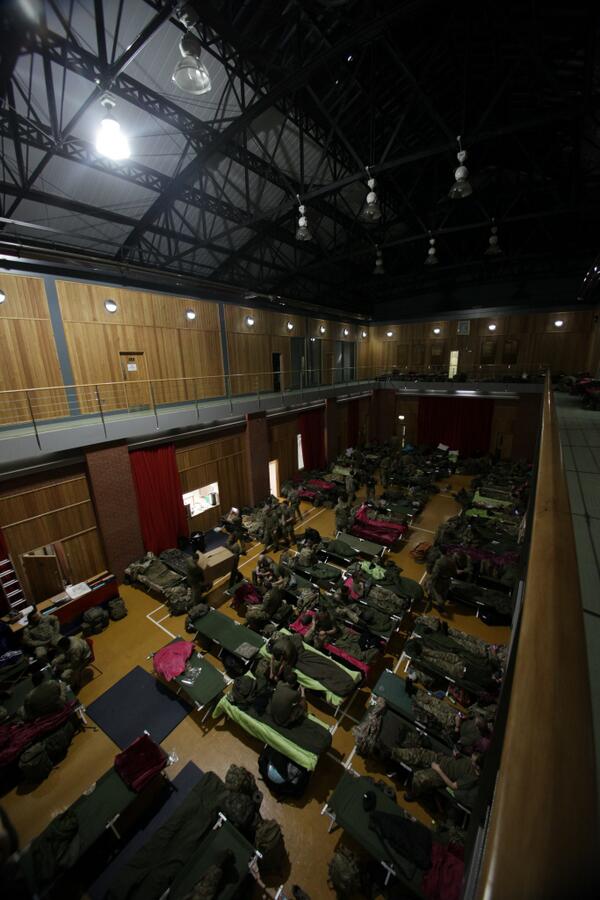 Responding to a coroner's call for a review of mental health procedures for soldiers at the inquest of a Pte Lee Bonsall, who was found hanged at his home in 2012, a Ministry of Defence spokesman said:
Every suicide is a tragedy and our thoughts remain with the families of all those who have sadly taken their own lives. Mental health of our personnel and veterans is a top priority for the Government that is why we have committed £7.4 million to ensure there is extensive mental health support in place for everyone who needs it.

Medical experts and clinicians working in our Armed Forces and across the NHS are committed to providing the best possible care to all those that have bravely served their country and to ensuring a smooth transition from the Armed Forces into the NHS.
This includes improving the transfer of medical records on discharge to provide better continuity of care and providing mental health assessments prior to discharge. Letters are also included in the NHS medical notes to their GP stating they have been under military medical care and by keeping their NHS number so they are identifiable and remain visible in NHS systems.
– Ministry of Defence spokesperson
Advertisement
The mother of Private Lee Bonsall who was found hanged at his home in 2012 has welcomed a coroner's call for a review of mental health procedures for soldiers.
Karen Bonsall told ITV News it was "amazing news" which "proves what [we] have said all along and all the recommendations we asked for".
As he recorded a narrative verdict at an inquest into the former soldier's death, Coroner Mark Layton said he intended to write to the Ministry of Defence to suggest that the procedure for arranging psychiatric appointments is reviewed.
A former soldier found hanged at his home in 2012 gave no indication he was intending to self-harm and was making future plans with his wife, an inquest has found.
Recording a narrative verdict, the coroner concluded that there was a clear link between Lee Bonsall's tour of duty in Afghanistan and subsequent mental health difficulties.
The inquest heard the 24-year-old asked to be discharged from the army in October 2006 but was not assessed until May 2007. He was subsequently discharged in September 2007.
Coroner Mark Layton said he proposed a narrative conclusion as he was not satisfied beyond reasonable doubt that Mr Bonsall's death can be recorded as a suicide.
A coroner called for a review of mental health procedures for soldiers as he recorded a narrative verdict at the inquest of a former soldier who was found hanged at his home in 2012.
Lee Bonsall, 24, served in the Army for three years before being discharged in 2007.
His family believe he suffered from post traumatic stress disorder after a friend he was serving with in Afghanistan was shot dead.
Coroner Mark Layton said he intended to write to the Minister for Defence Personnel, Welfare and Veterans to suggest that the procedure for arranging psychiatric appointments is reviewed.
He also said he planned to ask that the Army "reviews its practice for passing medical records to civilian [doctor's] surgeries".
For eight years, a woman whose son was killed on duty in Iraq has written to the family of every other fallen British soldier.
Read the full story ›
Advertisement
The wife of the marine convicted of murder has told the Daily Telegraph she is sure he could go back in time and undo that "moment of madness."
Sgt Alexander Blackman's wife said: "He's held his hands up. What he has not done in my eyes is commit murder.
"He genuinely thought, and I have absolutely no reason to disbelieve him, that that insurgent was already dead.
"He should not have discharged his weapon into him – it was the madness of the moment – and he sure as hell wished he hadn't either but he is not a murderer."
Claire Blackman also revealed: "I am sure Al would love to meet Dr Who, travel back in time and undo that moment. "He can't undo it and he's ashamed of it but I still don't think it should have led to where we are now."
Sergeant Alexander Blackman, known as Marine A, was jailed for life, with a minimum of 10 years, by a court martial last week. He was caught killing the man on his colleague's helmet camera.
"He's been convicted of murder but everything that defines Al points me and everyone who knows him in completely the opposite direction – he is not made that way", Claire Blackman told the paper.
She added: "If you ask someone what murder is in this country they might say someone stabbing a little old lady in the high street.
"Death on active service in a war zone in somewhere like Afghanistan is, sadly, an everyday occurrence. I can't really imagine the horror or the pressure those lads were under."
A Royal Marine said he is "devastated" at being handed a life sentence for murdering an injured Afghan insurgent.
Sergeant Alexander Blackman said he was "very sorry" for his actions, which were filmed on the headcam of a comrade during the patrol in "the most dangerous square mile in Afghanistan".
Speaking after Blackman was led away to begin his sentence in a civilian prison, his solicitor Issy Hogg thanked the public for the support they have shown to him and his wife.
"He has been dismissed with disgrace from the Royal Marines, with whom he has served proudly for 15 years," said, adding that Blackman intends to appeal.
A Royal Marine jailed for life for the murder of an Afghan insurgent was told by the judge sentencing him he had disgraced the name of the British armed forces and put troops' lives at risk by his actions.
Judge Jeff Blackett told Sergeant Alexander Blackman: "This was not an action taken in the heat of battle or immediately after you had been engaged in a firefight.
"Nor were you under any immediate threat - the video footage shows that you were in complete control of yourself, standing around for several minutes and not apparently worried that you might be at risk of attack by other insurgents.
"You treated that Afghan man with contempt and murdered him in cold blood. By doing so you have betrayed your corps and all British service personnel who have served in Afghanistan, and you have tarnished their reputation."
Load more updates