One soldier has died and another has been injured after an incident at an Army training centre in Cumbria, the Ministry of Defence (MoD) has confirmed.
The incident took place at the Army's Warcop Training Centre near Appleby, and is thought to have involved a vehicle rolling over, according to the BBC.
The MoD said the family of the dead soldier has been informed.
US Army Sergeant Bowe Bergdahl, held for nearly five years by the Taliban, is now in US custody, President Barack Obama said on Saturday.
As part of Bergdahl's release, the United States is turning over five Taliban detainees at the US facility in Guantanamo, Cuba, to the custody of Qatar, US officials said.
Bergdahl's freedom follows months of indirect US-Taliban talks with Qatar acting as intermediary, the officials said.
Advertisement
ITV News royal producer Emma Wright is in Italy ahead of Prince Harry's arrival at the site of the battle of Monte Cassino.
British veterans gather at Cassino war cemetery for 70th Anniversary, Prince Harry will arrive shortly http://t.co/tCMDxg8BBd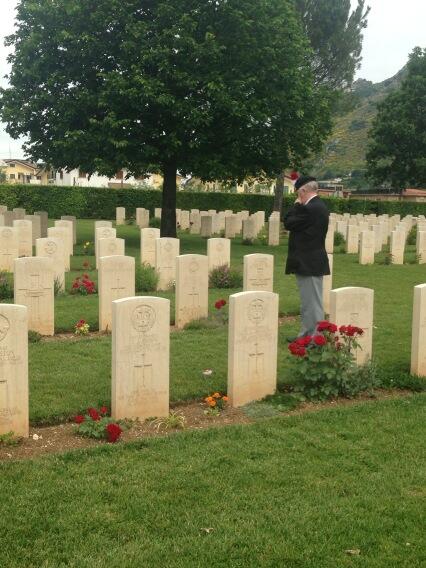 British war veterans from the war in Afghanistan are seeking support for mental health issues like never before, according to mental health charity Combat Stress.
The latest figures from the charity suggest a 57% increase in the number of veterans attempting to access services.
ITV News Reporter Dan Rivers reports
Mental health charity Combat Stress has 662 Afghanistan veterans in its care and has been treating a rising number of soldiers who fought there.
Commodore Andrew Cameron, the charity's chief executive, said: "We cannot allow the ex-service men and women who suffer from the invisible injuries of war to go unnoticed and untreated.
"This is an unnecessary drain on society and our veterans and families deserve better."
Advertisement
The number of Afghanistan veterans seeking mental health support has climbed according to new figures.
Some 358 ex-military personnel sought help from mental health charity Combat Stress last year, compared with 228 in 2012, meaning a 57% rise in cases.
The charity's chief executive, Commodore Andrew Cameron, warned that the numbers are likely to increase over the coming years and they face "a real challenge" in continuing treatment for those who need it.
He said: "We are planning for services at or above the current level for at least the next five years, and we do not expect to see demand for support tail-off in the near future."
"A small yet significant number of veterans who serve in the armed forces each year continue to relive the horrors they experienced on the front line. Day in, day out, they battle these hidden psychological wounds, often tearing families apart in the process," he said.
Commodore Cameron said one fifth of all veterans are likely to suffer from mental illness.
Shadow defence secretary Vernon Coaker said:
Our Armed Forces can be proud of the role they have played in helping Afghanistan transition to democracy and the contribution they have made to keeping people in Afghanistan and people here in Britain safe.

As well as the combat mission, the expert training given by the British military to the Afghan National Army and police has greatly increased the capacity of those security forces and that is hugely positive legacy to leave.

There are of course significant challenges that remain and we will continue to support the Afghan government and the people of Afghanistan to meet them.
Defence Secretary Philip Hammond, who was in Afghanistan to mark the latest milestone in the drawdown of UK forces, spoke to soldiers from the 4th Battalion Royal Regiment of Scotland (4 SCOTS) who had been living and working at Sterga.
The closure of our last base outside Camp Bastion is another important step towards ending combat operations in Afghanistan.

It is also an opportunity to reflect on the mission and the hard work and sacrifice of British Forces.

Their efforts have helped build a credible Afghan National Security Force and supported the emergence of a democratic Afghan state.
– Defence Secretary Philip Hammond
The last British forward base that is being used by UK troops has closed in Afghanistan, with Camp Bastion the only forward location where British soldiers are now based.
The Sterga Camp along with Bastion in Helmand is due to fully close at the end of the year.
Most of the personnel based at Sterga were from the 4th Battalion 4 SCOTS with specialist capabilities provided by other units such as 5 Regiment Royal Artillery, 32 Regiment Royal Artillery, 3 Royal Horse Artillery and 14 Signals Regiment.
At its peak the base was home to 180 people although by its closure this had reduced to about 90 personnel.
Load more updates