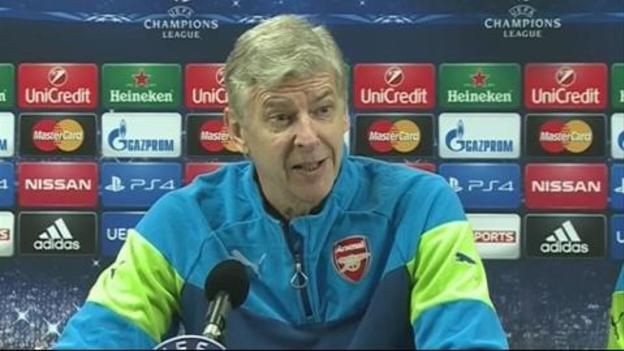 Arsene Wenger has hit back at Arsenal shareholder Alisher Usmanov after he publicly criticised the Gunners boss.
Usmanov claimed the club needs to strengthen in "every position" and questioned Wenger's stewardship by suggesting he doesn't learn from mistakes.
Speaking at a press conference ahead of Arsenal's Champions League meeting with Dortmund, Wenger responded:
"We have values at this club, the first one is when we go through a difficult period we show solidarity. The second one is when we have something to say, you say it face to face and not in the newspaper."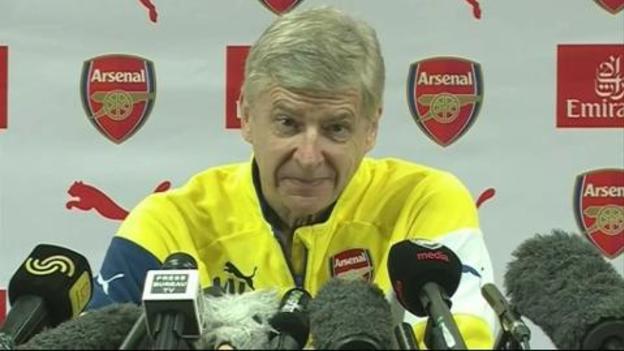 Arsenal manager Arsene Wenger claims the club tried to sign Barcelona star Leo Messi when he was a teenager.
The Gunners acquired Cesc Fabregas at the time, but failed to land the Argentine, with rumours circulating that they were unable to buy a flat for Messi's family.
"I think in the end, he was not so keen to move, because it was at a period where Fabregas came, and Fabregas and Messi played together in the same team (at Barcelona Academy). We wanted to take Fabregas, Messi and Pique. It worked only for Fabregas," said Wenger.
"It was not completely down to a flat in the end. It was down to the fact that, in the end, Messi was comfortable at Barcelona."
Advertisement
Arsene Wenger has apologised for pushing Jose Mourinho during Arsenal's Premier League defeat against Chelsea.
The Frenchman initially refused to accept any blame following the incident on October 5th, which was sparked by a bad challenge from Gary Cahill on Alexis Sanchez.
Wenger walked across Mourinho's technical area on the touchline to check on Sanchez, but was impeded by Chelsea's manager, and subsequently shoved him out of the way.
Speaking to French football programme Telefoot, Wenger said:
Jose Mourinho has branded Arsene Wenger a "specialist in failure" as he hit back at the Arsenal manager for suggesting the title was "Chelsea's to lose".
"He is a specialist in failure. I'm not. So if supposing he's right and I'm afraid of failure, it's because I don't fail many times. So maybe he's right. I'm not used to failing," the Chelsea manager said.
"But the reality is he's a specialist because, eight years without a piece of silverware, that's failure. If I did that in Chelsea I'd leave London and not come back."
Chelsea currently top the Premier League table sitting just one point above Arsenal.
Arsenal manager Arsene Wenger has dismissed the suggestion that top-flight clubs could do without the FA Cup, saying that he would like to win the famous old trophy once again.
Aston Villa boss Paul Lambert was asked yesterday whether the domestic cup was something Premier League clubs could do without and he told the BBC: "If they were being honest, they probably would do."
But Wenger claimed the FA Cup presented an opportunity for Arsenal to end their eight-year trophy drought.
He said: "I don't believe that at all. We have not won trophies for a long time, it is an opportunity that we want to take that we consider.
"On top of that we have afterwards nine days until the next Premier League game, we can give absolutely everything in this game."
Arsenal will play North London rivals Tottenham in the FA Cup third round, which you can watch live this Saturday at 5.15pm on ITV or on the ITV Football website.
Advertisement
Arsenal boss Arsene Wenger has doubts over whether a boycott of the 2018 World Cup would be the best way to combat racism in Russia.
Asked about a potential boycott, Wenger said: "You have to fight racism whether it is in Russia or anywhere else in the world.
"You cannot tolerate racism of any kind and you have to fight against it. How (do) you do that?
"Honestly I believe UEFA is taking action in the right way and to go as extreme as (a boycott), it's a bit early to do that because it's not proven what happened.
"I believe that Russia itself has to fight against that and of course you want everybody to be active on that."
Arsenal midfielder Jack Wilshere has received backing from his club manager Arsene Wenger after saying that "the only people who should play for England are English people".
However, Wenger told BBC Sport he backed the England star: "I agree with him. I always said also an Englishman should manage the England team."
He added: "I personally believe what we have really to define is what is an English player and we get that more and more."
"One of the tasks of the modern politicians will be really to define what is the nationality of a person, because some people feel differently to their passport," Wenger said.
Arsene Wenger has suffered a difficult few days with his team getting knocked out of the FA Cup, having an angry exchange with journalists at a press conference and seeing his Arsenal side lose to Bayern Munich last night.
But the French manager has received some unlikely support from the Deputy Prime Minister Nick Clegg.
The Liberal Democrat leader and Gunners fan was asked on LBC Radio what he thought of Arsenal's defeat last night and said: "I'm heartbroken ... I know what it's like to lead a team through ups and downs."
He added: "The guy (Wenger) has achieved amazing things in 16 years and he has got an incredibly young and talented team ... to now start all blaming it on him, I think might make things worse at Arsenal."
Arsenal manager Arsene Wenger says he has no plans to sign David Beckham, even though he's training with the club.
Beckham also trained with Spurs two years ago to stay fit.
The 37-year-old is currently without a club after leaving Los Angeles Galaxy, but Wenger insists he isn't joining the Gunners.
Load more updates