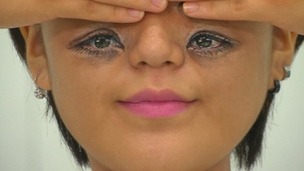 A Chinese artist working in Japan has amassed a large online following by creating unsettling illusions on people's skin.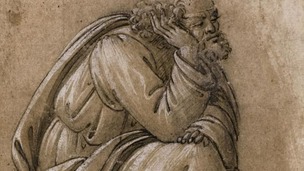 A drawing by the Renaissance master has sold for more than any other Botticelli work.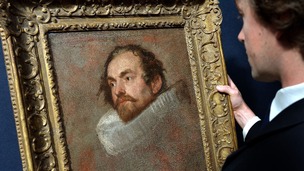 A painting revealed to be a genuine van Dyck portrait during an episode of the Antiques Roadshow has failed to sell at auction.
Live updates
Banksy artwork found in Bristol and then removed hours later
The Mayor of Bristol said the new Banksy artwork belongs to the city council and removing it would be "stealing" as the row over the picture continues.
George Ferguson said he's "pretty sure" the removed Banksy "belongs to us" and "on the face of it would be theft".
More: Banksy artwork found in Bristol and then removed hours later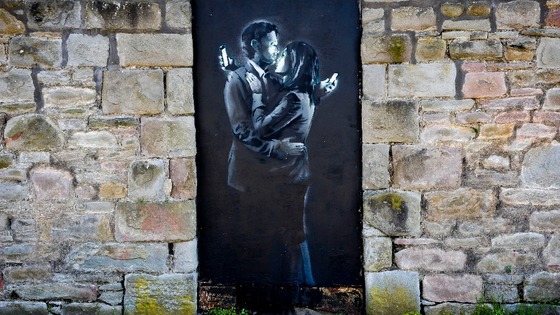 A police officer and a PCSO were also seen at the boy's club, but a police spokesman said: "There have been no formal reports and there is no police investigation at the moment.
"We visited in an informal capacity following media and public interest. We offered advice on crime prevention and any issues which may arise from a possible sale."
Read more: Club receives 'death threats' after taking down a Banksy
Banksy artwork found in Bristol and then removed hours later
The manager of the youth club who has laid claim to the latest Banksy artwork said yesterday he has received death threats after he "took an opportunity" to save his struggling youth service by removing the artwork.
Dennis Stinchcombe MBE, leader of struggling Broad Plain and Riverside Youth Project, said he had taken around 40 phone calls from angry street art fanatics.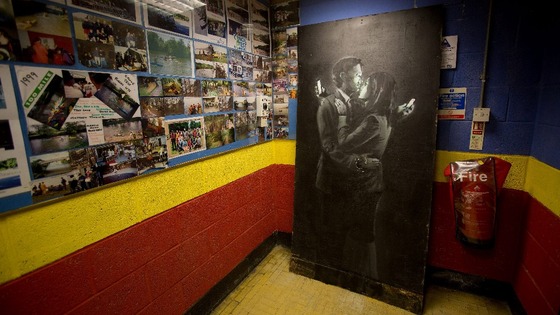 He said: "People have been calling up and telling us we have no right to take it down, that it is public and we are stealing.
"People have even said they are going to come down here and sort us out, all sorts of nasty things to us. We have even had death threats."
More: Banksy artwork found in Bristol and then removed hours later
He said if he hadn't taken the artwork "someone else would have and I wasn't going to let that happen".
Bristol City Council is yet to comment, and local police have not opened an investigation following the removal of the work.
Advertisement
Banksy artwork found in Bristol and then removed hours later
CCTV has filmed a group of mystery men installing the latest Banksy art piece in Bristol in the early hours of Sunday morning.
After arriving in a white van, the group, dressed in high visibility jackets, brought out a blue canvas and walked around the side of the van.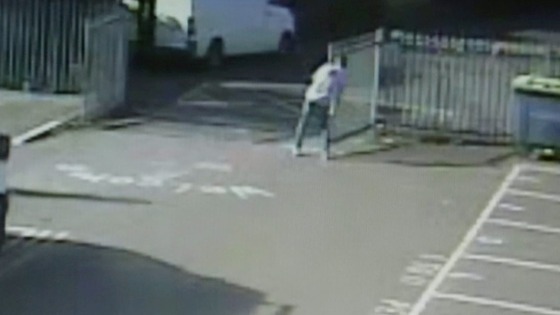 The new Banksy street art has been dubbed 'Mobile Lovers' in Bristol and has already been taken away by the local Boys Club to prevent vandalism - and replaced by a replica.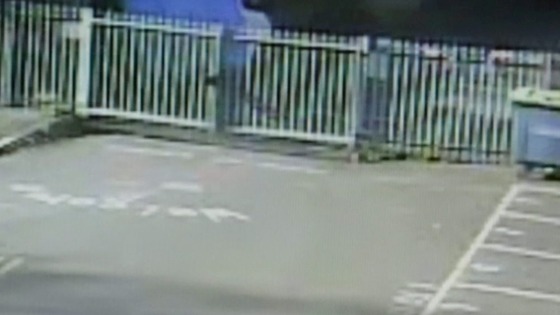 Read more: Banksy artwork found in Bristol and then removed hours later
Banksy artwork found in Bristol and then removed hours later
A youth club leader has removed a Banksy mural hours after it was located to central Bristol. Mobile Lovers was posted to the street artist's website on Monday but its location was not disclosed.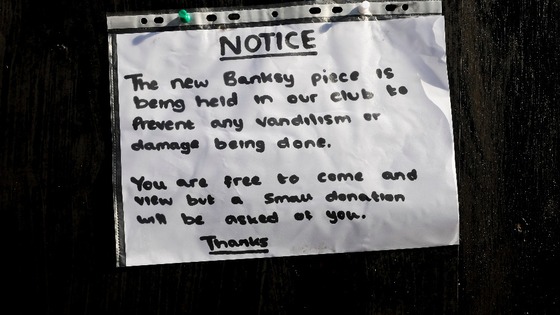 Dennis Stinchcombe, the leader of the Broad Plain & Riverside Youth Project, whose property is where the Banksy was found, said: "I was approached by somebody who knows Banksy very well.
"We need £120,000 to keep going and our fundraising appeal has so far only brought a few thousand pounds. Now we've ended up with a Banksy on our doorstep. It is a dream come true. I'm absolutely buzzing.
"If anyone wants to see it they can come in here and put a donation in the box if they feel like it."
Banksy artwork found in Bristol and then removed hours later
A Banksy artwork has been removed from the wall it was screwed to - just hours after it was tracked to a location in central Bristol.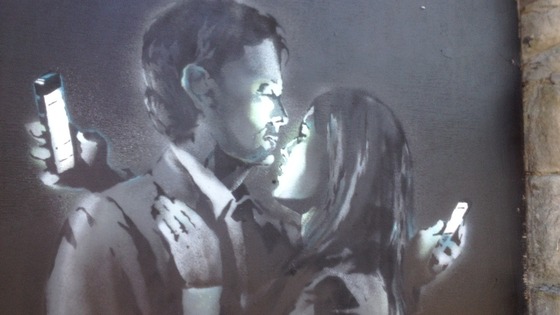 Mobile Lovers was posted to the celebrated street artist's website on Monday but its whereabouts was not disclosed. It was later tracked down to Clement Street.
But at 4pm, a group of men from the financially struggling Broad Plain & Riverside Youth Project - situated just beside the piece - used crowbars to remove it.
A sign appeared on the boarded up doorway stating: "NOTICE: The new Banksy piece is being held by our club to prevent any vandalism being done. You are free to come and view but a small donation will be asked of you. Thanks."
Dennis Stinchcombe MBE, 58, leader of the youth project, said he had been urged to take the piece by a friend of Banksy.
Banksy artwork found in Bristol and then removed hours later
A mystery piece by Banksy that appeared online yesterday has been found by ITV News.
The mural, which would be Banksy's first official work since his New York 'residency' last year, depicts a couple embracing while looking over each other's shoulders at their phones.
The piece is thought to be on Clement Street, just off the M32, and next to the entrance of Broad Plain Boys' Club in central Bristol.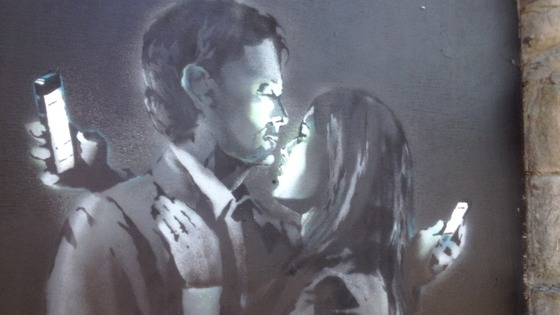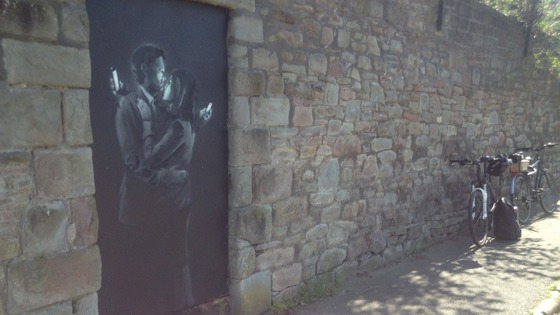 Advertisement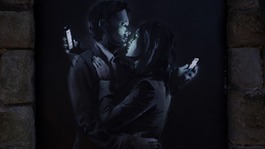 Mysterious new mural in secret location is set to spark a nationwide search by the street artist's fans.
Read the full story
A impressionist painting by Camille Pissarro sold for £19.9 million - almost five times the previous record for a single work by the artist.
Boulevard Montmartre, Matinee De Printemps was described by Sotheby's in London as "one of the greatest impressionist works to come to auction in a decade".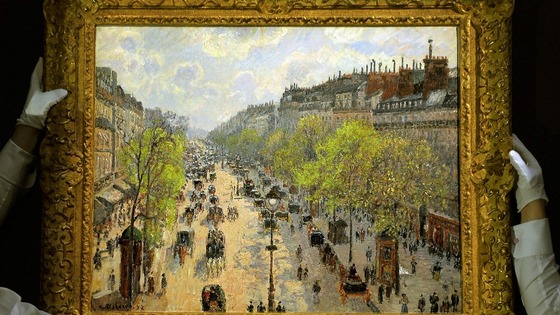 Sotheby's said the $32.1 million sale price was more than four times the seven million dollars paid in 2009 for Le Pont Boieldieu Et La Gare D'Orleans Rouen, Soleil.
The previous record for a piece by Pissarro was $14.6 million paid for a quartet of works entitled Les Quatre Saisons in 2007.
A £100,000 painting has been stolen from the home of an 89-year-old woman who was fooled by a fraud scam, Scotland Yard said. Detectives are appealing for help to recover the haul, taken from an address in South Kensington, London, on January 18.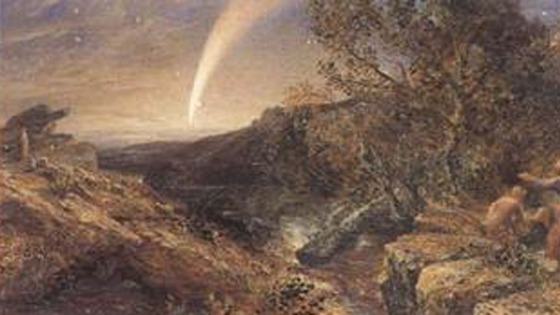 It included The Comet of 1858 by Samuel Palmer, plus jewellery and bank cards. The woman was telephoned by someone claiming that her bank cards had been used in a crime and that she needed to contact her bank. She tried to call the bank but the caller had not hung up and stayed on the line.
The victim believed she was speaking to her bank, but in fact it was still the original caller who told her that someone would attend her address and collect her cards. They also asked if she had anything of value in the house and the victim mentioned the painting, Scotland Yard said.
Damien Hirst artworks stolen from London gallery
Two signed works of art by Damien Hirst were taken from an upmarket gallery after a suspect stormed the building in Blenheim Crescent, Notting Hill, London, between 3am and 3.30am on Monday.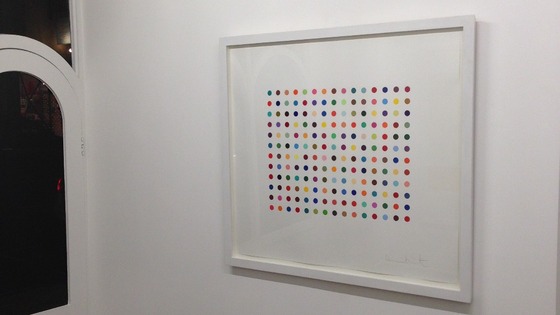 Read: Damien Hirst reveals new Comic Relief artwork
The burglar entered the gallery by forcing open the front doors and drove the items away in a dark-coloured hatchback-type vehicle towards Ladbroke Grove, the Metropolitan Police said.
The stolen pieces feature multi-coloured dots - the larger work is entitled Pyronin Y, which was created in 2005 and worth £15,000 and the other is called Oleoylsarcosine, which is valued at £18,000.
Detective Sergeant Jon Lightfoot, from Kensington and Chelsea Borough, said: "It appears the suspect has specifically targeted the two pieces.
"The items would have been visible in the back of the car and we are appealing for any witnesses or anyone with information to please come forward."
Load more updates
Back to top