An Olympian and five-time 800-metres national champion decided to defend her crown despite the fact she was eight months pregnant.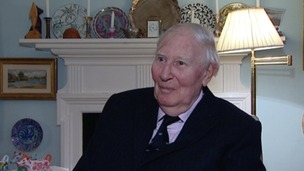 Sir Roger Bannister said one of Sir Christopher Chataway's finest moments was when he smashed the 5,000m world record in 1954.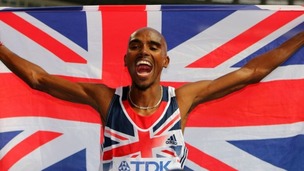 Mo Farah is hailed as Britain's greatest ever athlete after repeating his Olympic success with a double victory at the World Championships.
Live updates
Former athlete Sir Christopher Chataway dies aged 82
A former 5,000 metres world record-holder who set the pace to help Sir Roger Bannister become the first man to break the four-minute mile barrier in 1954, has died aged 82.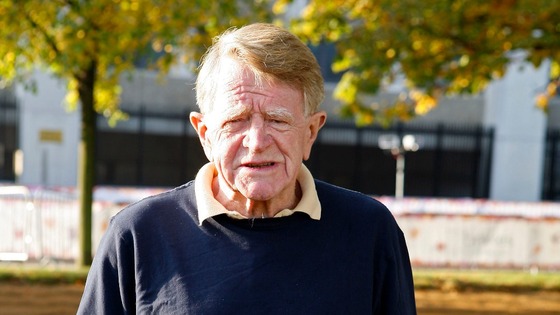 Sir Christopher Chataway died at around 7am this morning at St John's Hospice in north west London having suffered from cancer for two and a half years, his son Mark Chataway said.
The athlete's interest in keeping fit stayed with him as his life progressed and his son said that up until a couple of weeks ago he was on the exercise bike every morning.
Mr Chataway, 53, described his father as a "very compassionate and wise man" who had the "ability to put other people's needs first".
"We were, especially in these last few years, struck by his amazing qualities of humility and strength," he said.
Bolt reconsiders retirement plan
Jamaican sprinter Usain Bolt has revealed that he has to stay "constantly vigilant" to remain drug free.
Athletics has been blighted by doping scandals in recent months after athletes, including the former 100m world record holder Asafa Powell, tested positive for banned substances.
The multiple Olympic champion says he makes sure he works with people he trusts as ITV News' Paul Davies reports:
Read: Sporting credibility at stake in corrosive doping scandal
Advertisement
Bolt reconsiders retirement plan
The world's fastest man and Manchester United fan Usain Bolt has told ITV News that he is sure David Moyes "heard" his recent Instagram video message in which the sprinter said the Old Trafford boss needed to invest in his midfield.
"I was sitting at home and watching the game (against Liverpool) and I saw that in the midfield is where we are most weakest so I was just voicing my concern.
"I think David Moyes heard, I'm sure, because it was all over the news. I think he surely got that message. He got (Marouane) Fellaini (in) and (Shinji) Kagawa is now playing so the team is much better and a lot more stable."
Read: Usain Bolt in angry video message to United manager
Bolt reconsiders retirement plan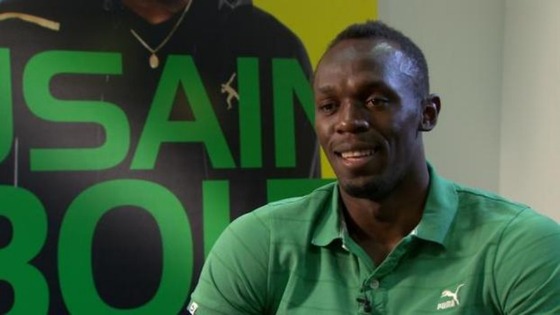 Six-time Olympic champion Usain Bolt is reconsidering his retirement after the Rio 2016 Olympic Games and says he is likely to compete for a further year after that.
In an interview with Channel 5 News at his autobiography book launch at London's Selfridges store, he said: "I am definitely reconsidering. I think my fans especially have really voiced their concern about me retiring.
"They think I should carry on and so do my sponsors. I have discussed it with my coach and he says it is possible. We will see what happens but it's on the cards that I will extend it by one more year."
Watch the interview on the Channel 5 website.
Bolt reconsiders retirement plan
Hundreds of fans have queued in London to catch a glimpse of the world's fastest man, Usain Bolt, as he signs copies of his new book 'Faster Than Lightning' in Selfridges.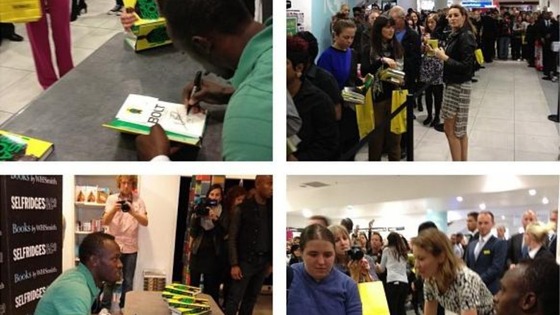 Bolt reconsiders retirement plan
Six-time Olympic Games gold medallist Usain Bolt has told ITV News that the key to his success in continually setting goals in life.
At the launch of his new autobiography 'Faster Than Lightning' in London, the world's fastest man said: "If you want to be the best, or you want to strive for more, you've got to set goals in life."
Advertisement
Team GB disqualified from relay
British sprinter James Ellington has described winning bronze in the 4x100m relay before being disqualified as the "best and worst day" of his career.
Best and worst day of my athletics career so far all within an hour,we deserved better.
Thanks everyone for the support,we will be back and even better
Team GB disqualified from relay
British sprinter Adam Gelili has tweeted about his team being disqualified from the 4x100m relay at the World Athletic Championships in Moscow today:
Thank you all for the messages of encouragement. To be so close to receieving a medal and have it taken away is heartbreaking
As a team we will pick ourselves up and carry on until we get it right. Onwards and upwards!
BIg up to the GB 4x100m women on receiving the news for bronze. Extremely proud! Just a shame they don't get their moment on the podium
Team GB disqualified from relay
Great Britain has lost its bronze medal to Canada after being disqualified over the second changeover in the 4x100m relay.
Dwain Chambers crossed the line third but the change between Harry Aikines-Aryeetey and James Ellington took place outside the designated box.
Canada was then awarded third place on appeal.
"It's heart-breaking," Aikines-Aryeetey said. "We found out when we were walking to the medal presentation."
Team GB disqualified from relay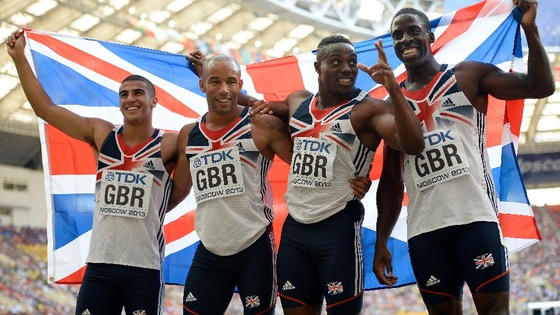 Team GB loses its bronze medal in the 4x100m men's final for an illegal changeover.
Load more updates
Back to top