Sydney siege victim Katrina Dawson was killed by police bullet fragments, an inquest has heard.
Read the full story ›
Australian all-rounder Sean Abbott has been named Bradman Young Cricketer of the Year less than two months after bowling the ball that caused Phil Hughes' tragic death.
The New South Wales player was given the award after earning 42 per cent of the vote from his fellow cricketers.
I feel privileged to receive such an award, especially after a couple of good seasons in a row on the field and some tough off seasons pushing myself to continually improve.

I feel that this is a reward for a lot of good work and finally putting some consistent good performances together.

I am looking to improve my cricket every day and to keep putting good performances on the board for the NSW Blues and the Sydney Sixers and if I continue to perform consistently well, hopefully contribute to the Australian cricket team down the track.
– Sean Abbott
Advertisement
A 2-0 win over UAE saw host nation Australia progress to the Asian Cup final where they will play South Korea.
Goals from Trent Sainsbury and West Brom defender Jason Davidson in the first-half put Australia into a commanding position that they never gave up.
Prince Philip has been awarded a knighthood by Australia - sparking a political row in the country.
Read the full story ›
A seagull hit by a cricket ball during a club match in Australia amazed fans when it appeared to come back from the dead.
Read the full story ›
Australia raised the terrorism threat level against its police officers to "high" today following discussion with overseas partners, federal police said.
Queensland state Police Commissioner Ian Stewart said: "The new threat level specifically has taken into account instances of attacks on police internationally on a number of occasions in the past few months."
Advertisement
Australia's Minister for Foreign Affairs Julie Bishop usually uses Twitter to make official announcements, but last night made a more personal plea to anyone who might have seen her missing earring.
He tweeted a picture of herself being interviewed on Sky News with one earring conspicuously missing: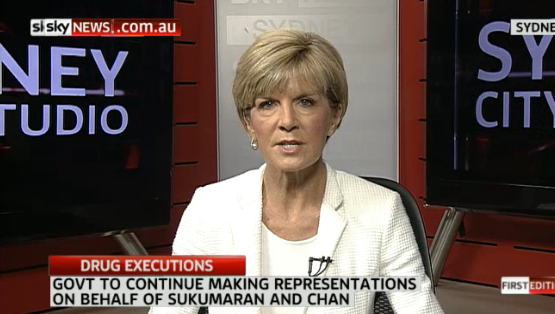 Australian pro golfer allegedly abducted in Hawaii, waking up six miles away without his wallet, phone, cash and credit cards.
Read the full story ›
An Australian nurse who has been treating Ebola patients has been airlifted from Sierra Leone to the UK for observation following a "low risk clinical incident".
The Department of Foreign Affairs and Trade (DFAT) said the nurse has not been diagnosed with Ebola and was being transferred to Britain following a "low risk clinical incident" at the Australian-managed Ebola Treatment Centre in Sierra Leone.
The patient, believed to be a woman, has not been named and will be transferred to the UK and monitored for a 21-day observation period as a precautionary step.
An Australian man who is trekking across the country has been saved from a deadly snake bite - by his Imperial Stormtrooper costume.
Read the full story ›
Load more updates