A young boy with cystic fibrosis has been 'recruited' by police to become Iron Boy and help rescue a reporter from an evil super villain.
Read the full story ›
A man has been charged with attempted murder after allegedly hitting one of the women with a hammer and running the other over.
Read the full story ›
Advertisement
Noela Rukundo was snatched off the street after her husband paid hitmen to murder her – but lived to tell the tale.
Read the full story ›
The families of British war veterans claim Australia has barred them from commemorations of a battle in which thousands were killed.
Read the full story ›
Fran Davies, 75, moved to Australia in 2009 to be with her only family but now faces being deported after being deemed "too ill".
Read the full story ›
Legislators have yet to take advantage of the change which follows a recommendation to make parliament more "family friendly".
Read the full story ›
Advertisement
A police operation is underway at a number of schools across Sydney.
New South Wales Police said "numerous threats" had been made to schools in the city and that investigations were ongoing.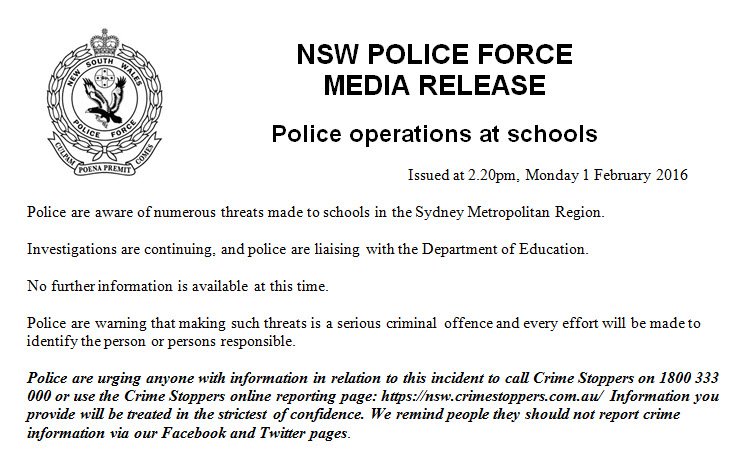 A 68-year-old man has died after being swept away by fast moving floodwaters in Australia.
The man, who has not been named, was a passenger in an SUV that had been attempting to cross a flooded causeway in southern Queensland that had been caused by severe weather in the wake of a tropical cyclone.
A 68yo man has died after the vehicle he was travelling in attempted to cross a flooded causeway near Gin Gin.https://t.co/9EagQwGJ9F
A tiger has attacked a worker at Australia Zoo, which is owned by the family of "Crocodile Hunter" Steve Irwin.
Read the full story ›
Load more updates