The Theory of Everything, about the life of Professor Stephen Hawking, has won the award for Outstanding British Film.
The award was presented by former England football star David Beckham with Professor Hawking and Eddie Redmayne both in the audience at London's Royal Opera House.
The film, starring Redmayne as the pioneering scientist, is widely expected do well at the Oscars later this month.
Mother-of-two Rosamund Pike has told ITV News she is "knocked for six" coming to events like the Baftas as she has no time to reflect on her performances at home.
Pike, who is up for the leading actress award for Gone Girl, had her second baby in December.
Advertisement
Actor Benedict Cumberbatch, who has been nominated for the Bafta leading actor award has told ITV News he does not expect to win because it is "Eddie Redmayne's year".
Cumberbatch, who is attending his first ever Bafta ceremony, is up against Redmayne, Ralph Fiennes, Jake Gyllenhaal and Michael Keaton.
British and US stars have been posing for pictures with fans and doing interviews on the red carpet before the ceremony begins later.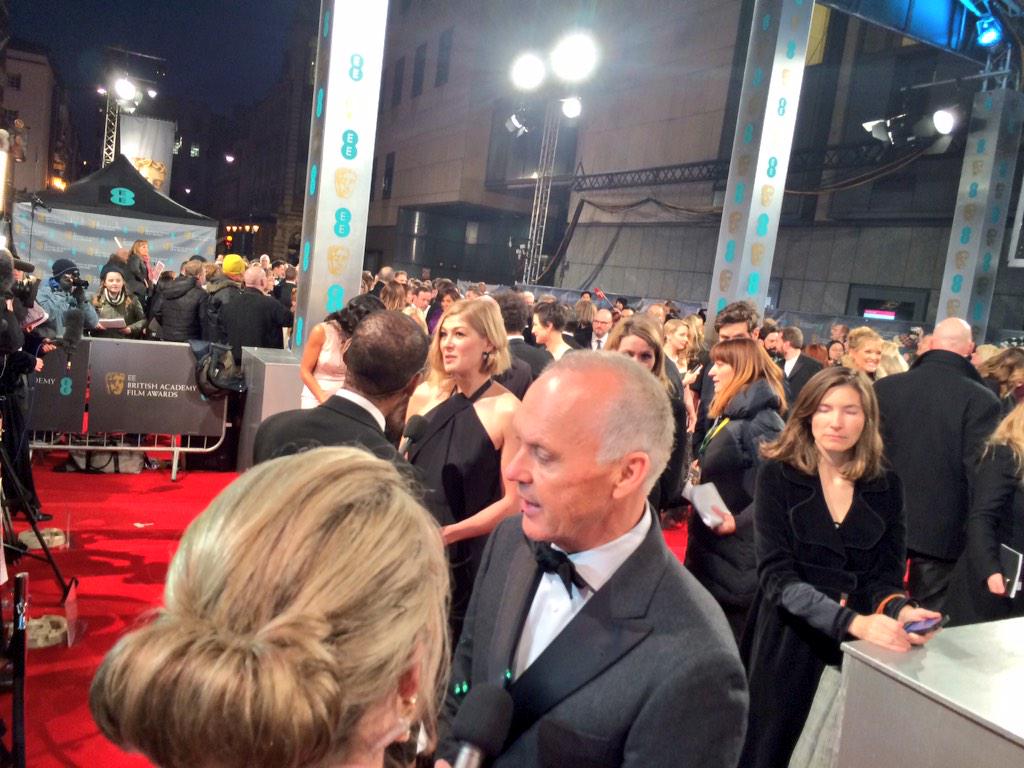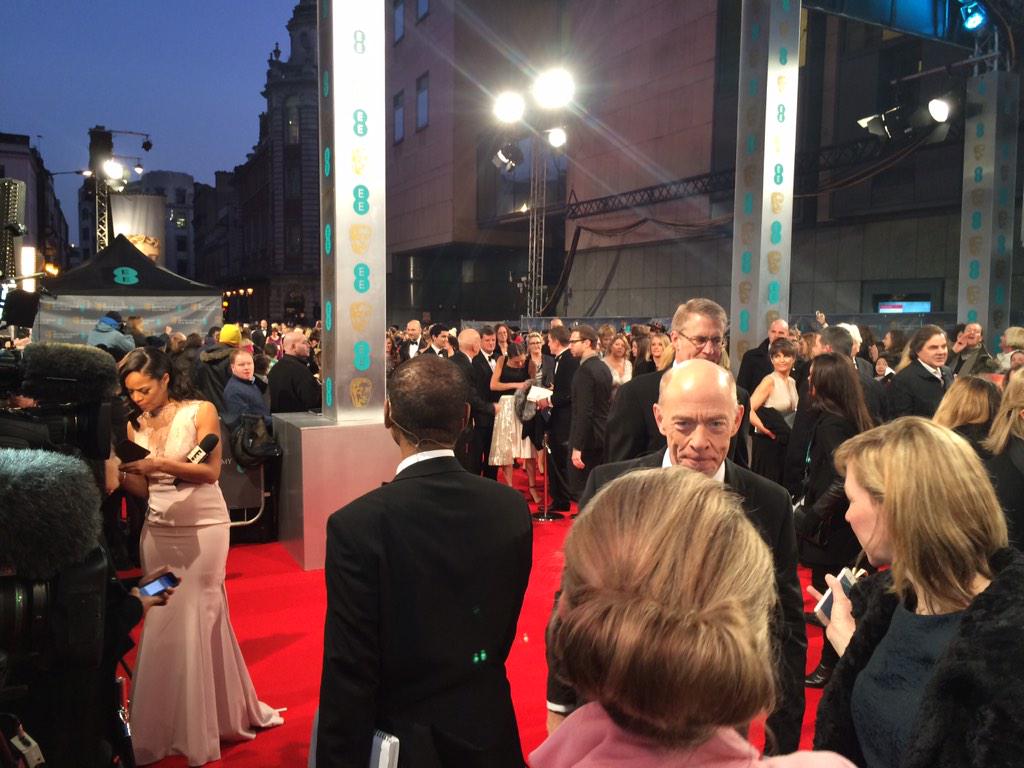 Micheal Keaton has told ITV News it would an "enormous amount" to him to win at the Baftas tonight but said he's not sure the odds are "in my favour."
Keaton, who is nominated for best actor for Birdman, said: "I'm at an away game right now i'm not on my home turf".
Eddie Redmayne has told ITV News he isn't feeling any pressure ahead of tonight's Bafta awards and said the nomination means 'a huge amount' to him.
Speaking on the red carpet, Redmayne, who is up for Best Actor for his role in The Theory of Everything, said: "Everything that has happened i feel so lucky with. I'm just like putting one foot in front of the other. Don't raise expectations just try to treasure it all really."
Advertisement
Some of the biggest names in Hollywood have made their way up the red carpet for tonight's Baftas.
Leading actor rivals Eddie Redmayne and Michael Keaton were among the first to meet fans and pose for pictures at the event.
Other famous names arriving at the ceremony, held at the Royal Opera House in Covent Garden, central London, included Boyhood star Patricia Arquette. She paid tribute to the film's director, Richard Linklater, she said there was "no other" like him.
Professor Stephen Hawking is among the well-known faces attending the Bafta awards this evening.
It comes as The Theory of Everything, a film about Professor Hawking's life, is nominated for a number of awards including Best Film, Best Actor and Best Supporting Actor.
The British Academy Film Awards, better known as the Baftas, are being held tonight. Here are some key figures about the ceremony.
Read the full story ›
The scene is being set for tonight's Baftas ceremony, but who will take the prizes? Here's a reminder of the nominees.
Read the full story ›
Load more updates