A Virgin Australia Airlines plane was evacuated after a drunk passenger tried to enter the cockpit sparking a hijack alert, an Indonesian air force spokesman said.
All passengers on board the plane were unharmed and the passenger has been arrested, the spokesman added.
Virgin said the passenger who tried to break into the cockpit of one of its planes en route to Indonesia was drunk.
The Virgin spokesperson confirmed that the plane was not hijacked.
Advertisement
A passenger who "attempted to hijack" a Virgin Australia Airlines passenger plane has been arrested in Bali, Indonesia's Metro TV reported, citing a police official.
A passenger tried to enter the cockpit of a Virgin Australia Airlines plane travelling from Brisbane and the pilot called it a "hijack", an Indonesian transport official told local station Metro TV.
Flight tracking website Flightrader said the Virgin Australia Airlines flight VA41 reportedly hijacked en route from Brisbane has landed at Indonesia's Bali airport.
This is the flight path for the hijacked Virgin Australia flight VA41. Standing on ground at Denpasar/Bali now. http://t.co/gWivgM0iIZ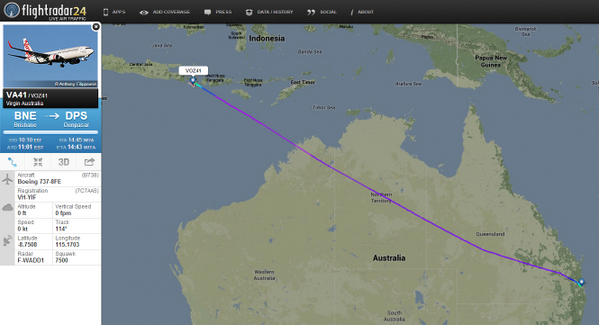 A Virgin Australia Airlines passenger plane that was hijacked has been forced to land at Indonesia's Bali airport, Reuters reported, citing Indonesia's Metro TV.
Virgin Australia Airlines was formerly called Virgin Blue.
Advertisement
A Virgin Blue passenger plane has been hijacked on the way to Bali, Reuters reports, citing Indonesia's Metro TV.
A cheeky monkey gave a Brazilian tourist a shock when it stole his video camera to take a series of selfies.
Read the full story ›
Schapelle Corby has been taken to a prosecutor's office in Bali following her release from Kerobokan jail.
It is believed the 36-year-old Australian drug smuggler, who was convicted in 2005, will now live with her sister who lives on the island. The former beauty therapist is unable to leave Bali until 2017.
Australian Schapelle Corby battled through the crowds of waiting media as she was released from a prison in Bali today.
Corby, seen here wearing a black and white hat, must remain in the island resort of Bali on parole until 2017.
Load more updates