Flight tracking website Flightrader said the Virgin Australia Airlines flight VA41 reportedly hijacked en route from Brisbane has landed at Indonesia's Bali airport.
This is the flight path for the hijacked Virgin Australia flight VA41. Standing on ground at Denpasar/Bali now. http://t.co/gWivgM0iIZ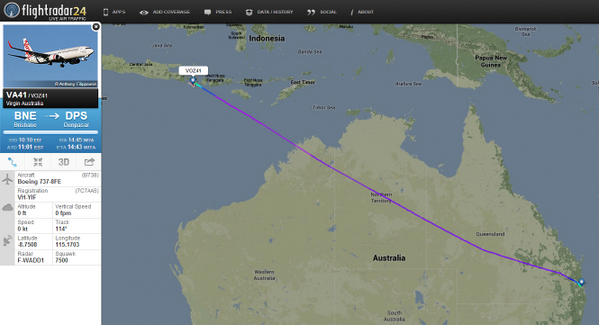 A Virgin Australia Airlines passenger plane that was hijacked has been forced to land at Indonesia's Bali airport, Reuters reported, citing Indonesia's Metro TV.
Virgin Australia Airlines was formerly called Virgin Blue.
Advertisement
A Virgin Blue passenger plane has been hijacked on the way to Bali, Reuters reports, citing Indonesia's Metro TV.
A cheeky monkey gave a Brazilian tourist a shock when it stole his video camera to take a series of selfies.
Read the full story ›
Schapelle Corby has been taken to a prosecutor's office in Bali following her release from Kerobokan jail.
It is believed the 36-year-old Australian drug smuggler, who was convicted in 2005, will now live with her sister who lives on the island. The former beauty therapist is unable to leave Bali until 2017.
Australian Schapelle Corby battled through the crowds of waiting media as she was released from a prison in Bali today.
Corby, seen here wearing a black and white hat, must remain in the island resort of Bali on parole until 2017.
Advertisement
Australian Foreign Minister Julie Bishop has welcomed the released of Schapelle Corby, who has been released on parole after serving nine years in a Balinese jail.
"The decision by Indonesia's minister for law and human rights is welcomed," Ms Bishop told the Australian.
"I understand that now the decision to grant parole has been made is a matter for the authorities to determine the time of the release but I hope that she's now given some privacy as she gets her life back together," she added.
Convicted Australian drug smuggler Schapelle Corby has been released on parole after serving nine years in a Balinese prison.
Corby - who has always protested her innocence - was convicted of smuggling 4.2 kilograms (9 pounds) of marijuana onto Bali and sentenced to 20 years in prison in 2005.
In 2010, she asked for clemency, citing her poor mental state. Two years later in 2012, Indonesia's president cut her sentence by five years.Corby, 35, will have to stay in Bali and cannot return to Australia until 2017.
A security guard died after being strangled to death by a huge python near a luxury hotel on Indonesia's resort island of Bali, police said.
The incident happened early this morning when the 15 foot python was slithering across the road near the Bali Hyatt hotel, closed for renovations.
The victim, Ambar Arianto Mulyo, was a 59-year-old security guard at a nearby restaurant. He had offered to help capture the snake, which had been spotted several times near the hotel, assistant manager Agung Bawa said.
The security man managed to capture the snake's head and tail, and lifted it on to his shoulders, but the python wrapped itself around his body and strangled him, Bawa said.
The snake then escaped into nearby bushes, and police have not located it. Bawa said:
"It happened so fast. We were sad because we could not do anything to help him."
A human rights charity has called for the Government to "step in" and help a British grandmother who lost her appeal against a death sentence for trafficking drugs into Bali.
This will be devastating for Lindsay and her family, following months of torment throughout the appeals process.
Without a lawyer to seek the new evidence needed for the Courts to re-review her sentence and prepare her clemency petition, Lindsay faces extremely difficult decisions.

We hope that the British government will step in to ensure that Lindsay is at least provided with a lawyer to help her avoid execution.
– Zoe Bedford, Casework lawyer at Reprieve
Load more updates