UN Secretary-General Ban Ki-moon said that he was "deeply concerned" by the situation involving Ukraine and Russia at a meeting with Russian President Vladimir Putin.
Ban is on a visit to both nations to encourage all parties involved in the crisis over Ukraine and its Crimea region, which Western nations say Russia has illegally annexed, to find a peaceful solution.
Russia's Foreign Minister Sergei Lavrov is set to meet UN Secretary-General Ban Ki-moon and UN diplomat Lakhdar Brahimi in Geneva later today, Reuters reported, citing Russian news agencies
Advertisement
Asked about the apparent gap in objectives between the two Syrian delegations, UN Secretary General Ban-Ki Moon said that the purpose of the talks is to "discuss how to implement the Geneva Communique" that was agreed in 2012.
This includes "establishing a transitional government," he said, adding that "everybody has come with the clear understanding that this is the basis" of the talks.
Today's session in the Syria peace talks has ended with UN chief Ban Ki-Moon calling on the Syrian delegations to work sincerely towards a solution.
A number of delegates at the conference are expected to give press conferences shortly.
UN chief Ban Ki-Moon is holding bilateral talks with Syria's foreign minister Walid al-Moualem on the sidelines of major talks aimed at ending the conflict.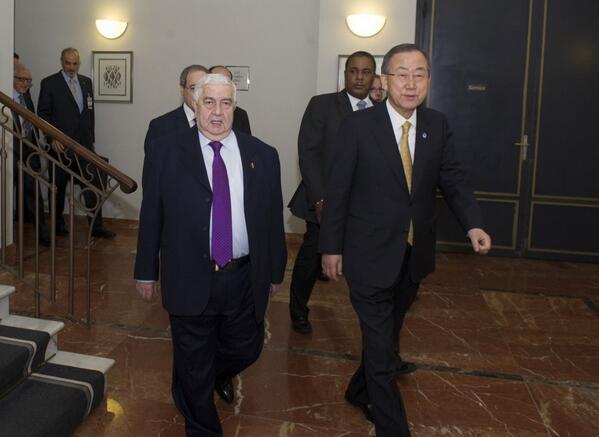 UN chief Ban Ki-Moon opened the Syria peace talks in Switzerland describing the occasion as a "day of fragile but real hope".
This is the first time delegates from both the Syrian government and opposition have been part of the same negotiations, but their openings speeches underlined the wide gap between their positions.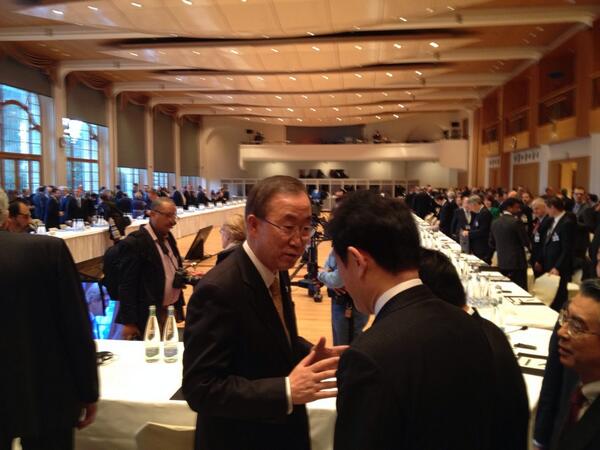 Advertisement
The UN Secretary General is "urgently considering his options" following the "disappointing conduct of some participants" in forthcoming peace talks on Syria, the Associated Press reports.
The report cites Ban Ki-Moon's spokesman as saying that he is "dismayed" after some participants threatened to pull out of the talks in protest at Iran's invitation.
UN Secretary General Ban Ki-Moon has said that "intensive and urgent" discussions are underway ahead of a major round of Syria peace talks on Wednesday.
Earlier, Iran's foreign minister Hosein Amirabdollahian is cited as saying that he would not accept any preconditions to take part in the 'Geneva 2' summit in Switzerland.
The ISNA news agency cited him is saying that it could not accept plans for a political transition in Syria as discussed at talks in 2012.
UN secretary-general Ban Ki-moon has invited Iran to day one of the Syria peace talks in Montreux, Switzerland, Reuters reported.
Chemical weapons have been used in the Syrian conflict, according to the final report by UN chemical weapons inspectors, which was presented to UN Secretary-General Ban Ki-moon yesterday.
According to the report, the weapons were used in a widely publicised attack in the Ghouta area of Damascus on August 21 and probably in four other locations - Khan al Assal, Jobar, Saraqeb and Ashrafiah Sahnaya - between March and late August.
The UN chief said: "The use of chemical weapons is a grave violation of international law, an affront to our shared humanity. We need to remain vigilant to ensure that these awful weapons are eliminated, not only in Syria, but everywhere."
The report did not determine whether the government or opposition were responsible for the alleged attacks. It will now be sent to members of the UN Security Council.
Load more updates