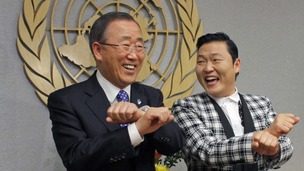 United Nations Secretary General met PSY to discuss working with the global superstar to end global warming - and dancing.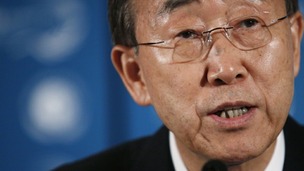 Seven UN peacekeepers have come under attack and been killed in Ivory Coast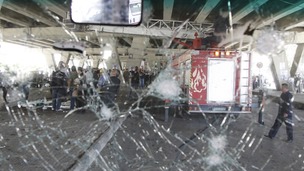 Suicide bombing may be common in neighbouring Iraq. It hasn't been in Syria. Until now.
Live updates
Syrian snipers shoot at convoy
UN Secretary General Ban Ki-Moon has said he is confident that weapons inspectors can get evidence about an alleged chemical attack in Damascus despite the passage of time, a spokesman said.
Police killed in Sinai attack
UN Secretary-General Ban Ki-moon has condemned today's violence in Egypt "in the strongest terms".
Ban's office said in a statement: "While the UN is still gathering precise information about today's events, it appears that hundreds of people were killed or wounded in clashes between security forces and demonstrators.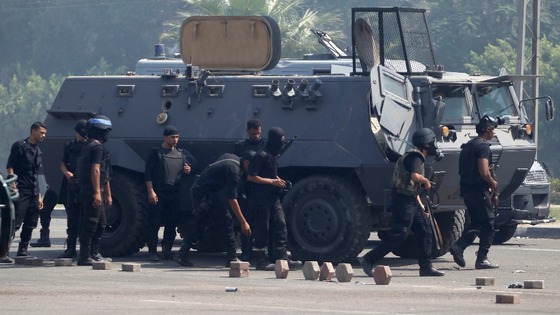 "Just days ago, the Secretary-General renewed his call for all sides in Egypt to reconsider their actions in light of new political realities and the imperative to prevent further loss of life.
"The Secretary-General regrets that Egyptian authorities chose instead to use force to respond to the ongoing demonstrations."
Advertisement
The UN secretary-general Ban Ki-Moon says more than 100,000 people have been killed in the Syria conflict.
Israel approves 1000 new settlements
UN Secretary-General Ban Ki-moon said he is "encouraged" that the basis to resume peace talks between Israel and Palestine has been established.
Ban also commended the efforts of US Secretary of State John Kerry and the decision by Israeli and Palestinian officials "to return to the negotiating table".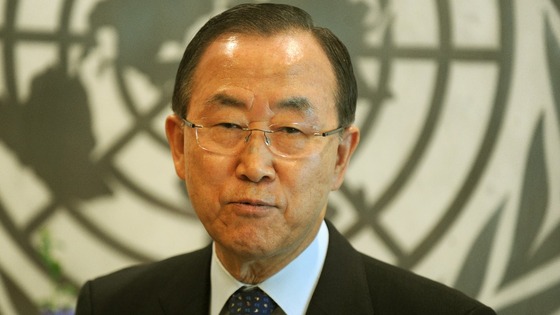 His office said in a statement, "He is encouraged by this positive development and calls on both sides to show leadership, courage, and responsibility to sustain this effort towards achieving the two-state vision".
The UN added that it will "support any endeavour towards meaningful negotiations and to the achievement of a comprehensive peace in the region".
US calls for Morsi's release
UN Secretary General Ban Ki-Moon has appealed for calm, non-violence and dialogue in Egypt.
Military interference in any state's affairs is of concern, he said in a statement that did not overtly criticise the ousting of the president.
"It will be crucial to quickly reinforce civilian rule in accordance with principles of democracy," he added.
New Boston suspects' images
The UN Secretary General Ban Ki-Moon has condemned the Boston Marathon blasts:
#UNSG condemns #BostonMarathon blasts, says all the more appalling as they hit event that unites people.
Advertisement
'15 dead' in Damascus car bomb
UN Secretary-General Ban Ki-moon said a team to investigate claims of chemical weapons use in Syria would be ready to deploy within 24 hours and urged the Syrian government to give the go-ahead so work could begin.
Ban said an advance team had been sent to Cyprus. "We are ready, it is a matter of time," he said. The full team will consist of 15 experts, including inspectors, medical experts and chemists.
"All we are waiting for is the go-ahead from the Syrian government to determine whether any chemicals weapons were used, in any location," Ban said.
S Korea on alert for missile test
UN Secretary General Ban Ki-Moon warned North Korea that a further nuclear test would be a "provocative measure." In a news conference in the Hague, he said:
The DPRK cannot go on like this, confronting and challenging the authority of the Security Council and directly challenging the whole international community.
He also said he was aware of possible preparations for a nuclear test, but had no specific information.
S Korea on alert for missile test
The United Nations said humanitarian staff remain engaged throughout North Korea and Secretary-General Ban Ki-moon is "deeply concerned" by the escalating crisis, according to Reuters.
Watch: Kim Jong-un takes part in practice drill
S Korea on alert for missile test
The UN Secretary General Ban Ki-Moon has said he is "deeply worried" by the war of words coming from the Korean peninsula in recent days.
"Nuclear threats are not a game," Mr Ban warned. He also said that countries would be likely to "respond firmly" to any provocation from North Korea, and he called on all parties to join in dialogue.
Load more updates
Back to top