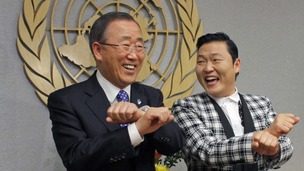 United Nations Secretary General met PSY to discuss working with the global superstar to end global warming - and dancing.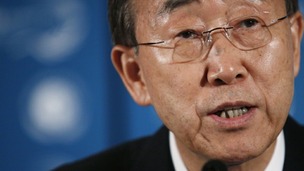 Seven UN peacekeepers have come under attack and been killed in Ivory Coast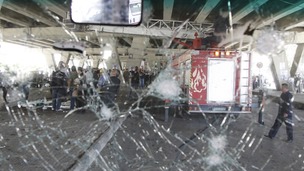 Suicide bombing may be common in neighbouring Iraq. It hasn't been in Syria. Until now.
Live updates
Samples taken by UN weapons inspectors from the site of an alleged chemical attack in Syria have been sent to laboratories for testing and will arrive "within hours," a UN spokesperson has said.
Since the return of the Mission last Saturday, the UN team worked around the clock to finalise the preparations of the samples in view of their shipment to the designated laboratories.

The samples were shipped this afternoon from The Hague and will reach their destination within hours.

The designated laboratories are prepared to begin the analyses immediately after receipt of samples.
– un spokesperson

Secretary General Ban Ki-Moon has held talks with the chief inspector, Dr. Ake Sellström, about how the tests can be sped up and will brief members of the Security Council on Tuesday.
Arab League backs UN action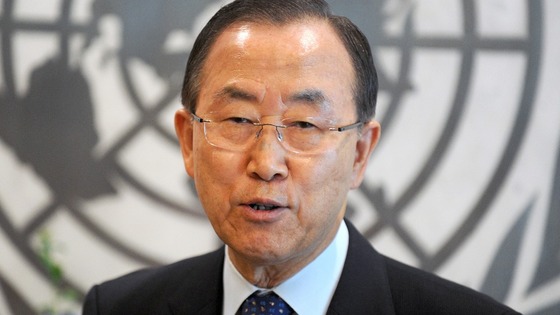 The UN Secretary General Ban Ki-moon returned to New York on Thursday evening and intends to engage with member states on developments in Syria, a spokesperson said.
His first meeting is due take place with the permanent members of the Security Council.
Advertisement
Syria ready for US 'aggression'
United Nations Secretary-General Ban Ki-moon said the chemical weapons team sent to Damascus to investigate alleged chemical attacks will leave Syria by Saturday morning.
He added that the experts would continue their investigations until Friday.
Arab League backs UN action
UN inspectors need four days in Syria to conclude their investigation into last week's alleged chemical attack and analyse their findings, UN Secretary-General Ban Ki-moon has said.
"They are working very hard, under very, very dangerous circumstances," Ban said. "Let them conclude their work for four days, and then we will have to analyse scientifically with experts and then I think we will have to report to the Security Council for any actions."
West 'threatening Syria solution'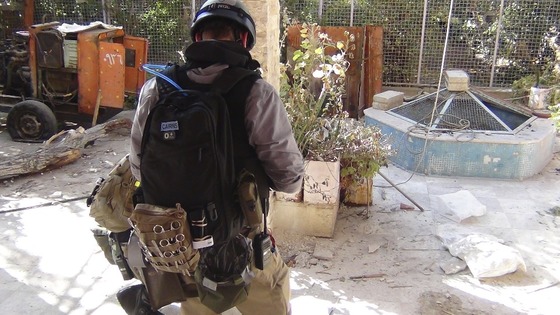 A team of United Nations inspectors has reached rebel-held territory outside Damascus as UN Secretary-General Ban Ki-moon cautioned against pre-empting the chemicals investigation.
Activists confirmed the inspectors had reached the town of Maleiha and were being escorted to towns where deadly gas strikes are alleged to have happened.
Ban's message came as leaders in the west plotted taking military action against the Assad regime over the alleged attacks.
"It is essential to establish the facts," he said from the Hague. "A UN investigation team is now on the ground to do just that. Just days after the attack, they have collected valuable samples and interviewed victims and witnesses. The team needs time to do its job."
Read: Cameron outlines 'necessary measures' against Assad regime
Syrian snipers shoot at convoy
UN Secretary General Ban Ki-Moon has said he is confident that weapons inspectors can get evidence about an alleged chemical attack in Damascus despite the passage of time, a spokesman said.
Advertisement
Police killed in Sinai attack
UN Secretary-General Ban Ki-moon has condemned today's violence in Egypt "in the strongest terms".
Ban's office said in a statement: "While the UN is still gathering precise information about today's events, it appears that hundreds of people were killed or wounded in clashes between security forces and demonstrators.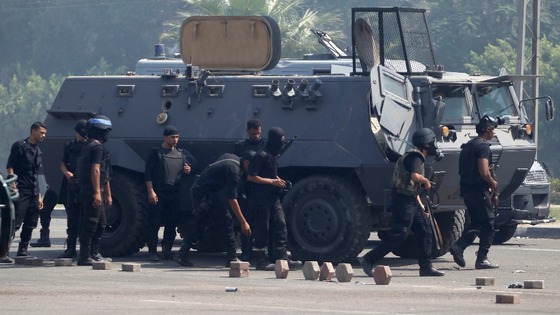 "Just days ago, the Secretary-General renewed his call for all sides in Egypt to reconsider their actions in light of new political realities and the imperative to prevent further loss of life.
"The Secretary-General regrets that Egyptian authorities chose instead to use force to respond to the ongoing demonstrations."
The UN secretary-general Ban Ki-Moon says more than 100,000 people have been killed in the Syria conflict.
Israel approves 1000 new settlements
UN Secretary-General Ban Ki-moon said he is "encouraged" that the basis to resume peace talks between Israel and Palestine has been established.
Ban also commended the efforts of US Secretary of State John Kerry and the decision by Israeli and Palestinian officials "to return to the negotiating table".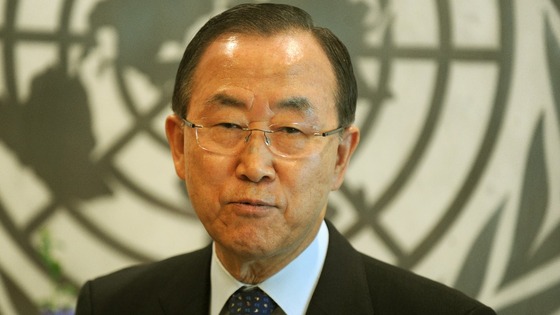 His office said in a statement, "He is encouraged by this positive development and calls on both sides to show leadership, courage, and responsibility to sustain this effort towards achieving the two-state vision".
The UN added that it will "support any endeavour towards meaningful negotiations and to the achievement of a comprehensive peace in the region".
US calls for Morsi's release
UN Secretary General Ban Ki-Moon has appealed for calm, non-violence and dialogue in Egypt.
Military interference in any state's affairs is of concern, he said in a statement that did not overtly criticise the ousting of the president.
"It will be crucial to quickly reinforce civilian rule in accordance with principles of democracy," he added.
Load more updates
Back to top