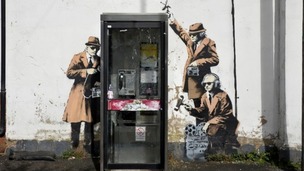 Mystery surrounds a new Twitter account claiming to be the anonymous street artist Banksy.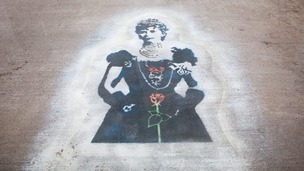 A mysterious painting has appeared at a hospital near Banksy's childhood home, prompting speculation the enigmatic artist has struck again.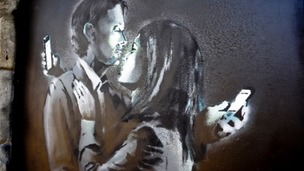 A youth club that was facing closure is celebrating a potential windfall after Banksy said it could keep a mural he created nearby.
Live updates
Banksy artwork found in Bristol and then removed hours later
A youth club leader has removed a Banksy mural hours after it was located to central Bristol. Mobile Lovers was posted to the street artist's website on Monday but its location was not disclosed.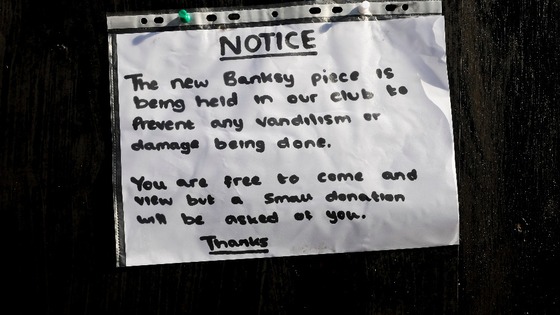 Dennis Stinchcombe, the leader of the Broad Plain & Riverside Youth Project, whose property is where the Banksy was found, said: "I was approached by somebody who knows Banksy very well.
"We need £120,000 to keep going and our fundraising appeal has so far only brought a few thousand pounds. Now we've ended up with a Banksy on our doorstep. It is a dream come true. I'm absolutely buzzing.
"If anyone wants to see it they can come in here and put a donation in the box if they feel like it."
Banksy artwork found in Bristol and then removed hours later
A Banksy artwork has been removed from the wall it was screwed to - just hours after it was tracked to a location in central Bristol.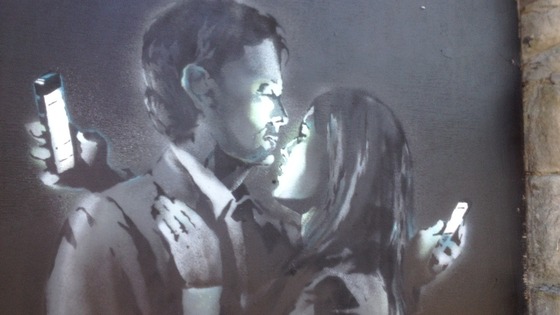 Mobile Lovers was posted to the celebrated street artist's website on Monday but its whereabouts was not disclosed. It was later tracked down to Clement Street.
But at 4pm, a group of men from the financially struggling Broad Plain & Riverside Youth Project - situated just beside the piece - used crowbars to remove it.
A sign appeared on the boarded up doorway stating: "NOTICE: The new Banksy piece is being held by our club to prevent any vandalism being done. You are free to come and view but a small donation will be asked of you. Thanks."
Dennis Stinchcombe MBE, 58, leader of the youth project, said he had been urged to take the piece by a friend of Banksy.
Advertisement
Banksy artwork found in Bristol and then removed hours later
A mystery piece by Banksy that appeared online yesterday has been found by ITV News.
The mural, which would be Banksy's first official work since his New York 'residency' last year, depicts a couple embracing while looking over each other's shoulders at their phones.
The piece is thought to be on Clement Street, just off the M32, and next to the entrance of Broad Plain Boys' Club in central Bristol.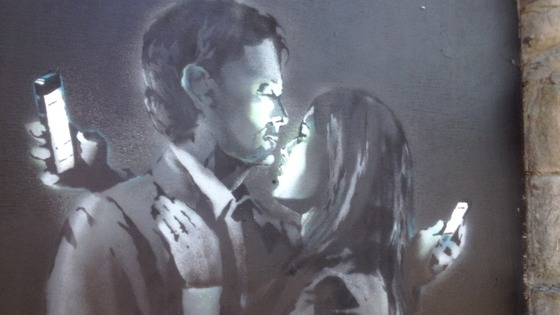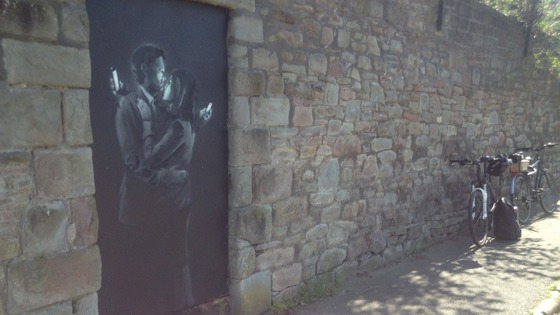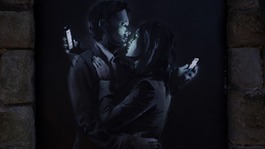 Mysterious new mural in secret location is set to spark a nationwide search by the street artist's fans.
Read the full story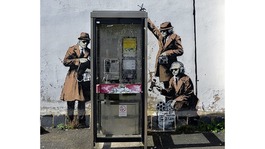 A Banksy-esque mural showing shady surveillance agents eavesdropping on a telephone box has appeared on a street in Gloucestershire.
Read the full story
Graffiti artist Banksy has re-worked his famous 'Balloon Girl' to mark the third anniversary of the Syria conflict.
On his website, Banksy writes of an incident in the Syrian town of Daraa on March 6, 2001, in which 15 children were arrested and tortured for painting "anti-authoritarian graffiti".
It goes on: "The protests that followed their detention led to an outbreak of violence across the country that would see a domestic uprising transform into a civil war displacing 9.3 million people from their homes."
On March 15, vigils will be held across the world to mark the anniversary of the crisis. They are being organised via #withsyria
Read more: Banksy Brighton pub mural 'Kissing Coppers' sells for £345,000
Advertisement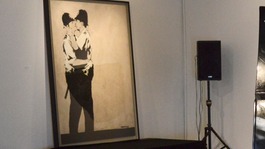 'Kissing Coppers' was painstakingly removed from the wall of a pub and transported to the US in 2011.
Read the full story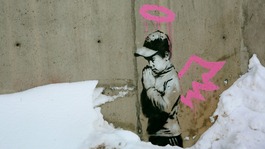 Two paintings by mysterious British graffiti artist Banksy have been vandalised in a prominent US town, one of them possibly ruined.
Read the full story
An oil painting that has been altered by Banksy has sold for $615,000.
The Bristol-based artist painted a Nazi figure on to an oil painting he bought from a New York charity shop.
After changing the canvas, he handed it back to the shop, where was auctioned.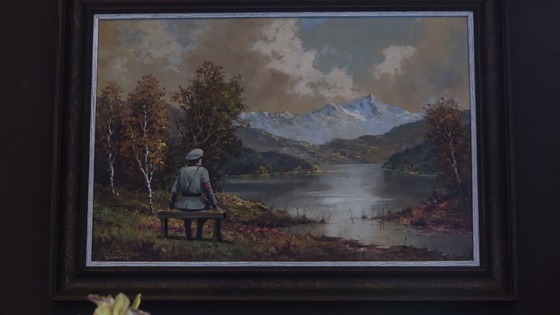 Banksy called the work The banality of the banality of evil.
It depicts a Nazi officer looking out onto a lake.
Read: New York hunt for elusive Banksy continues as he reveals new artwork
NYPD 'hunt' artist Banksy
Elusive graffiti artist Banksy has revealed his latest installation in the form of a video, as he continues to evade New York authorities. The 30 second clip shows ants on a mound, filmed in Staten Island, but could be seen as too inappropriate to display.
The mysterious Banksy is calling his month in New York his "Better Out Than In" residency.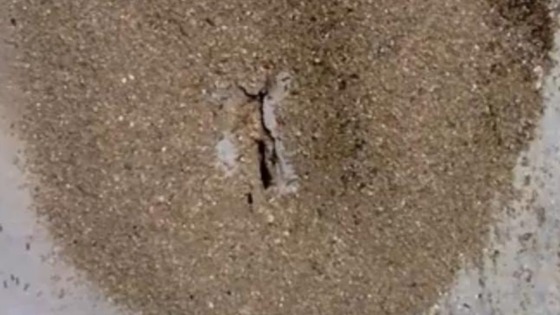 Among his works so far: the image of a Ronald McDonald statue getting his red clown shoe shined, which appeared in the Bronx on Tuesday, and a livestock truck adorned with children's stuffed farm animal toys - a mobile installation Banksy calls "Sirens of the Lambs."
Warning: Graphic content - Watch the video here.
Load more updates
Back to top