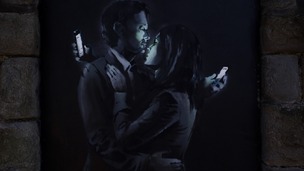 Mysterious new mural in secret location is set to spark a nationwide search by the street artist's fans.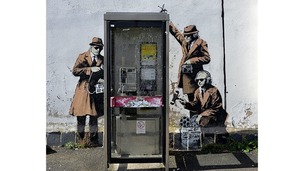 A Banksy-esque mural showing shady surveillance agents eavesdropping on a telephone box has appeared on a street in Gloucestershire.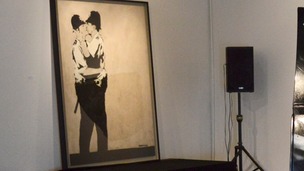 'Kissing Coppers' was painstakingly removed from the wall of a pub and transported to the US in 2011.
Live updates
NYPD 'hunt' artist Banksy
The mysterious British graffiti artist Banksy has unveiled his latest artwork during his six-month residency in New York.
The exhibition, displayed in West 24th Street, includes two paintings, a security guard and even a water cooler filled with "cheap wine," as described in the accompanying audio guide.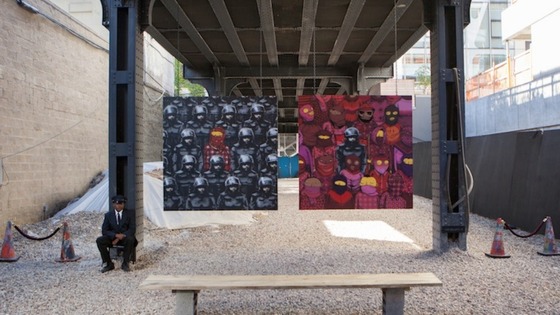 On Banksy's website, the description of the exhibition reads: "Are you the sort of person who enjoys going to art galleries, but wished they had more gravel in them?
"Then this temporary exhibition space is for you. Housing just two paintings but also featuring a bench, some carpet and complimentary refreshments. Opens today through Sunday 11am til midnight."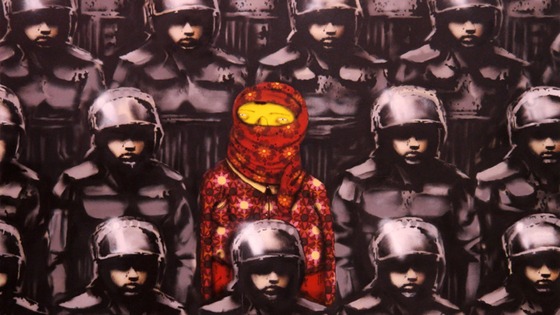 Read: Anger as man defaces newest Banksy artwork
It has been reported that US police are investigating Banksy's real identity - so they can arrest the graffiti artist for defacing public property.
NYPD 'hunt' artist Banksy
Banksy's newest creation sparked an altercation in Williamsburg on Thursday when a man sprayed over the work with his own tag.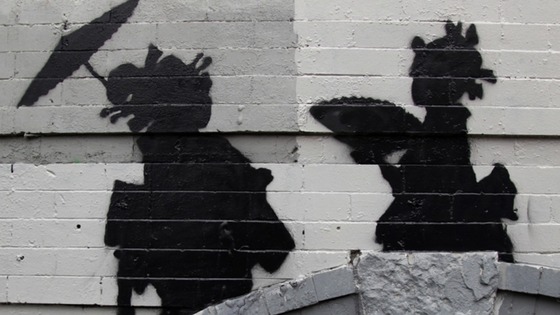 As crowds gathered to admire the painting, named Bed Stuy, a man emerged with a spray can and defaced the silhouette, prompting an angry response from bystanders.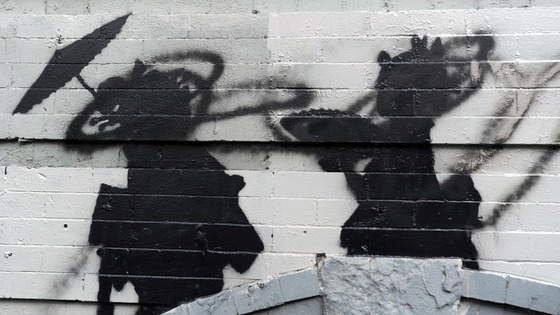 Crowds tried to pull the man away and detain him until police arrived but he managed to escape.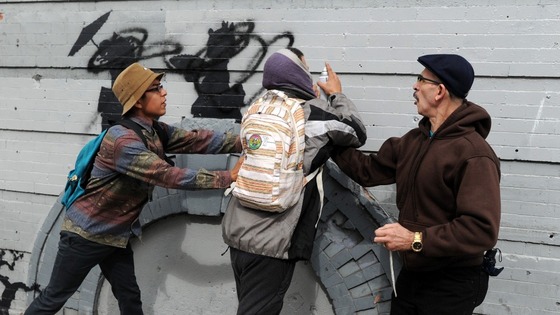 it has been suggested that the artwork, which depicts two women in kimonos, was inspired by artist Kara Walker.
Advertisement
NYPD 'hunt' artist Banksy
Banksy has slammed "mega-corporation" McDonald's with a life-size sculpture of its famous Ronald McDonald mascot, shown having his giant shoes shined by a downtrodden boy.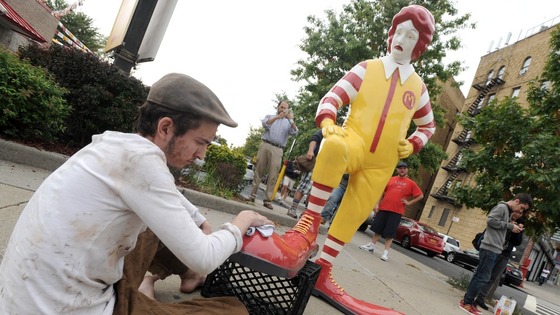 Unveiled in the South Bronx on Day 16 of the British artist's month-long New York residency, the sculpture will be placed outside a different McDonalds every lunchtime for a week. It is accompanied by a young man who sits and shines the sculpture's shoes.
An audio guide on Banksy's website explains the inspiration for the work:
"Ronald was adopted as the official mascot of the McDonald's fast food corporation chain in 1966. Fibreglass versions of his likeness have been installed outside restaurants ever since, thus making Ronald arguably the most sculpted figure in history after Christ."
NYPD 'hunt' artist Banksy
New York police officers are investigating Banksy's real identity - so they can arrest the mysterious British artist for defacing public property, according to the New York Post.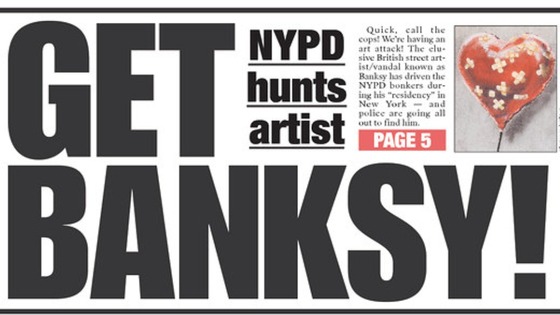 Law enforcement sources will charge the elusive graffiti maestro with vandalism if they catch him painting public walls during his month long residency, the newspaper reports.
Banksy responded to the paper's claims on his website, which showed a copy of the front page with the caption: "I don't read what I believe in the papers."
Earlier this week, Mayor Michael Bloomberg said Banksy is a vandal, not an artist, telling reporters: "You running up to somebody's property or public property and defacing it is not my definition of art."
READ: Banksy sells original work for £38 in New York market stall stunt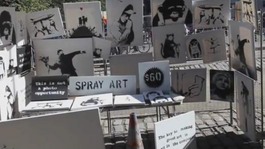 The artist sold work worth £20,000 for £38 from a stall in Central Park in the latest stunt in his month long 'live exhibition' in the city.
Read the full story
NYPD 'hunt' artist Banksy
Elusive graffiti artist Banksy has revealed his plans to escape his own commercial success with a month long "tag tour" of New York in a rare interview with New York's The Village Voice.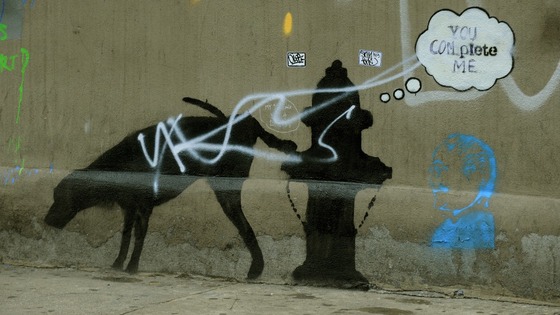 The artist said he visited New York a "couple of months ago" to scout locations for the show, which will see him produce some kind of work for every day of October.
He explained:
"There is absolutely no reason for doing this show at all. I know street art can feel increasingly like the marketing wing of an art career, so I wanted to make some art without the price tag attached. There's no gallery show or book or film. It's pointless. Which hopefully means something."
Each piece of art will be accompanied by a free number that dials an "audio guide" created by the artist to confirm the authenticity of the piece.
Banksy's work has been sold for hundreds of thousands of pounds, making him one of the most important artists working at the moment, however he says he views his financial success as problematic as society rewards "so many of the wrong people." He said:
"Commercial success is a mark of failure for a graffiti artist. We're not supposed to be embraced in that way. When you look at how society rewards so many of the wrong people, it's hard not to view financial reimbursement as a badge of self-serving mediocrity."
Advertisement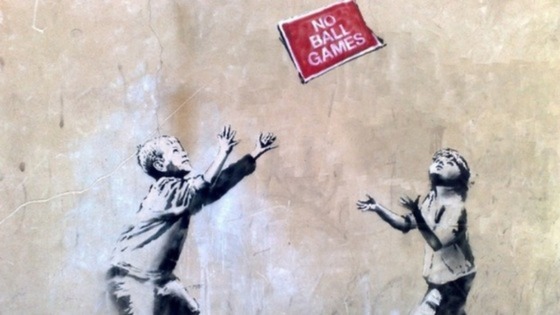 A Banksy mural recently removed from the side of a shop in north London is to be sold – only months after another piece by the artist was controversially auctioned.
The 'No Ball Games' artwork, which depicts two children playing with a sign, was removed from the side of a shop in Turnpike Lane and will be sold next year by the Sincura Group.
The same company arranged the selling of the 'Slave Labour' piece, which was controversially removed from the side of a Poundland shop in February and reportedly sold for £750,000.
A Banksy artwork has been removed from a wall in north London - the second piece to be taken from the area this year.
The piece, called 'No Ball Games', had been on the wall in Tottenham for four years.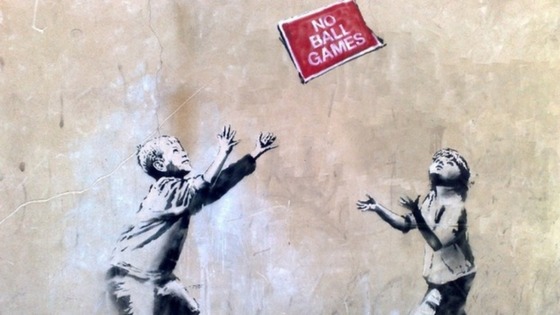 'Slave Labour' was removed from a wall in Wood Green in February and sold for around £750,000.
Read: Saved Banksy mural up for sale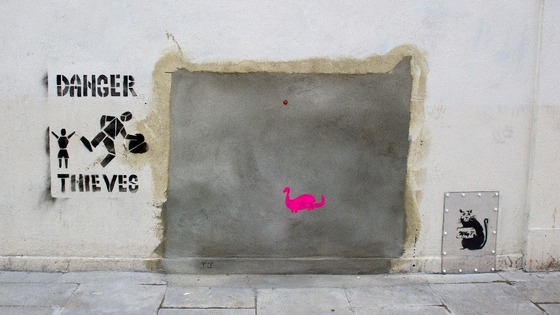 A Banksy mural which was removed from the outside wall of a shop in north London in February is up for auction in Covent Garden today.
The work, entitled 'Slave Labour', was withdrawn from auction in Miami after protests from Haringey Council shortly after it disappeared from the Poundland wall.
It was later bought in a private sale in the US but could return to Britain if a bidder can match that price, which is not publicly known.
A representative from Sincura Group, which is responsible for tonight's auction, said law enforcement officials from Britain and the US had confirmed the mural was legally owned by the group selling it.
Saved Banksy mural up for sale
The local Trades Union Congress in Haringey has attacked plans for a Banksy mural which first appeared on a wall in the borough to go up for auction in Covent Garden next month.
The Slave Labour Banksy belongs to the people of Haringey not to a wealthy private client. We want the sale stopped and the Banksy back where it belongs in London N22.
– Haringey TUC secretary Keith Flett

Auctioneers Sincura said the mural has "been sensitively restored under a cloak of secrecy", and will go on show alongside pieces by Damien Hirst, Andy Warhol, Mario Testino and Russell Young.
Load more updates
Back to top