Barack Obama urged Americans to reject "any politics that targets people because of race or religion", in what appeared to be a direct reference to Donald Trump's proposed ban on Muslim immigration.
"This is not a matter of political correctness, this is a matter of understanding just what it is that makes us strong," he said.
"The world respects us not just for our arsenal. It respects us for our diversity and our openness and the way we respect every faith."
"When politicians insult Muslims, whether abroad or our fellow citizens, when a mosque is vandalised or a kid is called names, that doesn't make us safer - that's not telling it like it is, it's just wrong.
"It diminishes us in the eyes of the world. It makes it harder to achieve our goals. It betrays who we are as a country."
In his last great address to America, the President sought to define his legacy by taking on the opponents who want to replace him.
Read the full story ›
Advertisement
While the official Republican response to the State of the Union address focused mainly on the party's own immigration debate, a number of GOP Presidential candidates attacked the President's speech.
Donald Trump tweeted twice to say that the speech was "boring", adding that the country needed "new leadership fast".
The State Of The Union speech was one of the most boring, rambling and non-substantive I have heard in a long time. New leadership fast!
In a video posted to Twitter after the speech, Senator Marco Rubio from Florida - viewed by bookmakers as the likeliest challenger to Mr Trump - said Mr Obama had shown weakness on security and criticised his statement that climate change, not terrorism, was the world's biggest threat.
Senator Ted Cruz of Texas told NBC News Mr Obama's speech was "less a State of the Union than it was a state of denial", and said claims the economy was in a strong condition did not ring true.
And Florida Governor Jeb Bush also focused on the President's comments on security, claiming that the US had been soft on so-called Islamic State during his term in office.
Dr Ben Carson added that Mr Obama "should be talking less about global warming and more about how we can defeat ISIS and protect the homeland."
Giving the Republican response to Barack Obama's State of the Union address, South Carolina Governor Nikki Haley appeared to criticise the anti-immigration stance of some of the party's candidates.
After Mr Obama's appeared to take aim at rhetoric targeting immigrants, Ms Haley - the daughter of Indian immigrants - warned against following "the siren call of the angriest voices".
"Immigrants have been coming to our shores for generations to live the dream that is America," she added.
In what was viewed as a possible reference to Donald Trump - who has proposed a temporary ban on allowing Muslims into the United States - she added: "Some people think that you have to be the loudest voice in the room to make a difference.
"That is just not true. Often, the best thing we can do is turn down the volume. When the sound is quieter, you can actually hear what someone else is saying. And that can make a world of difference."
Barack Obama issued a hopeful message as he ended his final State of the Union address as US President.
After a speech in which he referenced America's history of opposing bigotry and intolerance, he said he had "incredible confidence" in the future of the country "because I see your quiet, sturdy citizenship all the time".
That's the America I know. That's the country we love. Clear-eyed. Big-hearted. Optimistic that unarmed truth and unconditional love will have the final word. That's what makes me so hopeful about our future. Because of you. I believe in you. That's why I stand here confident that the State of our Union is strong.

Thank you, God bless you, and God bless the United States of America.
– Barack Obama
Donald Trump has attacked Barack Obama's final State of the Union address as "boring", after the President finished the speech to Congress.
The #SOTU speech is really boring, slow, lethargic - very hard to watch!
The Republican frontrunner is tipped to face Hillary Clinton in the race to replace Mr Obama.
Ms Clinton, who served as the President's Secretary of State during his first term, said the US needed to build on "seven years of progress".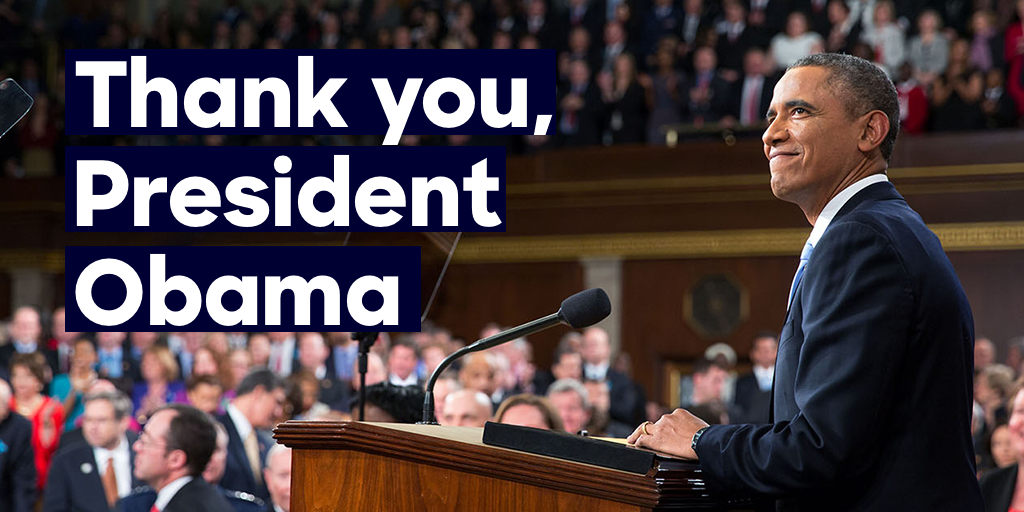 Advertisement
Barack Obama has said he will "keep working" to shut down Guantanamo Bay before he leaves office, amid speculation he may override Congress to do so.
"It's expensive, it's unneccessary, and it only serves as a recruitment brochure for our enemies," he said in his State of the Union address to Congressmen and -women.
Upon taking up the Presidency in 2009, Mr Obama promised to close the detention camp, but has so far failed to do so partly due to opposition from Republican representatives.
Barack Obama has said the United States intervene in "every country that falls into crisis", as he discussed foreign policy during his time as US President.
He said instability in places such as the Middle East and Africa would prompt people to "look to us to help solve these problems", adding: "Our answer needs to be more than tough talk or calls to carpet bomb civilians."
We also can't try to take over and rebuild every country that falls into crisis. That's not leadership; that's a recipe for quagmire, spilling American blood and treasure that ultimately weakens us. It's the lesson of Vietnam, of Iraq — and we should have learned it by now.
– Barack Obama
He said the United States' "smarter approach" under his leadership meant it would "mobilize the world to work with us, and make sure other countries pull their own weight."
"That's our approach to conflicts like Syria, where we're partnering with local forces and leading international efforts to help that broken society pursue a lasting peace."
The United States is to launch a new effort to cure cancer led by Vice President Joe Biden, Barack Obama has announced.
"For the loved ones we've all lost, for the family we can still save, let's make America the country that cures cancer once and for all," Mr Obama said in his State of the Union address.
Mr Biden's son Beau, a politician, died from brain cancer last year, aged 46.
Barack Obama has insisted so-called Islamic State does not threaten the United States' "national existence", as he began his final State of the Union address as President.
In a copy of his speech released by the White House, the President said "over-the-top claims that this is World War III just play into [IS'] hands".
Masses of fighters on the back of pickup trucks and twisted souls plotting in apartments or garages pose an enormous danger to civilians and must be stopped. But they do not threaten our national existence. That's the story ISIL wants to tell; that's the kind of propaganda they use to recruit.

We don't need to build them up to show that we're serious, nor do we need to push away vital allies in this fight by echoing the lie that ISIL is representative of one of the world's largest religions. We just need to call them what they are — killers and fanatics who have to be rooted out, hunted down, and destroyed.
– Barack Obama
He said he wanted Congress to "finally" authorise the use of military force against the group, but added: "The American people should know that with or without Congressional action, ISIL will learn the same lessons as terrorists before them.
"If you doubt America's commitment — or mine — to see that justice is done, ask Osama bin Laden."
Load more updates