Hillary Clinton has tweeted that Barack Obama is "ready to pass the baton" of the leadership of the United States over to her.
The Democratic nominee for president was given a rousing endorsement by the current president last night at the Democratic National Convention in Philadelphia.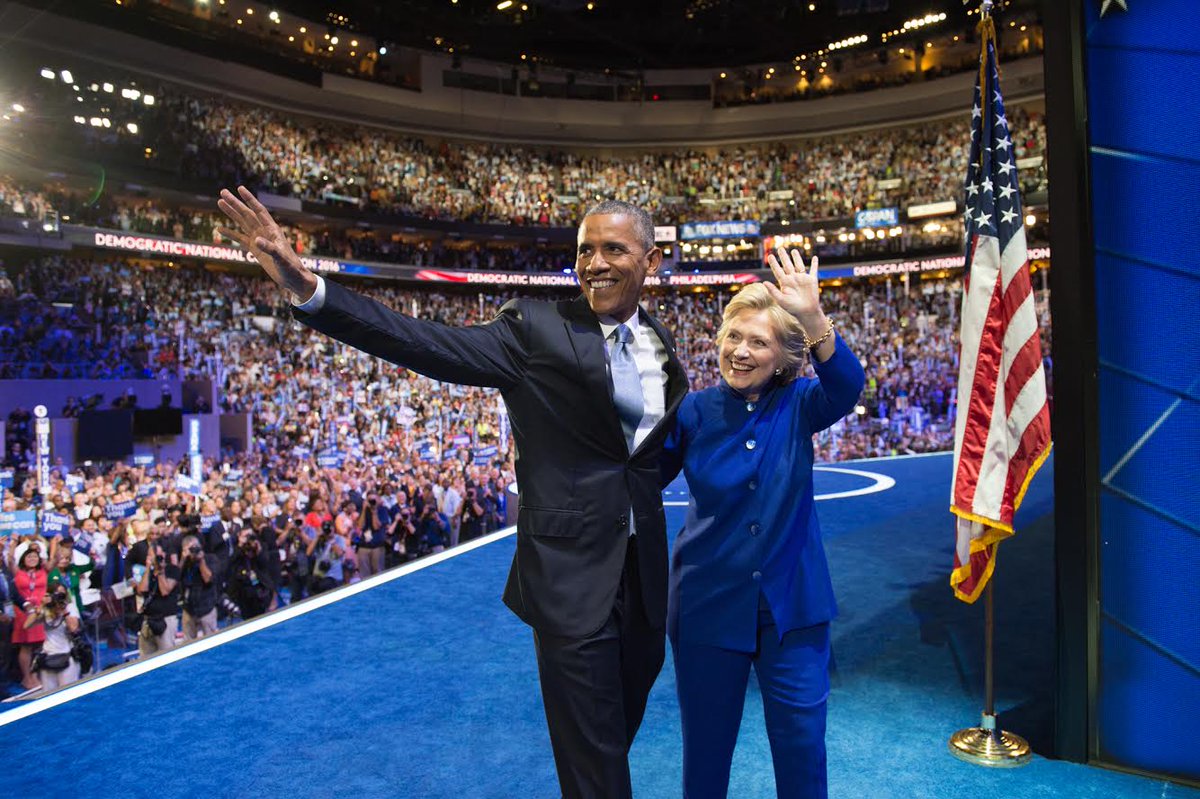 She tweeted this picture of the two of them waving to crowds.
President Obama was at his best, as he used his oratorical skills to cajole Americans to back the "most qualified" Hillary Clinton.
Read the full story ›
Advertisement
In a searingly emotive address, the president cast Hillary Clinton as the most qualified candidate to unify America as next US president.
Read the full story ›
Barack Obama's legacy will be partly defined by who follows him as US president, according to ITV News' Washington correspondent Robert Moore.
Mr Obama will be campaigning for Hillary Clinton all over the country in the run-up to the election in November, as Robert Moore reports from the Democratic National Convention in Philadelphia.
Boris Johnson's appointment as Foreign Secretary has not gone down well in the US, following a previous insult to President Obama.
Read the full story ›
Barack Obama has said the US Justice Department should do all it can to support the investigation into the Dallas shooting, which left five officers dead and seven wounded.
The US president said Americans of all races and backgrounds are angered by African Americans and Latinos being treated differently in the US criminal justice system.
Mr Obama insisted that he does not believe the US is as divided as some have suggested, and called on Americans to "take a step back" and ensure they do not engage in "destructive rhetoric".
He added that the US is unique among advanced countries in the scale of violence that it country experiences, and repeated calls for the need for gun control.
Advertisement
Barack Obama has said he has spoken to David Cameron and Germany chancellor Angela Merkel to prepare for Britain's exit from the European Union.
The US president praised the British prime minister as an "outstanding friend and and partner on the global stage" and said he was confident the UK was "committed to orderly transition out of the EU".
Mr Obama said the Brexit vote "speaks to the growing changes and challenges with globalisation" but added the UK-US special relationship will "endure".
President Obama will travel to Orlando on Thursday to pay his respects to the victims of the gay nightclub shooting.
Buckingham Palace said the Queen had sent a personal message to President Obama, saying: "Prince Philip and I have been shocked by the events in Orlando.
"Our thoughts and prayers are with all those who have been affected."
The president and his wife Michelle will be in Washington DC to attend their daughter's high school graduation.
Read the full story ›
Load more updates