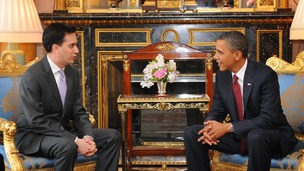 The Labour leader's 'brush-by' with Barack Obama is designed to help fashion the image of an international statesman in waiting.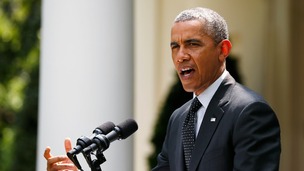 President Barack Obama is about to deliver a highly anticipated speech in which he is expected to answer criticism of his foreign policy.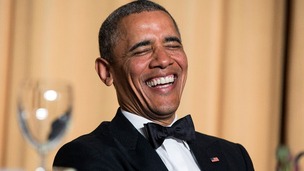 President Obama delivered gag after gag at the annual event - targeting Fox News and joking about the NSA security scandal among others.
Live updates
Israeli police arrests six suspects over Palestinian teen killing
US President Barack Obama has condemned the "senseless act of terror against innocent youth" after the killings of three Israeli teenagers.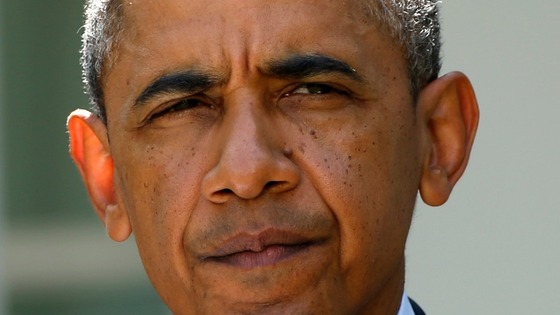 "On behalf of the American people I extend my deepest and heartfelt condolences to the families of Eyal Yifrach, Gilad Shaar, and Naftali Fraenkel – who held Israeli and American citizenship," Mr Obama said in a statement.
"As a father, I cannot imagine the indescribable pain that the parents of these teenage boys are experiencing. The United States condemns in the strongest possible terms this senseless act of terror against innocent youth."
Israel's president Benjamin Netanyahu earlier vowed to make Hamas - the group he holds responsible for the deaths - pay, but Mr Obama urged both Israel and the Palestinian Authority to work together and "refrain from steps that could further destabilise the situation".
Read: David Cameron describes deaths of Israeli teens as an 'appalling act of terror'
Russian President Vladimir Putin discussed proposals for peace in Ukraine with the US President Barack Obama today, the Kremlin said in a statement.
Speaking on the phone, the two leaders discussed the Ukrainian military ceasefire that was declared by President Petro Poroshenko last week.
Mr Obama urged Mr Putin to support the peace plan and said Moscow would face further "costs" if it did not take steps to reduce tensions in the country, the White House said.
Advertisement
Islamic State leader calls for jihad in audio message
Barack Obama says Iraq's current conflict is the result of sectarian divisions that have been allowed to fester.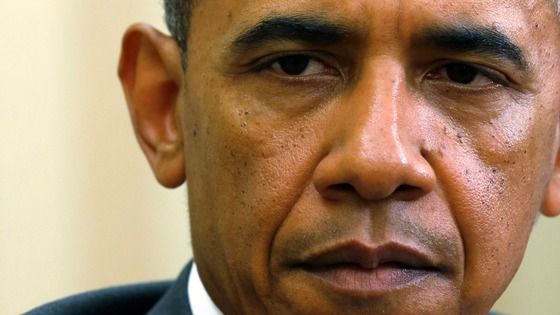 The US President said on Thursday that he would send up to 300 military advisers to the country to aid the fight against the group ISIS.
"Some of the forces that have always possibly pulled Iraq apart are stronger now, (and) those forces that could keep the country united are weaker," he told NBC Nightly News.
"It is ultimately going to be up to the Iraqi leadership to try to pull the politics of the country back together again."
Read: Obama clear he has lost faith in Iraq's prime minister Maliki
Islamic State leader calls for jihad in audio message
President Barack Obama's statement on Iraq due to take place at the White House has been delayed by half an hour.
Obama is expected to speak on the current situation in the country at 6.15pm after a meeting with his national security team.
Barack Obama has posted a video on via the White House Twitter page to say "Go Team USA. Show the world what we are made of" as America took on Ghana in the World Cup.
Islamic State leader calls for jihad in audio message
The US President has not handed down any orders for US military airstrikes against ISIS militants threatening Baghdad, or any other military intervention in Iraq, senior US defence officials have told NBC News.
The officials could not say whether President Obama had also made a decision regarding possible US military action in Iraq.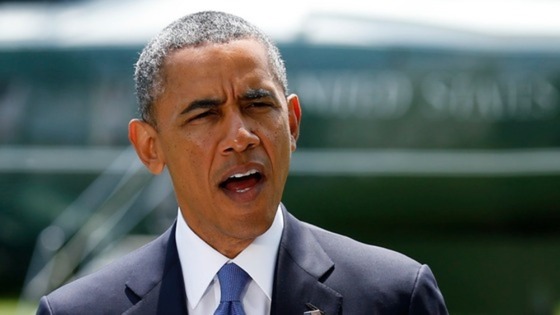 Some 100 American soldiers and Marines arrived in Baghdad overnight to provide additional security for the US embassy and assist in any evacuations if necessary.
More: US and Iran 'prepare for direct talks' over Iraqi situation
Advertisement
Islamic State leader calls for jihad in audio message
President Barack Obama has said he needs several days to determine how America will help Iraq deal with a militant insurgency, but he ruled out sending US troops back into combat.
Obama told a news conference he will explore "a range of other options" after key Iraqi towns and cities were seized by the Islamist militant group ISIS.
His cautious response today has prompted criticism and accusations that the US risks losing credibility.
ITV News Washington Correspondent Robert Moore reports:
Islamic State leader calls for jihad in audio message
President Obama has said his team is "looking at all options" to tackle the insurgency in Iraq.
Addressing reporters in the White House, the US President added that there would be "short term, immediate things that need to be done militarily" to combat Islamist group ISIS.
Read: Iraq air force strikes insurgent positions around Mosul
Cameron tells Putin: Ukraine situation 'not acceptable'
Barack Obama has told his Russian counterpart Vladimir Putin that he must recognise the new Ukrainian President, Petro Poroshenko in order to help de-escalate the crisis in eastern Ukraine.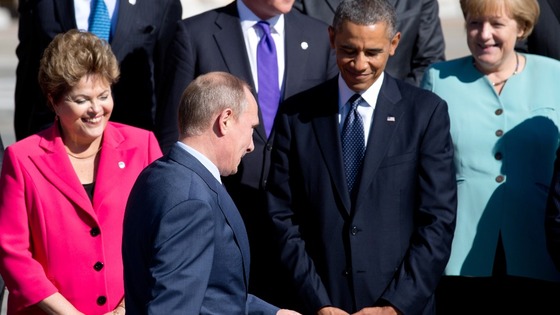 According to a White House official, the US President also told Mr Putin that if Russia works with the new Ukrainian authorities there could be "openings" to reduce tensions in the region.
Deputy national security adviser Ben Rhodes added that Mr Obama had demanded "ceasing support for separatists in eastern Ukraine, and stopping the provision of arms and material across the border".
Read: Cameron tells Putin: Ukraine situation 'not acceptable'
D-Day veterans honoured 70 years after Normandy landings
US President Barack Obama said the American commitment to liberty which is "written in blood" on the beaches of Normandy endures with a new generation.
Speaking at a D-Day memorial event in Colleville-sur-Mer, Obama said: "I am honoured to return here today to pay tribute to the men and women of a generation who defied every danger.
"Among them are veterans of D-Day, and gentlemen we are truly humbled by your presence here today."
WWII veterans and world leaders mark D-Day's 70th anniversary: Latest updates
Load more updates
Back to top