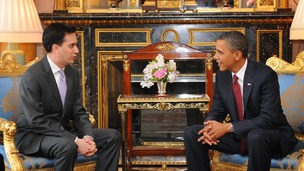 The Labour leader's 'brush-by' with Barack Obama is designed to help fashion the image of an international statesman in waiting.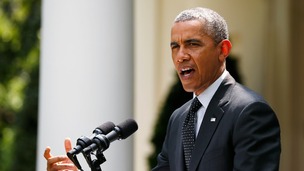 President Barack Obama is about to deliver a highly anticipated speech in which he is expected to answer criticism of his foreign policy.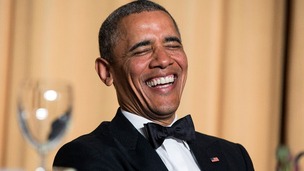 President Obama delivered gag after gag at the annual event - targeting Fox News and joking about the NSA security scandal among others.
Live updates
Islamic State leader calls for jihad in audio message
President Barack Obama has said he needs several days to determine how America will help Iraq deal with a militant insurgency, but he ruled out sending US troops back into combat.
Obama told a news conference he will explore "a range of other options" after key Iraqi towns and cities were seized by the Islamist militant group ISIS.
His cautious response today has prompted criticism and accusations that the US risks losing credibility.
ITV News Washington Correspondent Robert Moore reports:
Islamic State leader calls for jihad in audio message
President Obama has said his team is "looking at all options" to tackle the insurgency in Iraq.
Addressing reporters in the White House, the US President added that there would be "short term, immediate things that need to be done militarily" to combat Islamist group ISIS.
Read: Iraq air force strikes insurgent positions around Mosul
Advertisement
Cameron tells Putin: Ukraine situation 'not acceptable'
Barack Obama has told his Russian counterpart Vladimir Putin that he must recognise the new Ukrainian President, Petro Poroshenko in order to help de-escalate the crisis in eastern Ukraine.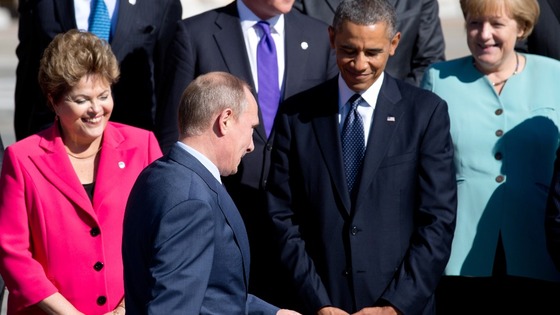 According to a White House official, the US President also told Mr Putin that if Russia works with the new Ukrainian authorities there could be "openings" to reduce tensions in the region.
Deputy national security adviser Ben Rhodes added that Mr Obama had demanded "ceasing support for separatists in eastern Ukraine, and stopping the provision of arms and material across the border".
Read: Cameron tells Putin: Ukraine situation 'not acceptable'
D-Day veterans honoured 70 years after Normandy landings
US President Barack Obama said the American commitment to liberty which is "written in blood" on the beaches of Normandy endures with a new generation.
Speaking at a D-Day memorial event in Colleville-sur-Mer, Obama said: "I am honoured to return here today to pay tribute to the men and women of a generation who defied every danger.
"Among them are veterans of D-Day, and gentlemen we are truly humbled by your presence here today."
WWII veterans and world leaders mark D-Day's 70th anniversary: Latest updates
Barack Obama backs Scotland staying within UK
Responding to Barack Obama's intervention on the referendum, Scotland's First Minister Alex Salmond borrowed Mr Obama's most famous election slogan to declare "Yes we can" have independence.
Mr Salmond said:
As President Obama rightly observes, the decision on Scotland's future is up to the people of Scotland.

We are deeply fortunate as a nation that we have the opportunity to gain our nation's independence in such a profoundly democratic way, as Mr Obama himself previously acknowledged - and not through conflict as has been the case with so many nations, including the United States itself.
An independent Scotland will mean that America has two great friends and allies here rather than one.

We are focused on securing a vote for independence this September and making Scotland a land of opportunity - and our message to the people of Scotland in the campaign in the months ahead is 'Yes we can'.
Barack Obama backs Scotland staying within UK
Barack Obama has voiced his support for Scotland staying in the union, saying it is the interests of the US that the UK remains a "strong, robust and united partner".
Although he said it was "up to the people of Scotland" to decide their own future, it seemed the union had "worked pretty well" so far.
Labour minister Douglas Alexander, speaking on behalf of the Better Together campaign, strongly welcomed Mr Obama's words, saying: "His clear statement of support for the UK staying together will resonate with many of us here in Scotland."
"As a global statesman President Obama understands that interdependence is a defining feature of our modern world, and that building bridges, not putting up new barriers, is the challenge of our generation," he added.
Advertisement
Cameron tells Putin: Ukraine situation 'not acceptable'
World leaders attending the G7 summit in Brussels have posed for what is known as the "family photograph".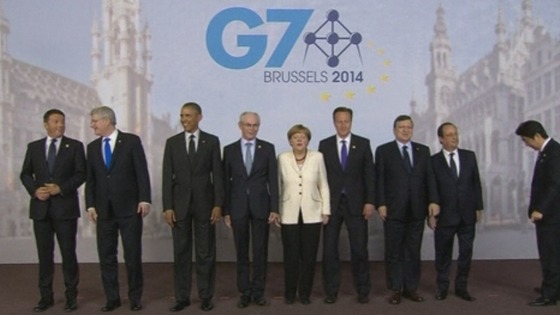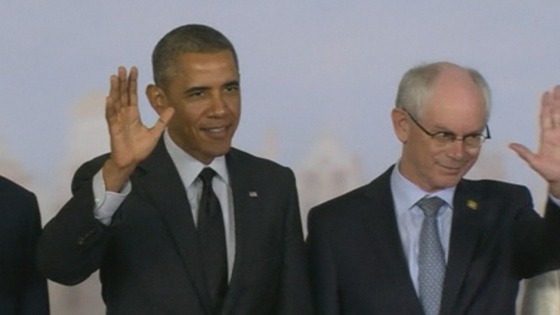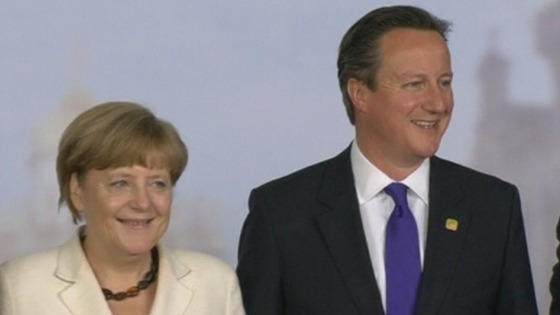 President Barack Obama has called on Congress to approve up to 1 billion dollars to support eastern European countries, which he says "will be a powerful demonstration of America's unshakable commitment to our NATO allies".
On the first of a four-day European trip, Obama promised support in the face of Russia's actions in Ukraine, which includes "rotating additional ground troops and F-16 aircraft into Poland".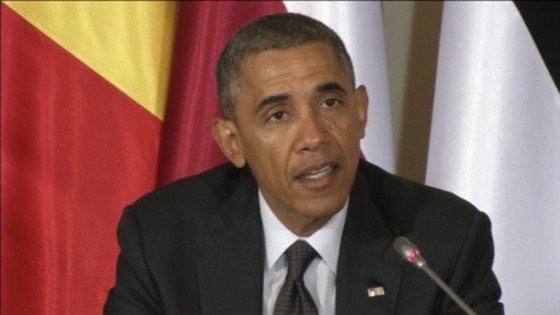 Poland and some of its NATO neighbours have been asking for extra troops for months. However, a big increase in US forces could prompt Moscow to take similar actions.
Speaking in a news conference in Warsaw he said that while maintaining sanctions against Russia, the US still wants good relations with the Kremlin.
Second team of OSCE monitors held in eastern Ukraine
US President Barack Obama met with Ukrainian President-elect Petro Poroshenko in Warsaw today, as part of his European visit to eastern Europe.
Barack Obama sets out US foreign policy
President Barack Obama fought back against critics of his foreign policy on Wednesday, by insisting a US reliance on diplomacy over military intervention was working, pledging to ramp up support for Syria's opposition.
Obama was speaking to cadets at West Point Military Academy and used the platform to state that his "bottom line" was that "America must always lead on the world stage."
ITV News' Washington correspondent Robert Moore reports:
Load more updates
Back to top