Sim Bhullar made NBA history on Tuesday night, becoming the first player of Indian descent to play top-level basketball in the United States.
Bhullar, 22, featured for the Sacramento Kings, coming on court for the final 16 seconds of their victory over the Minnesota Timberwolves.
Standing at 7'5'' Canada-born player admitted it was a proud moment, having signed a short contract with the Kings last week.
It's a great feeling for me just to have that role in the community and to be recognised around the world is a great feeling. I am proud to be kind of an ambassador but I think this is just the beginning.

Hopefully more kids growing up will see there's a player of Indian descent on the court and hopefully they can follow the game more and get a little more passion for it
– Sim Bhullar
Medal success will remain the key factor in how Olympic and Paralympic sports are funded ahead of Tokyo 2020, despite criticism the policy excludes team sports.
UK Sport, which annually invests £100m of National Lottery and Government money into high-performance sports, will examine factors such as number of medallists and participation levels, but only around disciplines of "equal medal potential".
Sticking to the 'no-compromise' approach will come as a disappointment to team sports like basketball, synchronised swimming and water polo, all of whom saw their funding cut ahead of Rio 2016.
UK Sport chair Rod Carr said:
The board was impressed by the level and quality of engagement with UK Sport's strategic review from both the public and our sector partners.

It demonstrated that UK Sport's role in delivering medal success is valued highly by our stakeholders and the British public, and that they'd like to see our investment reach even more aspiring athletes.
– UK Sport chair Rod Carr
Advertisement
Baketball player Nick Young has told a press conference that a dolphin tried to kill him and take his girlfriend, pop star Iggy Azalea
Read the full story ›
In football a scoreline of 2-0 is nothing to write home about, but when it happens in basketball, it breaks records.
Read the full story ›
The world's first openly homosexual basketball player Jason Collins has announced his retirement from the sport.
Collins, 35, came in April 2013, going on to play for Brooklyn Nets last season, but failing to make their squad this time around.
"I am officially announcing my retirement from the NBA," Collins said in an interview with Sports Illustrated.
"As we speak I'm watching a college basketball game but it's time for me to truly become just a fan and watch from the sidelines.
"My body was talking to me, my body was telling me that it was time. I think as older generations can understand that when you wake up in the morning and it feel likes starting an old car.
"My lower back, my knees, it was one of those things that my body was letting me know as it does with so many other professional athletes."
British Basketball has received a financial boost after Sport England promised an investment of £1.18million over the next three years.
Read the full story ›
Advertisement
US basketball star LeBron James has announced that he will sign for his hometown team the Cleveland Cavaliers ahead of the coming NBA season.
The 29-year-old was a free agent after his contract with Miami Heat ended, sparking intense speculation on where he would sign next.
Police in Arizona arrested fifteen students during a street riot, after the University of Arizona Wildcats lost a basketball final.
Read the full story ›
Police fired teargas and arrested at least 15 people after Arizona Wildcats lost 64-63 in overtime to Wisconsin in the NCAA West Region final in Tucson.
There were no reports of injuries to fans or officers, and those that were arrested were for offenses such as resisting arrest, disorderly conduct and unlawful assembly.
HAPPENING NOW: Police & students clash in Tucson after AZ Wildcats lose in NCAA Tourney. Officers using pepper spray http://t.co/uoeYsyzbd8
Officers in riot gear responded by launching pepper spay in their attempts to break up the crowds, which cleared from the streets by 10pm.
This cop made me jump a little. I looked up and he was there. He didn't even yell surprise http://t.co/7oGlVRefpW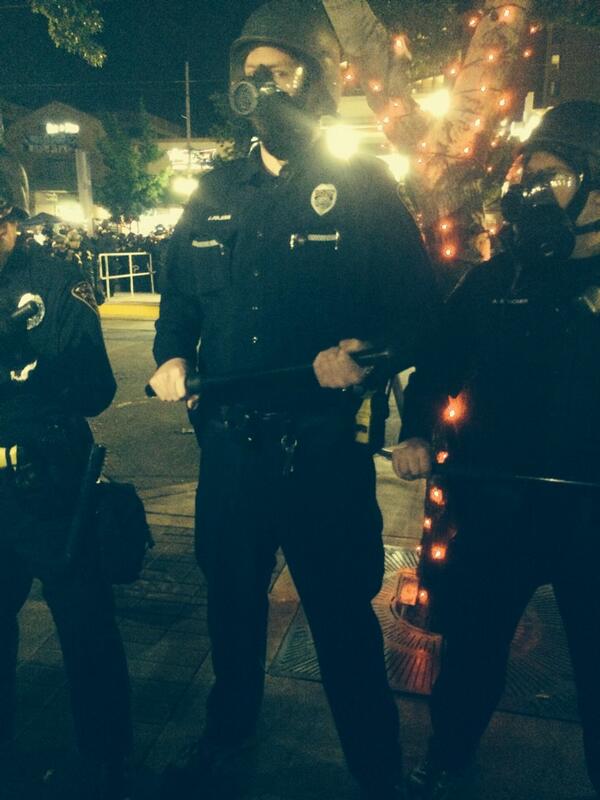 The First Lady has often used unconventional methods to get her message of healthy eating across, and her latest video is no exception.
Read the full story ›
Load more updates