Live updates
US band in coach viaduct fall
Avon and Somerset police have confirmed that the road where a coach carrying American band Baroness crashed off a viaduct in Bath, has reopened.
US band in coach viaduct fall
Kerry Heskith, 24, who works in the Angelfish Cafe next to the crash site, said it was a "miracle" no-one was more seriously hurt.
The assistant manager said
It was pouring down with rain and we just heard a humongous noise, a massive bang.

It was like a cross between thunder and a massive lorry crash.Me and my colleague just looked at each other and ran straight around the coroner and went up onto the road and we saw the vehicle that had gone over and ran straight back to get our colleagues to ring the emergency services.We then went back around the corner and saw that it was a coach and presumed the worse - that it was full of people.
There were just trees everywhere and it was all smashed up.We could see a couple of people moving inside and it was quite quickly assumed that everyone was alive and we got the numbers that it was nine people.
Advertisement
US band in coach viaduct fall
A statement has been posted on the website of the US rock band Baroness, who were on board a bus that crashed off a viaduct in Bath and fell 30 foot:
Baroness were in a serious bus accident last night near Bath, England. The band members and crew are recovering at local hospitals. All tour dates are postponed until further notice.

More updates to come.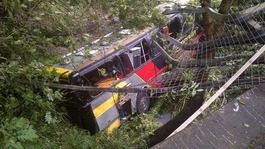 A coach, carrying American band Baroness, has left the A36 near Bath and plunged 30ft from a viaduct, seriously injuring two people.
Read the full story
US band in coach viaduct fall
Fellow bands have been sending best wishes to US rock band Baroness who are believed to have been on board a coach that crashed off a viaduct in Bath today.
Just heard about the Baroness bus crash & have our fingers crossed everyone involved in the accident is fine. Fantastic band and great guys
Best vibes sent to @yourbaroness and all those involved in the crash.
US band in coach viaduct fall
Police have launched an investigation into the cause of a coach crash in Bath, which has left two people seriously injured.
Advertisement
US band in coach viaduct fall
Emergency services were called to the A36 near Bath at 11.30am following reports a 52-seater coach had failed to stop and had left the road, plunging 30ft from a viaduct.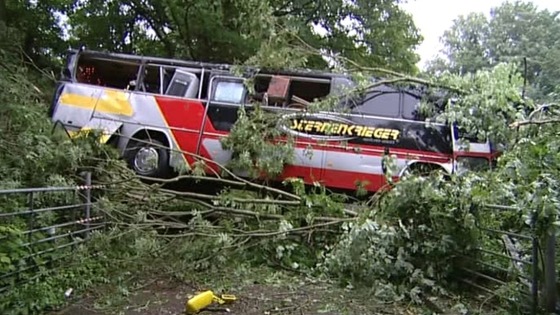 When the emergency services arrived, seven passengers had walked free from the wreckage.
The driver and a passenger were trapped inside and had to be freed.
Those who were trapped are understood to be seriously injured. All nine people involved were taken to hospital.
Members of the band Baroness are understood to have been travelling on the coach, as part of their European tour.
US band in coach viaduct fall
It has been confirmed that Rock band Baroness were on the coach that crashed off a viaduct on the A36 near Bath.
The American heavy metal quartet were en route to Southampton after playing a gig at the Fleece in Bristol.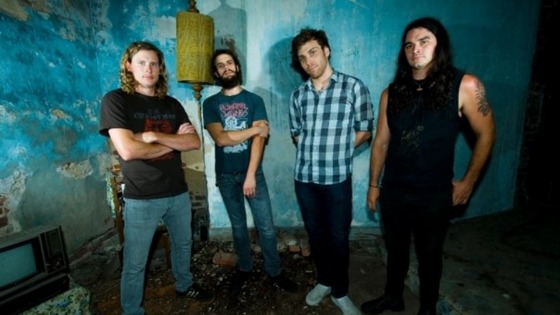 The band had been nearing the end of a month-long European tour which had started in Switzerland and was due to end in Germany later this week.
The group had hired a tour coach in Germany for the duration, which they were travelling in when the accident happened.
A spokesman for their British promoters, Advance Music Promotions, was unable to confirm whether their gig tonight at Talking Heads in Southampton would go ahead. He referred callers to the promoters' website and Facebook page.
US band in coach viaduct fall
by ITV News Reporter Rupert Evelyn
There are reports that American band Baroness were on board the coach that crashed near Bath. The band is understood to have been travelling between venues.
US band in coach viaduct fall
Eyewitnesses to a Bath coach crash, which left two people trapped in the wreckage, have spoken of their efforts to rescue passengers inside.
The 52-seater coach left the A36 near Bath and plunged 30ft off a viaduct before landing near a canal earlier today.
Load more updates
Back to top