A group of 55 Bayern Munich fans determined to watch their team's match in Moscow last night paid £5,400 for a high-rise office space overlooking the Luzhniki Stadium.
They were joined by reserve team player Tobias Scweinsteiger, who tweeted the image below, explaining: "Where there's a will, there's a way."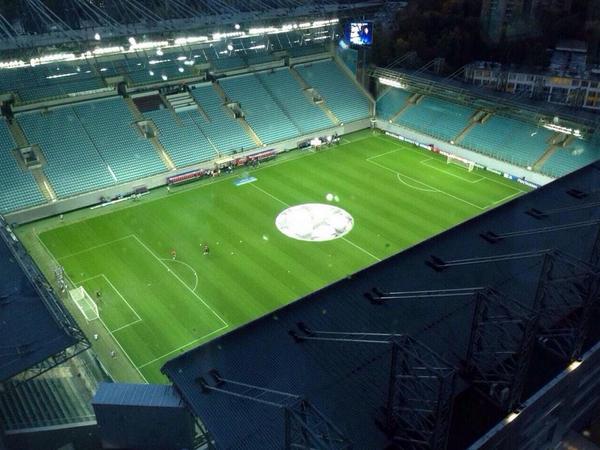 UEFA forced CSKA Moscow to play the Champions League match behind closed doors as punishment for racist chants by their fans during a match against Viktoria Plzen in December 2013.
The opportunistic group were rewarded for their troubles after Bayern collected all three points in a closely fought contest, thanks to Thomas Muller's first half penalty.
Bayern Munich Chairman Karl-Heinz Rummenigge was unaware the supporters had paid to rent the office space, but later agreed to cover all costs.
"This was not known to us and my colleague Jan Dreesen has indeed paid the rent for the game," he confirmed.
Manchester United fans have descended on the city centre of Munich in Germany ahead of tonight's Champions League clash against FC Bayern Munich.
Advertisement
A German court has sentenced Bayern Munich's president Uli Hoeness to three and half years in jail for tax evasion.
Prosecutors had argued that Hoeness's voluntary disclosure - that he had failed to pay taxes - was incomplete and thus did not meet a vital requirement needed for amnesty under German tax laws designed to encourage tax evaders to come clean.
Hoeness has admitted he evaded 27.2 million euros in taxes on income earned in secret Swiss bank accounts.
The 62-year-old football manager was hoping for leniency in one of the most closely watched tax evasion cases in German history.
Bayern Munich president Uli Hoeness has been charged with tax evasion, a spokesman for prosecutors said.
Prince William has backed Bayern Munich to win this Saturday's Champions League Final against Borussia Dortmund 2-0.
The Duke of Cambridge, who is at the UEFA congress where he will address senior football figures, said: "My money is on Bayern Munich 2-0".
Didier Drogba will leave Chelsea when his contract runs out at the end of June, the club announced today.
"Winning the game was the turning point, " he said. "That's why I decided - we made history all together and I want people to remember that - and I think that's the best time to move on."
Drobga's winning penalty saw Chelsea crowned champions of Europe on Saturday.
Advertisement
Chelsea Football Club has confirmed that Didier Drogba will be leaving the club when his contract expires at the end of June.
In a statement on the club's website, Chelsea Chief Executive Ron Gourlay said: "Didier is undoubtedly a Chelsea legend and will always be part of the Chelsea family. He is certainly leaving on a high after Saturday night but he feels the time is right for a new challenge."
Drogba added: "It has been a very difficult decision for me to make and I am very proud of what we have achieved but the time is right for a new challenge for me."
The 34-year-old scored the winning penalty as Chelsea were crowned Champions of Europe on Saturday night.
See more on this story from ITV Football.
Didier Drogba has confirmed he plans to quit Chelsea following his Champions League final heroics, according to reports in France.
Drogba, who has reportedly already agreed a deal to join Shanghai Shenhua when his Chelsea contract expires this summer, is said to have admitted he struggled to get the words out and burst into tears.
"We will no longer be together next season," the 34-year-old said in quotes attributed to France Football magazine.
"As I decided to leave, I wanted to tell them straight in the eye.
"Except that I could not do it. They made me crack.
"But I could not see myself sitting on the bench to watch others play when the club plans to set up a new team.
"So that's it - I am preparing for my leap into the unknown. It's going to be another adventure."
Chelsea fans lined the streets of west London as the team celebrated the club's Champions League and FA Cup double with a victory parade.
Read the full story ›
Chelsea's Frank Lampard said the team had waited a long time to win the Champions League and said it was "amazing" to celebrate with the club's fans.
Load more updates