Bayern Munich chairman Karl-Heinz Rummenigge has offered Thomas Muller a job for life at the record German champions.
Muller has been linked with a move to Manchester United but Rummenigge does not expect the Germany international ever to want to leave the Bavarian club and has therefore offered him a position after he hangs up his boots.
"I get the feeling that Thomas will never leave FC Bayern," Rummenigge told Sport Bild magazine.
"And when Thomas does call it a day, we would also like to keep him as part of the club."
There had been fears that Muller might follow Bastian Schweinsteiger to United for a reported 100 million euro, but Rummenigge said last week that he is not entertaining that idea, adding that the 25-year-old is priceless.
Bayern Munich chairman Karl-Heinz Rummenigge has declared Thomas Muller priceless amid reports of a 100million euro (£70.5m) bid from Manchester United.
While confirming that offers have been made for the Germany international, Rummenigge said the 100million mark had not been reached but that it would not make a difference anyway.
"There are some players who just don't have any price tag," Rummenigge said. "We would be out of our minds to sell Muller."
Rummenigge also confirmed the arrival of Arturo Vidal from Juventus.
Advertisement
Bayern Munich have reached an agreement with Italy's Juventus to sign Chile international midfielder Arturo Vidal, the German club's CEO Karl Heinz Rummenigge confirmed on Thursday.
"I can confirm that we have with both parties, Juventus and the player, reached an agreement. What is missing is the medical and the signature of the contract," Rummenigge told reporters during the team's trip to China.
Vidal, no stranger to the Bundesliga having played for Bayer Leverkusen for four seasons until 2011, has won four straight Italian league titles and helped Juventus reach the Champions League final last season, where they lost to Barcelona.
The 28-year-old could join up with his Bayern team mates as early as next week, Rummenigge said.
"If everything goes according to plan, he can start training next week," he added, without giving details of a fee or length of contract for the versatile Chilean.
Vidal is set to become Bayern's second major signing of the transfer window after Brazilian attacking midfielder Douglas Costa joined the club at the start of July.
Bayern Munich are close to signing Juventus midfielder Arturo Vidal but chairman Karl-Heinz Rummenigge says a deal is not yet done.
After around 24 hours of negotiations, Vidal is close to making his move to a club he was on the verge of joining four years ago but Rummenigge has called for patience before the deal can be finalised.
"I've read about it and I'm not going to hide the fact that we are interested in him, but I read that it was all wrapped up and I cannot confirm that," Rummenigge told reporters at Munich airport as Bayern flew out for a pre-season tour of China.
"As I've said, we're interested, but we're not yet so far that we've discussed details and signed contracts, so we need a bit of patience. I hope at the end of the day he will come."
Bastian Schweinsteiger says he wouldn't have left Bayern Munich for any club other than Manchester United.
Read the full story ›
Manchester United have signed midfielder Bastian Schweinsteiger from Bayern Munich, the Premier League club have confirmed.
The Germany midfielder has signed a three-year deal at Old Trafford.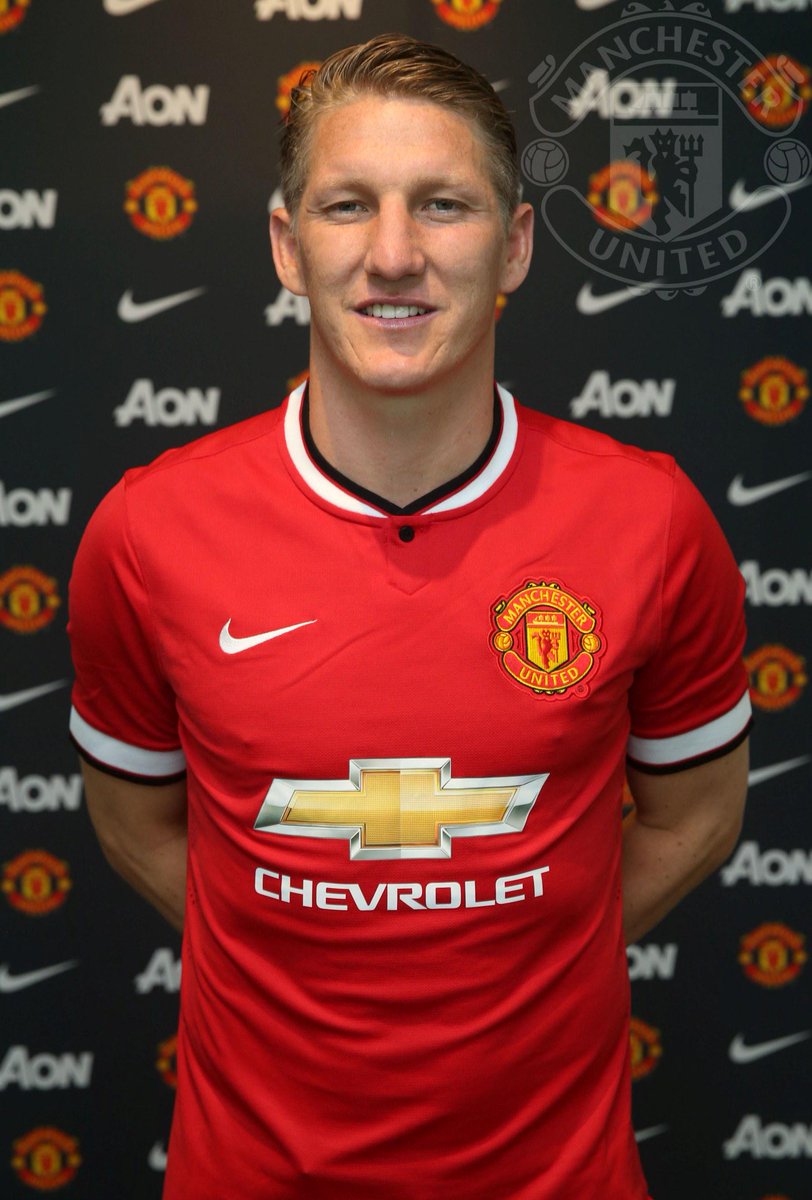 Advertisement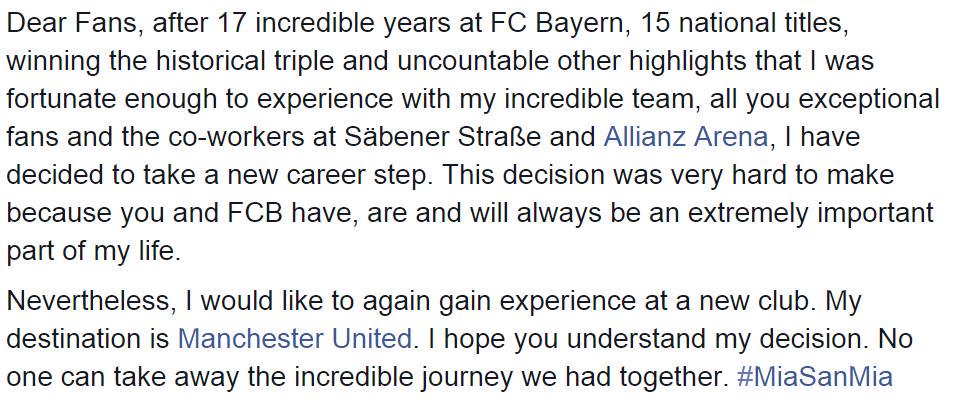 Bastian Schweinsteiger has expressed his thanks to Bayern Munich fans ahead of his move to Manchester United.
The Germany midfielder says it was tough to leave the German club, but his he hopes the supporters will accept his decision to depart.
Bastian Schweinsteiger is off to Manchester United, but Bayern Munich did not want him to leave.
Read the full story ›
Bayern Munich chief executive Karl Heinz Rummenigge has confirmed there is a deal in place to take Bastian Schweinsteiger to Manchester United.
Manchester United have also confirmed they've agreed to sign the midfielder in principle.
Bayern had made clear their desire to keep the 30-year-old World Cup winner, who has spent his entire career with the club to date, but said they would not stand in his way if he wanted to leave.
In comments reported on the Bayern website, Rummenigge said he met with Schweinsteiger on Friday and the midfielder said he had decided to go.
"We have responded to this request," Rummenigge said. "My colleague from Manchester United has contacted me. We have agreed on a transfer."
Bayern Munich chairman Karl-Heinz Rummenigge has revealed that Bastian Schweinsteiger is "flattered" by reported interest from Manchester United, and says he plans to hold talks with the Germany midfielder soon.
United boss Louis van Gaal is understood to be keen on signing the Germany captain this summer and Rummenigge says the rumours have pricked Schweinsteiger's ears.
"I spoke to Bastian Schweinsteiger on the phone while on holiday and we're going to meet again when he's back," Rummenigge said at a press conference on Thursday.
"I'm not going to hide the fact that I discerned from these talks that he is flattered by the interest from England."
The 30-year-old has only a year left to run on his current contract with Bayern while talks over a new deal do not appear to be on the agenda. Schweinsteiger played under Van Gaal at Bayern, winning a Bundesliga and DFB-Pokal double, part of his collection of eight Bundesliga titles and seven domestic cup triumphs for the Bavarian club.
Load more updates