Sorry, this content isn't available on your device.
Bayern Munich manager Pep Guardiola continues to stamp his style down at the club with this impressive one touch passing drill.
Bayern Munich midfielder Xabi Alonso admits it's in Bayern Munich's interest to knock Man City out of the Champions League, even though the German champions have already qualified from their group.
Bayern take on City at the Etihad tonight knowing that victory will send the Premier League champions crashing out of Europe, while City must win to stand a chance of avoiding the embarrassment of a third group stage elimination in four years.
When asked by ITV Football's Gabriel Clarke whether it was in Bayern's interests to make sure City are eliminated tonight, former Liverpool midfielder Alonso said:
"Well, of course, if they go through, I think they have a good enough squad to beat any team in Europe for sure.
"If they have two good games they can beat any team, because they have great players."
Advertisement
Bayern Munich have suffered a huge blow with the news captain Philipp Lahm will be out of action for up to three months after breaking his ankle on Tuesday.
The former Germany skipper was driven away from the training ground on a cart after going over on his right ankle while training with the Bavarian giants.
Subsequent tests have shown that the 31-year-old full-back will need to to undergo an operation which is likely to sideline him until well after the new year.
A group of 55 Bayern Munich fans determined to watch their team's match in Moscow last night paid £5,400 for a high-rise office space overlooking the Luzhniki Stadium.
They were joined by reserve team player Tobias Scweinsteiger, who tweeted the image below, explaining: "Where there's a will, there's a way."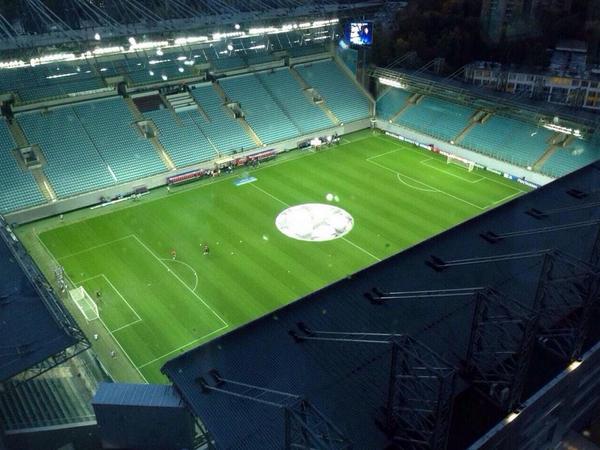 UEFA forced CSKA Moscow to play the Champions League match behind closed doors as punishment for racist chants by their fans during a match against Viktoria Plzen in December 2013.
The opportunistic group were rewarded for their troubles after Bayern collected all three points in a closely fought contest, thanks to Thomas Muller's first half penalty.
Bayern Munich Chairman Karl-Heinz Rummenigge was unaware the supporters had paid to rent the office space, but later agreed to cover all costs.
"This was not known to us and my colleague Jan Dreesen has indeed paid the rent for the game," he confirmed.
Manchester United fans have descended on the city centre of Munich in Germany ahead of tonight's Champions League clash against FC Bayern Munich.
Advertisement
A German court has sentenced Bayern Munich's president Uli Hoeness to three and half years in jail for tax evasion.
Prosecutors had argued that Hoeness's voluntary disclosure - that he had failed to pay taxes - was incomplete and thus did not meet a vital requirement needed for amnesty under German tax laws designed to encourage tax evaders to come clean.
Hoeness has admitted he evaded 27.2 million euros in taxes on income earned in secret Swiss bank accounts.
The 62-year-old football manager was hoping for leniency in one of the most closely watched tax evasion cases in German history.
Bayern Munich president Uli Hoeness has been charged with tax evasion, a spokesman for prosecutors said.
Prince William has backed Bayern Munich to win this Saturday's Champions League Final against Borussia Dortmund 2-0.
The Duke of Cambridge, who is at the UEFA congress where he will address senior football figures, said: "My money is on Bayern Munich 2-0".
Didier Drogba will leave Chelsea when his contract runs out at the end of June, the club announced today.
"Winning the game was the turning point, " he said. "That's why I decided - we made history all together and I want people to remember that - and I think that's the best time to move on."
Drobga's winning penalty saw Chelsea crowned champions of Europe on Saturday.
Load more updates