A British-born prisoner who was on the run after escaping from a hospital near Dublin after allegedly stabbing two prison officers has been apprehended in Belfast, the Police Service of Northern Ireland has said.
Derek Brockwell, 53, was being taken to a hospital in south Dublin from nearby high security Portlaoise Prison yesterday, when he reportedly made his violent bid for freedom.
The PSNI said in a tweet that officers detained the escapee in Belfast City Centre earlier today.
Prisoner at large from ROI Derek Brockwell located & detained Belfast City centre. Taser was deployed & Police Ombudsman has been informed.
Victims of the deadliest Belfast bombing during the Troubles are to take legal action accusing the state of conspiracy to murder.
Read the full story ›
Advertisement
A device is believed to have exploded under a car in west Belfast, police say.
The blast, which took place just after midnight, left the parked car extensively damaged and prompted an evacuation of the area.
Army bomb squads are investigating the site and two others in the city where a suspicious object was reported.
Police are also searching at a street in Lurgan, County Armagh after a report from a member of the public, though no suspicious objects have yet been found.
"We believe at this stage that a device may have exploded or partially exploded under a parked car causing extensive damage to the car," Inspector James Murphy said.
UTV reporter Paul Reilly reports from the scene of the blast: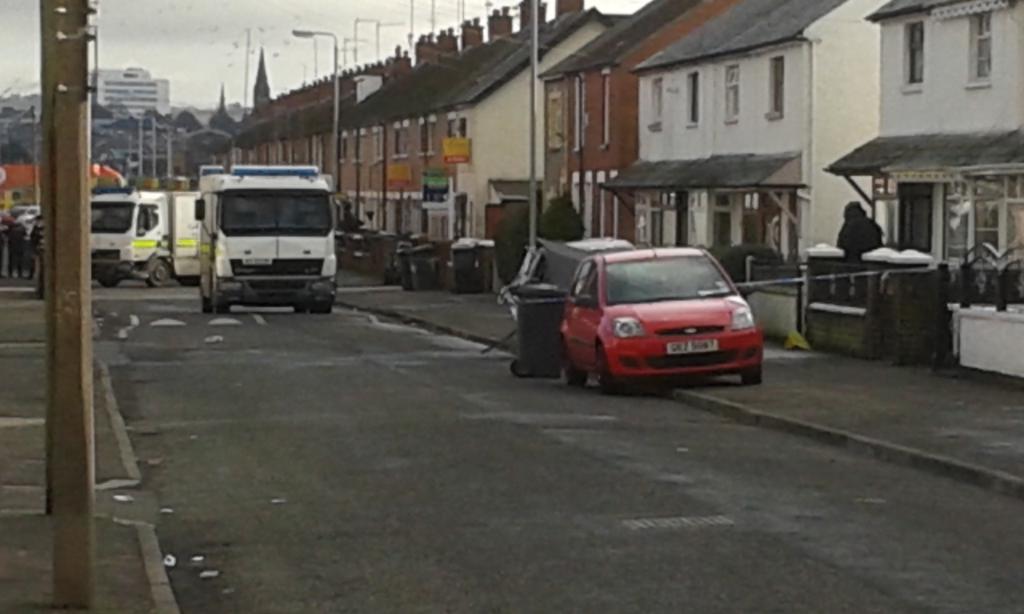 No further details are currently available, police said.
Police in Northern Ireland said they arrested three men on suspicion of carrying out a number of racially motivated hate crimes across east Belfast on Monday night.
Two 22 year old males and a 20 year old male arrested in connection with racially motivated hate crimes in east Belfast on Monday night.
Police say they can't rule out Loyalist paramilitary involvement in eight racist attacks across homes in east Belfast.
Read the full story ›
Sir Richard Branson's airline Virgin Atlantic is set to fly from Northern Ireland for the first time.
A total of eight services will be opened between Belfast and Orlando in Florida in June and July 2015.
Virgin is also expanding its existing Las Vegas services by operating flights to the Nevada gambling city from Glasgow in autumn 2015.
Advertisement
Twelfth of July parades in Belfast have passed off peacefully, according to UTV reporter Marc Mallett.
Three men were stabbed in the early hours of Saturday morning in sectarian clashes ahead of the parades.
Three people have been stabbed in Belfast as the city prepares for annual Twelfth of July celebrations.
Bonfires are traditionally lit in Northern Ireland on the Eleventh Night, but the occasion this year coincided with sectarian conflict and fighting.
In one case a gang of around 40 republicans and loyalists had to be separated by police.
The three victims, aged 28, 21 and 19, were injured in separate attacks in the early hours of Saturday morning.
Eight people have been arrested for public order offences in north and west Belfast overnight. Trouble flared during the Eleventh Night, an annual marching season celebration involving the lighting of bonfires.
Police Service of Northern Ireland (PSNI) assistant chief constable Will Kerr said:
I am pleased that last night was one of the most peaceful in recent years and am encouraged by the responsible behaviour of the vast majority of people involved.

I appreciate the efforts of all those involved in ensuring this was the case and I would continue to encourage everyone to work together to ensure that today passes off peacefully and that local communities are not disrupted with the violence witnessed in previous years.
A man has been stabbed during fighting between republican and loyalist factions in Northern Ireland ahead of the annual 'Twelfth of July' commemorations.
The victim, 28, was treated in hospital for injuries which are not believed to be life-threatening, police said.
A Police Service of Northern Ireland (PSNI) spokesman said: "At approximately 3.10am, police received a report that a man had been stabbed and that rival factions were fighting in the area [...] Police attended the area and the two groups were separated at approximately 3.30am."
The violence happened at the Ormeau bridge, an arterial link which separates predominantly nationalist and unionist residential areas.
Load more updates