A police officer has been struck and injured by a piece of masonry thrown by loyalists during an Orange Order parade in Belfast.
Police have deployed water cannon on the protesters.
Sporadic violence broke out in the north of the city, after police prevented loyalists marching from the unionist Woodvale area toward the nationalist Ardoyne.
On the other side of the police lines, a girl believed to be aged around 16 was reportedly struck by a car as republicans gathered at a row of shops on the edge of the Ardoyne. Police said the driver of the vehicle has been arrested.
The Orange Order condemned the violence and appealed for calm. "Those involved in violence should desist," said a spokesman for the Grand Orange Lodge of Ireland.
"It is not only counter-productive but also plain wrong. Such actions are only strengthening the hand of those who wish to further curtail our parades. We call on anyone engaged in illegal behaviour to stop immediately."
The spokesman said a bus transporting Orangemen was stoned as it passed through Greysteel, Co Londonderry, earlier this evening. He said it was understood no-one was seriously injured in that incident.
Thousands of people are expected to walk through Belfast today in a rally for marriage equality.
Following the Yes vote in last month's Irish referendum, Northern Ireland is now set to be the only part of the UK or Ireland where civil marriage is denied to gay couples, campaigners said. Actress Nuala McKeever is expected to address protesters.
Unionists earlier this year rejected a proposal from Stormont Deputy First Minister Martin McGuinness to hold a referendum on the issue similar to the Republic.
The Northern Ireland Assembly has rejected a proposal calling for the introduction of gay marriage, after debating the issue for a fourth time.
Sinn Fein said equality rights for same-sex couples must be shared by citizens in the north and it will continue to campaign for the reform.
Organisers Amnesty International, the Irish Congress of Trade Unions and the Rainbow Project are asking marchers to assemble outside the Belfast campus of Ulster University from 2:30pm on Saturday.
Advertisement
A man has been arrested on suspicion of murdering the son of a former world boxing champion.
Eamonn Magee Jnr, 22, was stabbed in the Twinbrook area of West Belfast during the early hours of this morning and died in hospital from his injuries.
His father is former WBU welterweight champion Eamonn Magee Sr.
The 32-year-old suspect was arrested in the nearby Dunmurry area.
Police were called to the Summerhill Park scene at about 2.40am following reports that a man had been stabbed. Mr Magee Jnr had followed his father into the ring and his death has sent shockwaves through the world of boxing.
A spectator and a rider are in critical condition in hospital after a crash at a motorcycle racing event in Northern Ireland.
Race organisers said the female fan was airlifted to the Royal Victoria hospital in Belfast after the incident at the North West 200, and is in a critical but stable condition, Belfast Health and Social Care Trust said.
Stephen Thompson, a Northern Irish rider involved in the crash, was also being treated at the hospital and in a critical condition, the trust said.
Austrian Horst Saiger - also involved in the crash during the second lap of the race - has also been transferred to hospital but is not believed to have serious injuries.
A man has been arrested and another released following the fatal shooting of a former IRA commander in Belfast.
The Police Service of Northern Ireland (PSNI) said a 27-year-old man had been detained on Wednesday evening in relation to the murder of Gerard "Jock" Davison, who was gunned down in the street a day earlier.
A 41-year-old man arrested earlier has been released without charge, the force said on Twitter.
Earlier, police appealed for the public's assistance after Davison, a 47-year-old grandfather and father of three, was shot numerous times while walking in the staunchly-republican Markets area close to the city centre.
As the IRA officer commanding in Belfast, he was among the best-known republican figures in the city.
A former IRA commander was shot dead in Belfast this morning.
Gerard "Jock" Davison was shot in the republican Markets area near the city centre.
It is understood the victim, a father of three, was making his way to a community centre from which he worked when he was attacked.
Sinn Fein South Belfast MLA Alex Maskey said: "What we have had here today is a very brutal killing of a local man.
"He is a very well-known person in this area. His family are well-known and he is very well-regarded in this area as a long-standing republican."
He said the family, who live in the area, were "very distressed", but he declined to speculate on who was behind the shooting.
I am not blaming anybody. I am not getting into any sort of speculation but quite clearly the people who killed this man this morning have robbed the community of a valuable worker and robbed a family of a loving family member.

Clearly they have nothing to offer.
– Alex Maskey
Advertisement
More than 140 people fell ill after visiting Flicks Restaurant in Belfast during a three-month period in 2012.
Read the full story ›
A British-born prisoner who was on the run after escaping from a hospital near Dublin after allegedly stabbing two prison officers has been apprehended in Belfast, the Police Service of Northern Ireland has said.
Derek Brockwell, 53, was being taken to a hospital in south Dublin from nearby high security Portlaoise Prison yesterday, when he reportedly made his violent bid for freedom.
The PSNI said in a tweet that officers detained the escapee in Belfast City Centre earlier today.
Prisoner at large from ROI Derek Brockwell located & detained Belfast City centre. Taser was deployed & Police Ombudsman has been informed.
Victims of the deadliest Belfast bombing during the Troubles are to take legal action accusing the state of conspiracy to murder.
Read the full story ›
A device is believed to have exploded under a car in west Belfast, police say.
The blast, which took place just after midnight, left the parked car extensively damaged and prompted an evacuation of the area.
Army bomb squads are investigating the site and two others in the city where a suspicious object was reported.
Police are also searching at a street in Lurgan, County Armagh after a report from a member of the public, though no suspicious objects have yet been found.
"We believe at this stage that a device may have exploded or partially exploded under a parked car causing extensive damage to the car," Inspector James Murphy said.
UTV reporter Paul Reilly reports from the scene of the blast: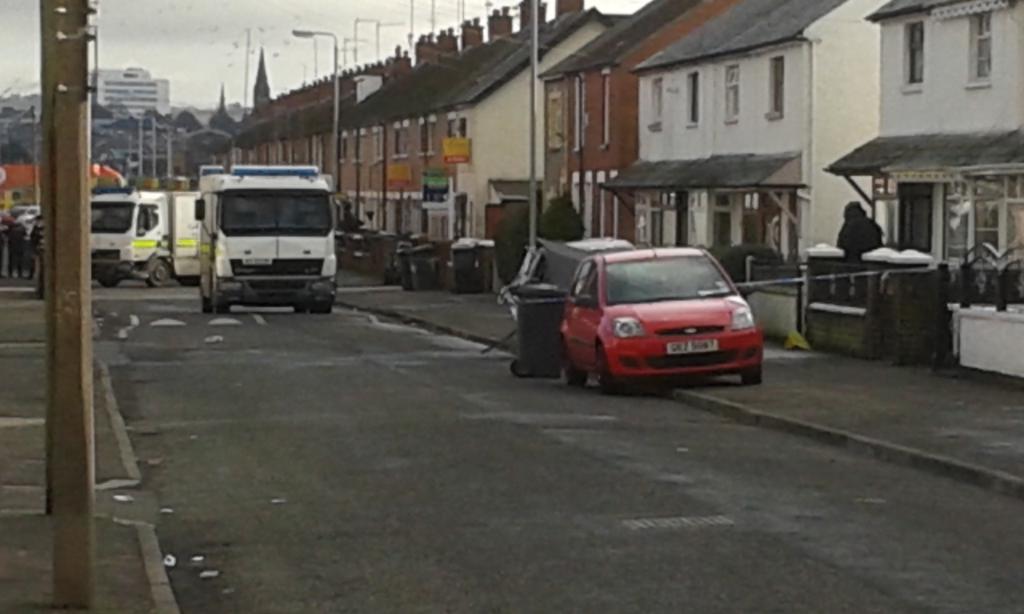 No further details are currently available, police said.
Load more updates