A young family was treated for shock after a bomb attack on a police patrol car was said to have 'peppered' their vehicle with shrapnel in Belfast on Friday night.
No-one was seriously injured in the attack, which took place near the City Cemetery in the west of the city, the Police Service of Northern Ireland (PSNI) said.
Sinn Fein MP Paul Maskey said the attackers had no consideration for who they injured and the group had a lucky escape.
He said: "A passing PSNI vehicle appears to have been the target in this reckless attack when a family were fortunate to escape injury as their car was peppered with shrapnel.
"Thankfully no one was seriously hurt but the family are extremely shook up."
A murder investigation has been launched after a man's body was found in north Belfast.
He was discovered just before 3am this morning in a flat in Ardoyne Place.
Two men have been arrested, a PSNI spokesman said.
The force appealed for anybody with information to contact them.
Advertisement
Police have escaped serious injury after an explosive device was thrown at their vehicle in Belfast
The attack happened near the City Cemetery in the west of the city, a Police Service of Northern Ireland (PSNI) spokesman said.
An ambulance service spokesman said paramedics treated up to four members of the public for shock but there were no serious injuries.
A three-month-old baby girl died in Belfast's Royal Victoria Hospital hours after her father appeared in court charged with causing her grievous bodily harm.
The injured child was taken to the hospital from a house in the west of the city on Wednesday night.
She was in a critical condition, but died on Friday night, police confirmed.
Her 23-year-old father, who was not named for legal reasons, appeared before a judge in Craigavon Magistrates' Court in Co Armagh on Friday morning. He was bailed to appear in court again later this month.
A spokesman from the Police Service of Northern Ireland (PSNI) said that detectives from the Serious Crime Branch will be consulting with the Public Prosecution Service in relation to the case.
Shocking,the risk to the health of dozens of our young people at last nights Odyssey event.Relieved they're safe - we need to learn lessons.
UTV reporter Marc Mallett has been told by a a consultant from Belfast's Royal Victoria Hospital that the symptoms of those taken to hospital following a major incident at a concert are consistent with 'drugs and alcohol misuse'.
Consultant at RVH says symptoms of those treated tonight are consistent with drugs & alcohol misuse. Major incident not yet stood down
Advertisement
Doctors have been put on standby at the Ulster, Mater and Royal hospitals, in Belfast and total of 15 people have been admitted to hospital. The are 11 people at the Royal and four at the Mater, said to be in a in a stable condition and are being kept overnight, according to UTV.
A Northern Island Ambulance Services spokesman said they dealt with casualties "at varying levels of consciousness".
Two students have said that 'people jumped the barrier' of the standing area of the concert at the Odyssey Arena in Belfast where are least five people have been taken hospital.
2 students from QUB radio said the standing area in the concert was crammed as many seated people jumped the barrier. http://t.co/n4jkGCaequ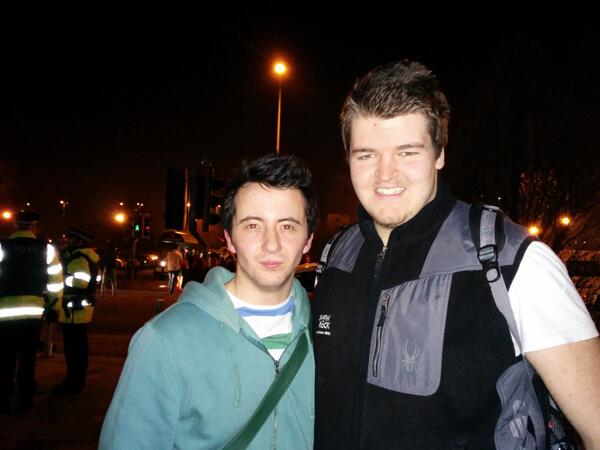 A number of people involved in the major incident in Belfast tonight were unconscious at the scene and five people were taken to hospital, John McPoland, spokesman for the Northern Ireland Ambulance Service told UTV.
Load more updates