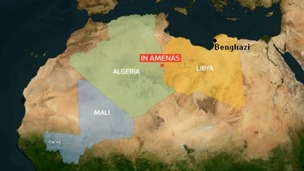 The Foreign Office urged British nationals to leave Benghazi in Libya "in response to a specific, imminent threat to westerners".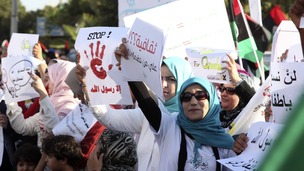 At least 11 were killed and 60 wounded as demonstrators staged a 'rescue Benghazi' protest aimed at driving militants out of their city.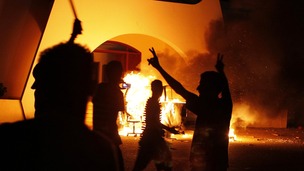 At least 4 were killed and 34 wounded as demonstrators staged a 'rescue Benghazi' protest aimed at driving militants out of their city.
Live updates
Brits urged to leave Benghazi
Foreign Office: 'Terrorism risk in ongoing in the region'
Foreign Office minister David Lidington, told the BBC that the risk of terrorism in the region has been ongoing for some time but that the Foreign Office would not issue its current advice to leave if there were not serious reason to do so.
He said:
The terrorism risk has been there for some time, before Mali and before the Algeria crisis of last week.

I cannot comment further on operational matters but the safety of Britons is our primary concern at the Foreign Office.

We only issue the kind of advice we have, to leave Benghazi, if we have information on a credible and imminent threat.
Brits urged to leave Benghazi
No 10 refuse to explain 'specific threat' in Benghazi
by Alex Forrest - Political Correspondent
The Prime Minister's spokesman has reiterated the "specific threat" to Westeners in Benghazi., but would not say what that was, or whether linked to Mali and Algeria.
Advertisement
Brits urged to leave Benghazi
Foreign Office cannot comment on nature of threat
The Foreign Office spokesman said: "We cannot comment further on the nature of the threat at this time."
Brits urged to leave Benghazi
Britain has no diplomatic presence in Benghazi
Benghazi was the stronghold of the Western-backed revolt that eventually ended Gaddafi's hold on power in Libya.
However, Britain has not had any diplomatic presence in the city since an attack on the US mission last September that killed American ambassador Chris Stevens and three of his colleagues.
Brits urged to leave Benghazi
'Specific and imminent threat' to westerners in Benghazi
The Foreign Office has been advising against travel to most of Libya since last September, but has now stepped up its warning.
We are now aware of a specific and imminent threat to westerners in Benghazi, and urge any British nationals who remain there against our advice to leave immediately.

We have updated our travel advice to reflect this. The British Embassy in Tripoli has been in contact with British nationals for whom we have contact details to alert them to the advice.
Brits urged to leave Benghazi
Foreign Office urges westerners to leave Benghazi
The Foreign Office today urged British nationals to leave Benghazi in Libya "in response to a specific threat to westerners".
Advertisement
Clinton anger over Libya attack
Clinton describes 'highly personal' work
As she began her testimony, her voice cracked at times as she said her work is sometimes highly personal, she told the Senate Foreign Relations Committee:
I stood next to President Obama as the Marines carried those flag-draped caskets off the plane at Andrews. I put my arms around the mothers and fathers, sisters and brothers, sons and daughters.
At another point, she defended UN Ambassador Susan Rice, who was vilified for widely debunked claims five days after the attack that protests precipitated the raid rather than terrorism. She challenged the Republican focus on Rice's comments, which were based on intelligence talking points.
"What difference does it make?" a clearly exasperated Clinton told Sen. Ron Johnson, a Republican, after he pressed her. She insisted that "people were trying in real time to get to the best information," and that her focus was on looking ahead on how to improve security.
Obama says US has good leads on Benghazi attackers
President Obama has said the United States has some "very good leads" about who carried out the attacks in Benghazi, Libya, in September that killed four Americans including the US ambassador.
Obama told NBC's 'Meet the Press' that the US would "implement every single recommendation" put forward in an independent review of the Sept. 11 attack on the consulate in which Ambassador Chris Stevens was killed.
"We're not going to pretend that this was not a problem. This was a huge problem," he said, adding that the investigation into who carried out the deadly raid was "ongoing."
"The FBI has sent individuals to Libya repeatedly. We have some very good leads, but this is not something that I'm going to be at liberty to talk about right now," he added.
Report: Clinton to miss testifying on Benghazi attack
US Secretary of State Hillary Clinton is not expected to testify before the House Foreign Affairs Committee next week about the attack on the US consulate in Benghazi, Libya in September, according to CNN.
Philippe Reines, deputy assistant secretary of state, said: "At their recommendation, she will continue to work from home next week, staying in regular contact with department and other officials. She is looking forward to being back in the office soon."
She is not expected to appear at the scheduled time because of ill health.
David Petraeus admits 'regret' over resignation
David Petraeus has expressed "regret" over the circumstances of his controversial resignation as CIA Director.
Appearing for 20 minutes in front of the Senate Intelligence Committee today, he did not expand further on the reasons for his surprise departure.
Petraeus left the post after his extramarital affair with biographer Paula Broadwell was exposed.
The retired general was facing questions over September's attacks on the US consulate in Benghazi.
He said he believed all along that it was an act of terrorism, despite the Obama administration originally describing the attack as "spontaneous".
Load more updates
Back to top