Monica Lewinsky, whose affair with Bill Clinton nearly ended his presidency in the 1990s, has broken her silence with a Vanity Fair article.
Read the full story ›
For the first time in years, Monica Lewinsky has written about her affair with US President Bill Clinton.
In an essay for Vanity Fair - to be published in full later this week - the former White House intern writes: "It's time to burn the beret and bury the blue dress."
She goes on: "I, myself, deeply regret what happened between me and President Clinton. Let me say it again: I. Myself. Deeply. Regret. What. Happened."
Lewinsky, now 40, says it is time to stop "tiptoeing around my past - and other people's futures." Adding she is now talking about her experiences so she "might be able to help others in their darkest moments of humiliation."
Advertisement
My most exciting title yet: Grandmother-To-Be! @billclinton and I are thrilled that Chelsea and Marc are expecting their first child!
Bill and Hillary Clinton have tweeted their joy at news of their daughter Chelsea's pregnancy.
Excited to add a new line to my Twitter bio...grandfather-to-be! @hillaryclinton and I are so happy for Chelsea and Marc!
Hillary Clinton said she was "thrilled" at the news, which Chelsea revealed during a joint event with her mother.
Chelsea Clinton, the daughter of former US President Bill Clinton, has announced she is expecting her first baby.
According to US media, she revealed her pregnancy during a joint event with her mother Hillary, saying she was "very excited" that her first child was due to arrive later this year.
Former US President Bill Clinton has tweeted:
One year later, inspired by so many stories of survival and hope. My thoughts are with Boston today. #BostonStrong
US talk show host Jimmy Kimmel has done his best to rival Ellen DeGeneres' infamous Oscars 'selfie' by getting Bill, Hillary and Chelsea Clinton to all pose in front of the camera.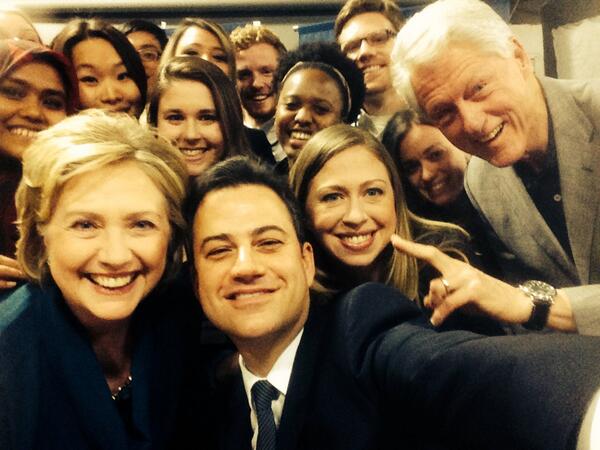 However, unfortunately for Kimmel the picture has only been retweeted around 7,000 times compared to over 3.4 million for the Oscars selfie, which featured Bradley Cooper, Jennifer Lawrence, Brad Pitt, Julia Roberts, Kevin Spacey, Angelina Jolie and a host of other Hollywood stars.
Advertisement
Elizabeth Hurley has said she will take legal action after "ludicrously silly stories" alleging she had an affair with former US president Bill Clinton were published.
Ludicrously silly stories about me & Bill Clinton. Totally untrue. In the hands of my lawyers. Yawn.
The rumours emerged online in the United States, claiming the affair started during Mr Clinton's presidency, at a White House party in 1998.
The actress said the stories were false.
Thinking today of Michael Schumacher and grateful for all he's done w/@clintonfdn and for others. My prayers are with him and his family.
US President Barack Obama and First Lady Michelle Obama have paid their respects at the grave of former President John F Kennedy to mark the 50th anniversary of his assassination.
They were joined by former President Bill Clinton and his wife Hillary Clinton.
A wreath was laid at the grave site in Arlington National Cemetery.
Surviving members of the Kennedy family were also present.
On Friday the nation will remember the shooting which happened in Dallas in 1963.
Former President Bill Clinton and chat show host Oprah Winfrey were among the recipients of the Presidential Medal of Freedom award today.
President Obama presented the award to 16 prominent Americans during a ceremony at the White House.
The award, regarded as the nation's highest civilian decoration, was established by John F Kennedy less than a year before his death.
Obama said the ceremony was one his favourite events of the year, and claimed this year's ceremony was "just a little more special" as it is 50 years since President Kennedy created the award.
President Obama will be joined by Bill and Hilary Clinton at a ceremony at Kennedy's grave site later on tonight as the nation prepares to honour the President's legacy on the 50th anniversary of his assassination.
Load more updates