Hillary and Bill Clinton have earned over $25 million for delivering over 100 speeches since 2014, US media has reported.
The Washington Post and Wall Street Journal say that they obtained the information from financial disclosure forms.
Hillary Clinton, who is the front-runner for the Democratic presidential nomination in 2016, also earned $5 million in royalties for her book, "Hard Choices," which was released in June, according to the newspapers.
The first pictures of Bill and Hillary Clinton's new granddaughter Charlotte Clinton Mezvinsky have been released
The doting grandparents are seen cooing over the new arrival who is the first child for their daughter Chelsea and her husband Marc.
We are blessed, grateful, and so happy to be the grandparents of a beautiful girl, Charlotte Clinton Mezvinsky, born on Friday evening... Chelsea is well and glowing. Marc is bursting with pride. Charlotte's life is off to a good start.
– Bill and Hillary Clinton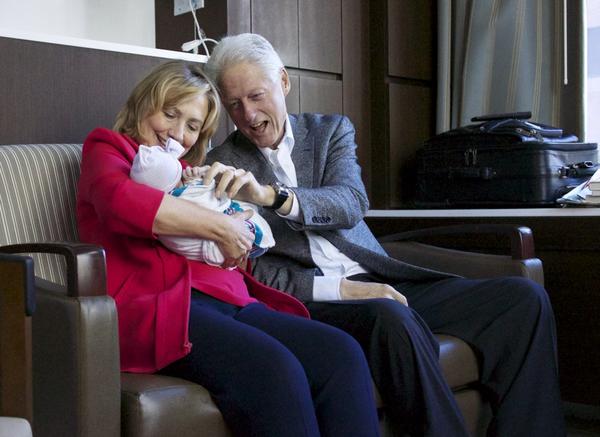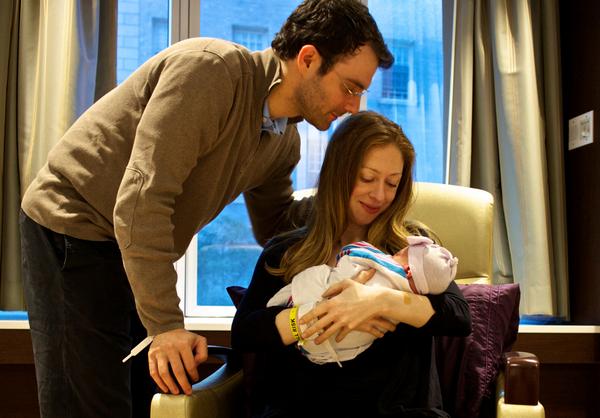 Advertisement
Former US president Bill Clinton has said he hopes Scotland will remain part of the UK due to uncertainties over currency and the economic impact of extended negotiations in the event of a Yes vote.
Acknowledging that the decision was for "Scots alone to make," he said he overcame his initial reluctance to speak out and that he hoped his word would "be received in the spirit of friendship".
He said there were "substantial risks" surrounding the issue of a shared currency and that the "long complex negotiating process" that would follow independence had the "potential to weaken the Scottish economy".
Chelsea Clinton, the daughter of former US President Bill Clinton and former Secretary of State Hillary Clinton, has received her doctorate in international relations from Oxford University.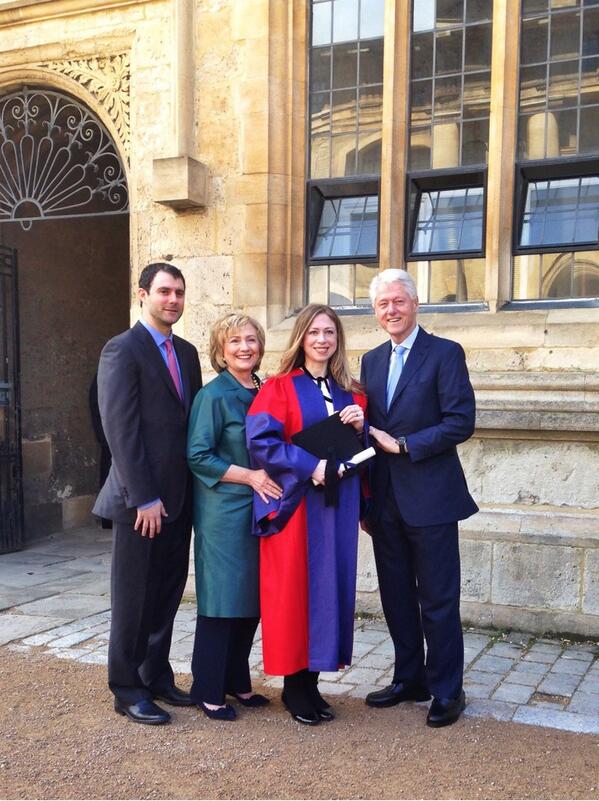 Bill Clinton tweeted he "couldn't be prouder" of his daughter, who was pictured in a tweet he posted, joined by her parents and her husband Marc Mezvinsky.
Chelsea Clinton, who is pregnant with her first child, previously completed a Master of Philosophy in the same subject at Oxford in 2003. Her father Bill also studied at Oxford under a Rhodes scholarship.
Monica Lewinsky, whose affair with Bill Clinton nearly ended his presidency in the 1990s, has broken her silence with a Vanity Fair article.
Read the full story ›
For the first time in years, Monica Lewinsky has written about her affair with US President Bill Clinton.
In an essay for Vanity Fair - to be published in full later this week - the former White House intern writes: "It's time to burn the beret and bury the blue dress."
She goes on: "I, myself, deeply regret what happened between me and President Clinton. Let me say it again: I. Myself. Deeply. Regret. What. Happened."
Lewinsky, now 40, says it is time to stop "tiptoeing around my past - and other people's futures." Adding she is now talking about her experiences so she "might be able to help others in their darkest moments of humiliation."
Advertisement
My most exciting title yet: Grandmother-To-Be! @billclinton and I are thrilled that Chelsea and Marc are expecting their first child!
Bill and Hillary Clinton have tweeted their joy at news of their daughter Chelsea's pregnancy.
Excited to add a new line to my Twitter bio...grandfather-to-be! @hillaryclinton and I are so happy for Chelsea and Marc!
Hillary Clinton said she was "thrilled" at the news, which Chelsea revealed during a joint event with her mother.
Chelsea Clinton, the daughter of former US President Bill Clinton, has announced she is expecting her first baby.
According to US media, she revealed her pregnancy during a joint event with her mother Hillary, saying she was "very excited" that her first child was due to arrive later this year.
Former US President Bill Clinton has tweeted:
One year later, inspired by so many stories of survival and hope. My thoughts are with Boston today. #BostonStrong
US talk show host Jimmy Kimmel has done his best to rival Ellen DeGeneres' infamous Oscars 'selfie' by getting Bill, Hillary and Chelsea Clinton to all pose in front of the camera.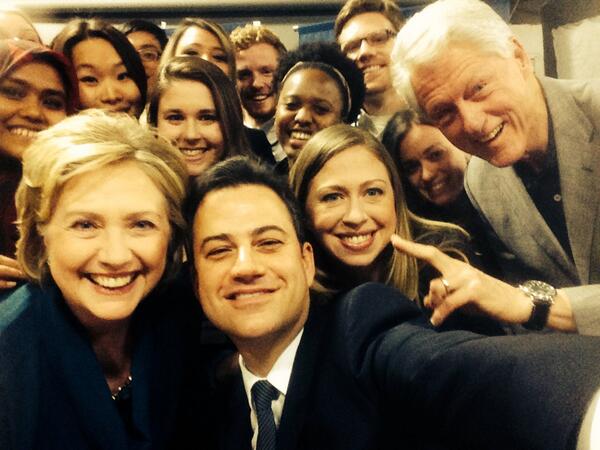 However, unfortunately for Kimmel the picture has only been retweeted around 7,000 times compared to over 3.4 million for the Oscars selfie, which featured Bradley Cooper, Jennifer Lawrence, Brad Pitt, Julia Roberts, Kevin Spacey, Angelina Jolie and a host of other Hollywood stars.
Load more updates