Westminster protests: 58 arrests
Police officers have arrested protesters close to the Houses of Parliament after members of an anti-fascist group refused to move.
The protest of what was believed to be the Unite Against Fascism (UAF) group had been due to take place Whitehall Gardens, at the junction with Whitehall.
But arrests were made after a police liaison officer tried to negotiate with the group - its members had moved to another location behind the Houses of Parliament, where the BNP were protesting.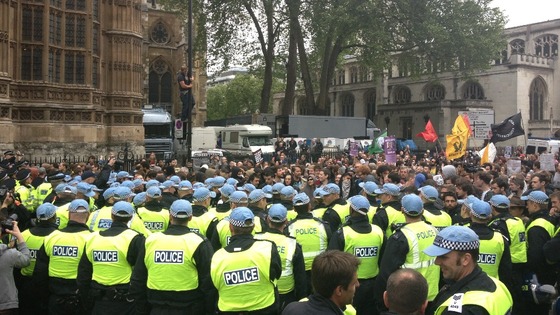 A Met Police statement read: "From 12.50pm today a group of protesters, believe associated with the UAF counter protest, gathered in Abingdon Street junction with Old Palace Yard. This group reached 300 in total.
"Police attempted to negotiate with the group to move location to the pre arranged penned area in Whitehall."
At around 2.45pm officers began making arrests, while approximately 150 BNP continued to protest in Old Palace Yard, the police said.