Bob Geldof revealed that he "half expected" the death of his daughter Peaches due to the "way she was carrying on".
Read the full story ›
Sir Bob Geldof has defended Band Aid 30 and said despite criticism from artists like Lily Allen, the fundraiser works by creating "noise around it".
Speaking to Good Morning Britain, the Boomtown Rats singer said "of course" there would people who did not like the artists singing, but Band Aid 30 had "a huge cross-section of the biggest selling British artists" and was for a good cause.
Advertisement
Band Aid 30's Do They Know It's Christmas?, which features a host of stars, stormed to the top of the singles chart today.
The charity single, organised once again by Bob Geldof, shifted more than 312,000 copies to make it the year's fastest-selling single, the Official Charts Company said.
But there have been some complaints over the song's content, with some of the lyrics changed to reflect the Ebola crisis in West Africa.
The track, with all proceeds going toward the fight against Ebola in west Africa, has outsold the rest of the top five combined.
The massive sales haul of Band Aid 30, which features Ed Sheeran, Ellie Goulding, One Direction, Rita Ora and Bastille among its star cast, outshines Band Aid 20's first-week sales in 2004 with that version selling 297,000 in its first seven days.
Sir Bob Geldof and Midge Ure have called the announcement that a new version of the Christmas hit Do They Know It's Christmas? is "the worst kept secret this year."
He went on to say that the lyrics to the song will be changed to reflect the Ebola epidemic that the track will be in aid of.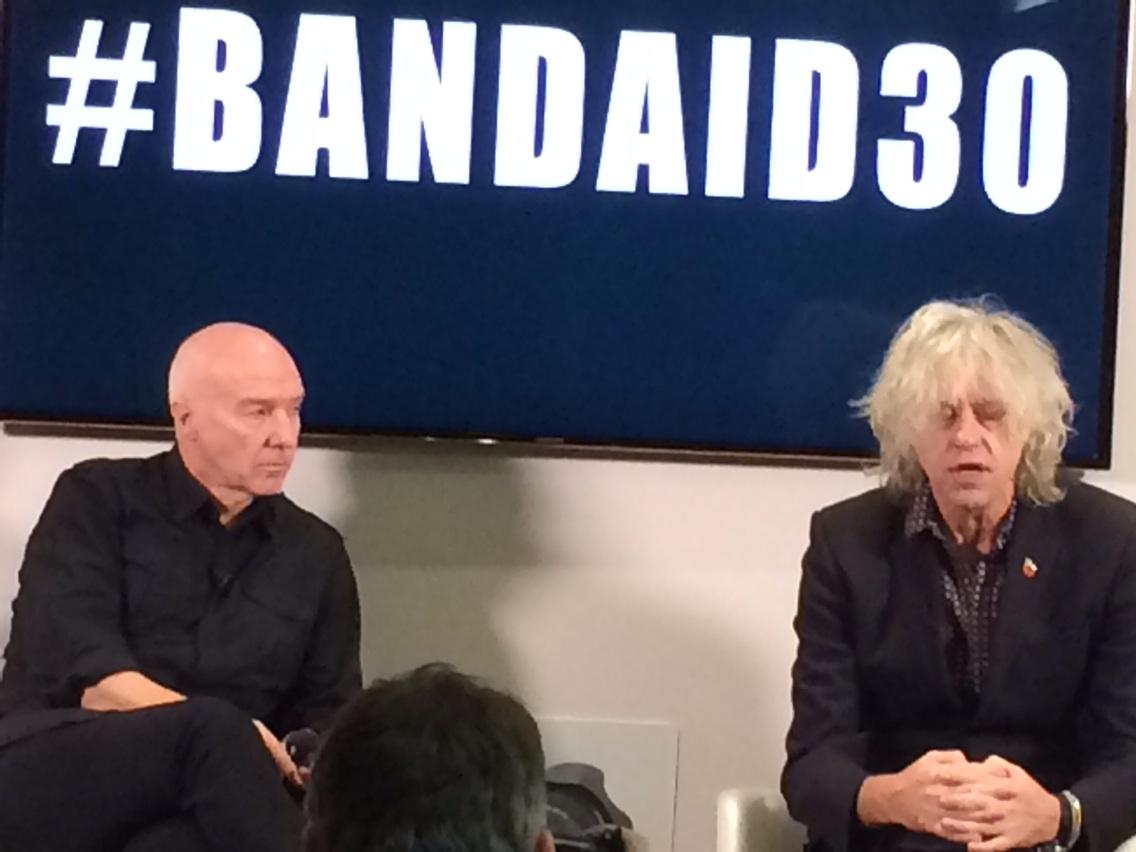 #bandaid30 lyrics will be tweaked to show what Ebola is doing. "A Pernicious illness which renders people untouchable."
Sir Bob Geldof has told ITV News' Mark Austin he feels he "clearly failed" to help his daughter before a relapse into drugs ended her life.
Read the full story ›
Bob Geldof said the UK was a "marriage" that needed to "advance together" at a pro-Scotland union rally in London.
Geldof, who flew in from America for the rally, told the crowds who had gathered in Trafalgar Square that all of the UK is disillusioned with Parliament and Scotland needed to stay to help resolve the issue.
"This argument needs to be had amongst us all. You can't just selfishly resolve it unto yourself by taking an easy opt out clause," he said.
He said the UK was "one of the greatest ideas invented for the modern age" that needed to "advance together".
Advertisement
In the first interview since the death of his daughter Peaches Geldof, Sir Bob told ITV's Lorraine about his "intolerable" grief.
Read the full story ›
Sir Bob Geldof said his friend Billy Connolly is "as strong as an ox" and backed the comedian not to be deterred by the initial stages of Parkinson's disease and his surgery for prostate cancer.
Sir Bob told Channel 5 News: "Pam [his wife] and Bill are great mates. He's as strong as an ox mentally from everything he's been through as a kid. So I don't think this will deter him from being that individual that we know."
Bob Geldof is set to blast off into space as a passenger on a commercial flight.
The singer was offered the trip after his band, the Boomtown Rats, agreed to play a concert at a charity ball at the Natural History Museum, London, where seats on the flight will be auctioned off for good causes.
He said: "Being the first Irishman in space is not only a fantastic honour but pretty mind-blowing...The First Rock Astronaut - Space Rat! Elvis may have left the building but Bob Geldof will have left the planet! Wild!"
The flights, which will take place in 2015, will be auctioned at the high-society event next month along with a diamond-encrusted watch and a car ride with former Formula One drivers.
Peaches Geldof has given birth to her second baby - on what would have been her mother's birthday
The former wildchild, 24, who already has a son called Astala with husband Thomas Cohen, gave birth on Wednesday to a boy called Phaedra, her spokeswoman said.
Geldof's mother, Paula Yates, died of a drug overdose in 2000.
The couple married last year in Kent.
Load more updates