Boris Johnson has quipped that the general election is like a jigsaw and that it "comes together in the end."
The Mayor of London was visiting a school with the Conservative leader where the pair were helping some children with a jigsaw puzzle.
ITV News Correspondent James Mates heard the jocular exchange:
PM and Boris help 3yr olds with a jigsaw. PM:"I have a cunning plan". Boris: "He has a long-term cunning plan". http://t.co/p6myNuqU1X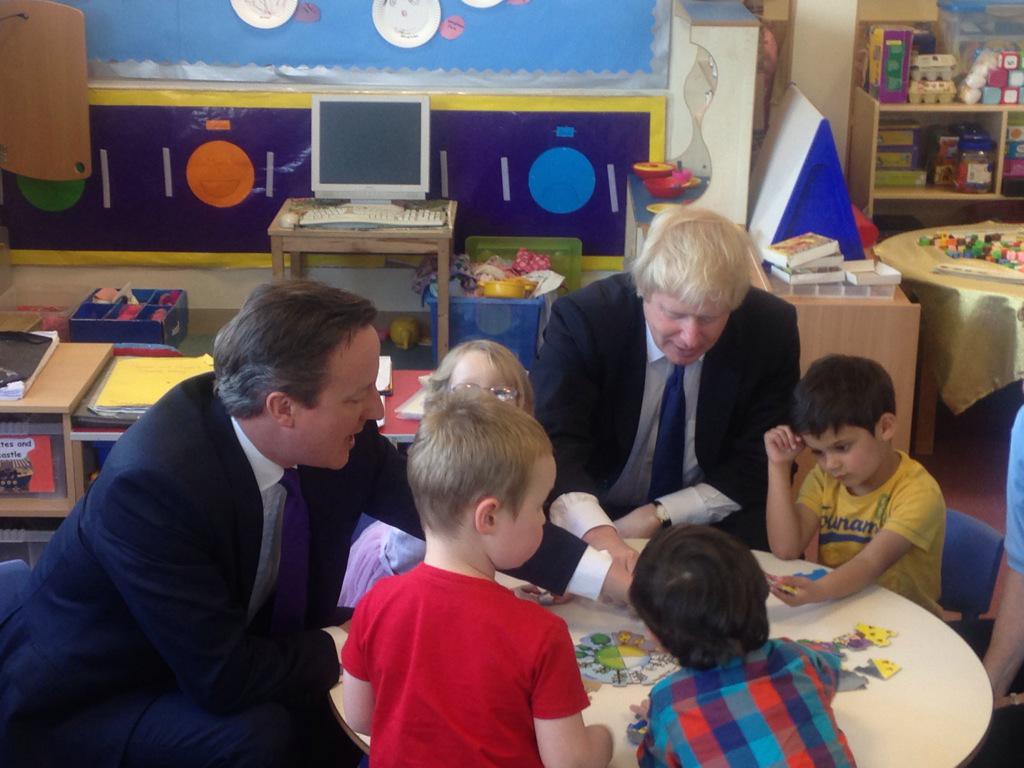 Cameron: "This jigsaw's a bit like the campaign". Boris "Yes, it comes together in the end".
London mayor Boris Johnson may have to cut short the first leg of his US trade mission after severe snow warnings are issued in Boston
Read the full story ›
Advertisement
Boris Johnson has given his support to Prince Andrew in the wake of underage sex claims, saying he has sympathy for the Duke of York.
"He does a huge amount of good and a huge amount of hard work. So if you are asking me whether I have sympathy for him, of course I do," the Mayor of London told LBC Radio.
"Prince Andrew, let's be very clear, is a guy who does a huge amount of unsung, unheralded work for this country," Johnson said. "I think that people should respect that side of his work."
Boris Johnson vowed to "eat the 'Kippers for breakfast" as he sought to unite Tories and lambasted those who had defected to Ukip.
Mr Johnson hit back at "quitters and splitters" and told activists that victory in next year's general election was "within our grasp" as long as the party remained united.
To loud cheers the Mayor of London said:
Just before I begin can I check that we are all proud Conservatives? Proud of the oldest and most successful party in all the Western democracies? Do we intend to fight the next election under the Conservative banner and no others? Are there any quitters or splitters? Anyone feeling a bit yellow around the edges - like a kipper?
– Boris Johnson
Only the Conservative could deliver reform to the UK's relationship with the EU, he said. Comparing the successful fight against Scottish independence with the imminent by-election battles to retain the seats given up by defecting MPs Douglas Carswell and Mark Reckless, he said:
That's our new fisheries policy, folks. First chuck Salmond overboard and then eat the 'Kippers for breakfast. We will fight them on the beaches of Clacton and of Rochester and Strood as well.
– Boris Johnson
London Mayor Boris Johnson has defended the Chancellor's reforms to welfare.
Speaking during a visit to a factory in Newcastle-under-Lyme, he said:
If you want to have the cash to pay for the whole of society, then you need the economy to be going gang-busters.

The most important thing for us in the UK economy is you've got to reform welfare and it's quite right that you should be looking at ways of improving how it's spent, but you've got to get the economy moving because that's the way to pay for the whole she-bang.
– boris johnson, mayor of london
Advertisement
David Cameron has said he would like Boris Johnson in his cabinet after the next General Election, calling him "a star".
He told The Andrew Marr Show, "He's got to finish his term as Mayor of London, I know that's what he wants to do.
"But once he's finished that then, you know, he's a star and as I've always said, I want to have the stars in the team."
Boris Johnson has made an impassioned plea to keep the UK together, warning Scottish independence would be "an utter catastrophe for this country".
"We will all have lost a way of thinking about ourselves, a way of explaining ourselves to the world," the Mayor of London wrote in the Daily Telegraph.
"We are on the verge of trashing our global name and brand in an act of self-mutilation that will leave our international rivals stunned, gleeful and discreetly scornful."
A co-ordinator for the Back Heathrow campaign, which is calling for expansion of the airport, has called Boris Johnson's candidacy a "slap in the face".
Boris Johnson's selfish plan to stand in the same borough as Heathrow is a slap in the face to tens of thousands of people in west London.

These people rely on Britain's hub airport and the Mayor wants to close it which would result in more than 100,000 people losing their jobs including many in Uxbridge and South Ruislip.

Heathrow's bogeyman may win the selection battle but he won't get his way.
– Rob Gray, Back Heathrow
Labour has said that Boris Johnson's bid to become a Tory MP is "confirmation of how weak David Cameron is and how out of touch the Tories are".
The party's London spokesman Sadiq Khan accused Conservative politicians of "jockeying for position in a future leadership contest" instead of tackling the "cost of living crisis".
Load more updates